---
Album info
Album including Album cover
Bjørn Bolstad Skjelbred (1970 - ):

1

Resisting Gravity

07:36

Ketil Hvoslef (1939 - ):

2

Perpetuum Trompetuum

05:31

Eilert Tøsse (1954 - ):

3

Signals

09:14

Torstein Aagaard-Nilsen (1964 - ):

4

Kverhusfanfare

01:16

5

Elegy for Broken Hearts

04:18

6

Festoso

03:18

7

Orpheus Lament

05:41

Sigurd Fischer Olsen (1976 - ): Three Lamento Movements:

8

1/4-del = 54

03:26

9

1/8-del = 60

03:45

10

1/4-del = max. 40

04:00

Knut Vaage (1961 - ):

11

MultiMORF IV

17:51

Total Runtime

01:05:56
Info for Perpetuum Trompetuum

There is a particular quality to works which tell something in short formats; a form of concentration which separates them from the large-scale forms, in the same way that a short story is distinct from a novel. In this perspective it is important to keep the form alive by new composers continually exploiting it, as they do on this disc.
The trumpet player Erlend Aagaard-Nilsen has invited some Norwegian composers to compose works for solo trumpet and piano which has resulted in interesting additions to the repertoire at the same time reflecting the variety of expression to be found among today's composers.
Erlend Aagaard-Nilsen's contact with contemporary music began at an early age. He was introduced to working together with students of composition from the Grieg Academy in Bergen, and as a performer in brass bands, where new music is often part of the repertoire. All the composers represented on this recording, with the exception of Bolstad Skjelbred, live in or nearby Bergen. Together with the pianist Jarle Rotevatn, Erlend, in co-operation with Brass- Wind, has commissioned and premiered most of the works on this disc. All the pieces are written for him (except track 5).
Music can be described as a room for dialogue. And without trust in the person one is conversing with, the possibility for dialogue ends before it has begun. Erlend Aagaard-Nilsen invites you to a conversation with a choice of repertoire which demonstrates "the breadth of the narrow" in Norwegian art music, as the composer Åse Hedstrøm put it.
"Perpetuum Trompetuum provides, then, a compelling snapshot of the compositional scene in Norway and a vivid insight into the expressive possibilities of the trumpet. Performances are impossible to fault: Erlend Aagaard-Nilsen makes light of the terrifying technical demands of this repertoire whilst Jarle Rotevatn provides, by turns, both sensitive and exhilarating accompaniment. If you can't find it available for streaming (it's on Apple Music but not Spotify) and if you have even a passing interest in contemporary brass music then consider buying this excellent disk. You won't be disappointed." (Christian Morris, Composition Today)
Erlend Aagaard-Nilsen, trumpet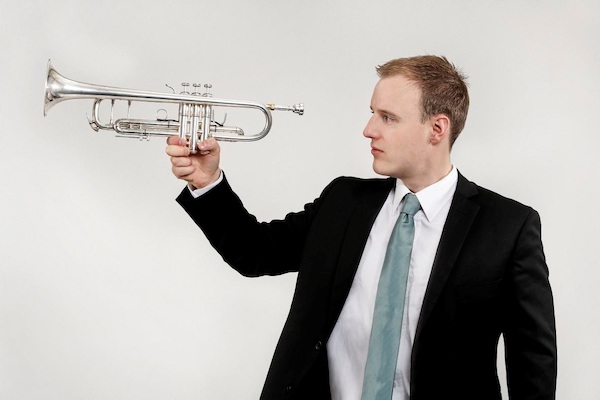 Erlend Aagaard-Nilsen
contact with contemporary music began at an early age. He was introduced to working together with students of composition from the Grieg Academy in Bergen, and as a performer in brass bands, where new music is often part of the repertoire. All the composers represented on this recording, with the exception of Bolstad Skjelbred, live in or nearby Bergen.

This album contains no booklet.