---
Album info
Album including Album cover Booklet (PDF)
Jurgis Karnavičius (1884 - 1941): String Quartet No. 1 in G Minor, Op. 1:

1

Karnavičius: String Quartet No. 1 in G Minor, Op. 1: I. Allegro moderato

11:00

2

Karnavičius: String Quartet No. 1 in G Minor, Op. 1: II. Allegro - Moderato - Allegro

07:08

3

Karnavičius: String Quartet No. 1 in G Minor, Op. 1: III. Andante - Poco più mosso - Moderato - Poco più lento

08:47

4

Karnavičius: String Quartet No. 1 in G Minor, Op. 1: IV. Allegro

07:47

String Quartet No. 2 in D Minor, Op. 6:

5

Karnavičius: String Quartet No. 2 in D Minor, Op. 6: I. Molto moderato - Allegro moderato

12:45

6

Karnavičius: String Quartet No. 2 in D Minor, Op. 6: II. Allegretto - Sostenuto - Allegretto

10:03

7

Karnavičius: String Quartet No. 2 in D Minor, Op. 6: III. Andante

10:42

8

Karnavičius: String Quartet No. 2 in D Minor, Op. 6: IV. Allegro

08:07

Total Runtime

01:16:19
Info for Karnavičius: String Quartets Nos. 1 & 2

This new release by the Vilnius String Quartet presents two exciting gems in 20th century chamber music: the first two String Quartets by Lithuanian composer Jurgis Karnavičius (1884–1941) as world premiere recordings.
Karnavičius made significant contributions to the cultural life in Lithuania after returning to his home country in the late 1920s. Karnavičius had been a pupil Maximilian Steinberg at the St. Peterburg Conservatory later becoming a professor in the same institution. During his years in St. Petersburg the composer wrote four impressive String Quartets, filling the chronological and stylistic gap between the String Quartets of Tchaikovsky and Shostakovich. Karnavičius' String Quartet No. 1 was published by Belaieff after the composer graduated from the St. Petersburg Conservatory. Its folkloristic elements bring to mind the Quartets of Dvořák. Karnavičius' second Quartet, was written in captivity a few years later: during World War I he fell into German captivity and until 1918 lived in a prison camp at Josefstadt, near Vienna. This work already shows first signs of a shift towards Expressionism. Karnavičius' vocabulary was quite unique in the Lithuanian context and did not beget following, so for a long time Karnavičius remained "a stranger at home and at home among strangers". Although, the composer's work has been admired in Lithuania, these magnificent 20th century chamber music opuses have been performed extremely rarely after his death. Yet, these pieces reveal compositional mastery and aesthetic subtlety.
Vilnius String Quartet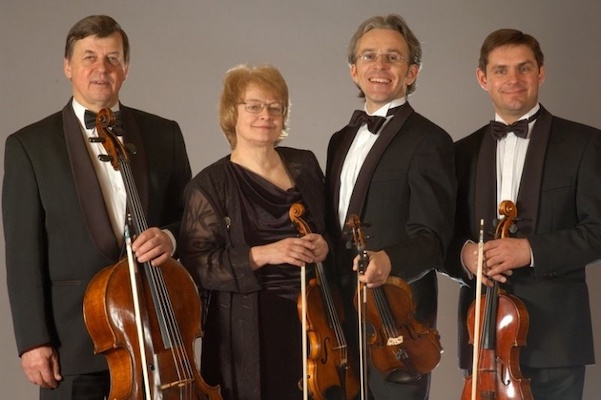 Vilnius String Quartet
For fifty-five years the Vilnius String Quartet, a recipient of several prestigious prizes, has been enjoying the reputation of one of the leading collectives in the cultural life of Lithuania. Its performances have won accolades both in Lithuania and abroad. Having toured around the world, the Quartet has appeared in the world's top concert halls and festivals. The Vilnius String Quartet has collaborated with both renowned masters and young performers. Its intriguing and remarkable programmes and concert series draw numerous audiences, and introduce the Lithuanian listeners with both masterpieces and lesser-known repertoire. Annually, the Quartet presents new opuses focusing on Lithuanian music having performed more than 100 works by Lithuanian composers (half of them being especially dedicated to the ensemble).
The Boston Globe wrote about the Vilnius String Quartet: 'The group's ensemble is virtually flawless… Their sound is quite extraordinary – rich like fine chocolate whose taste dominates the senses but never cloys. There is also intangible oneness that eludes analysis and that, as with the best marriages, is the hallmark of only the most mature and mutually nourishing relationships.'
Ever since its debut in 1965, the quartet has constantly polished its musicianship, to achieve a deep sense of unanimity and a richness of expression that have won it accolades both in Lithuania and abroad, as well as several important honours. The quartet works under the auspices of the Lithuanian National Philharmonic Society, averaging 80 concerts a year, and has a vast repertoire of over 450 works, including the complete string quartets by Haydn and Beethoven, and Mozart's entire output for string quintet. Their exceptionally rich repertoire includes more than 250 works by living composers.

Booklet for Karnavičius: String Quartets Nos. 1 & 2