---
Album info
Album including Album cover
I`m sorry!
Dear HIGHRESAUDIO Visitor,
due to territorial constraints and also different releases dates in each country you currently can`t purchase this album. We are updating our release dates twice a week. So, please feel free to check from time-to-time, if the album is available for your country.
We suggest, that you bookmark the album and use our Short List function.
Thank you for your understanding and patience.
Yours sincerely, HIGHRESAUDIO
1

10,000 Emerald Pools

02:57

2

Dug My Heart

03:09

3

Electric Love

03:38

4

American Money

04:21

5

The Emotion

03:44

6

Holy Ghost

04:16

7

Past Lives

04:34

8

Clouds

03:09

9

Dopamine

03:49

10

Overnight Sensation

03:18

11

Fool

03:38

Total Runtime

40:33
Info for Dopamine

"The influence of Southern California on Garrett's sound is undeniable. It's romantic and groovy; somewhere between indie-funk and psychedelic-pop." NYLON
"Glam with the natural sparkle of West Coast sunshine." ROLLING STONE
BØRNS, der aus einer Kleinstadt in Michigan stammt und vor seinem Umzug in seine aktuelle Wahlheimat Los Angeles einige Zeit in New York City gelebt hat, ist ein absolutes Ausnahmetalent: Er weiß instinktiv, wie man Melodien miteinander kombinieren muss, um damit die Rezeptoren im menschlichen Gehörgang zu erreichen. Der wichtigste Einfluss für BØRNS' Debütalbum war die Umgebung der US-amerikanische Westküste, denn der sonnige Vibe von L.A. schimmert durch in seinem Songwriting. "Dopamine" ist ein Album, auf dem BØRNS unglaublich ehrliche, überdimensionale, sehnsüchtige und in Liebeskummer ertränkte Hymnen präsentiert.
Mit "10,000 Emerald Pools" hat BØRNS den neun Song der Vodafone-Kampagne beigesteuert. Damit gesellt er sich zu Vorgängern wie Woodkid, Aurora und Empire Of The Sun.
BØRNS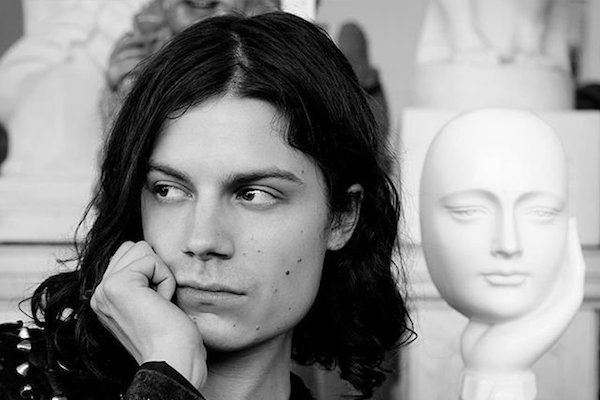 BØRNS
Like you, like all of us, Garrett Borns craves most what he cannot have. Anticipation, fantasy, longing—in some ways, these emotions of desire are more powerful than any trophy. But it's not like we have a choice in the matter; love, as it's been said, is all chemistry. In fact, it's mostly a tiny chemical messenger called dopamine that pulls our heartstrings and drives our acts of romance. And so that's just what the rising maestro BØRNS titled his debut full-length album of majestic, lovelorn anthems.
"Dopamine is released when you are longing for something, the desire of a reward—it's the fantasy in your mind," says BØRNS. "The old 'you want most what you can't have' expression. A lot of the songs on the album are about wanting her but not being able to have her: 'come back to me' or 'I wish I had you' songs. All the songs are inspired by a chemical connection to a lover, so dopamine is the all-encompassing theme."
BØRNS, a Michigan native who spent time in New York before landing in his new home of Los Angeles, is a preternatural talent. He understands instinctively how to connect the intricacies of a melody to the sensual receptors in the human ear, and how to conjure up a song from its building blocks to reach the heavens. Working with the producer Tommy English, in 2014 BØRNS released the Candy EP, a shot of sunny, sweet, sweeping adrenaline to the pop music landscape that put "10,000 Emerald Pools" (produced by Kennedy) and "Electric Love" on playlists across the world. The latter even famously earned a fan in Taylor Swift, who tweeted about the song's immediate gravity to her millions of followers. Recognizing something special, the Borns-English pair quickly began work on an album, writing and recording in between the steadily growing live shows, and with the stage in mind. Enamored of and inspired by his new home on the west coast, BØRNS injected much of that sunshine vibe into the new music.
While recording Dopamine, BØRNS was drawn to a stack of vintage Playboymagazines lying around the studio, and he became captivated by the classiness and seductive, suggestive advertisements and editorial messages from that bygone era. And as the son of an advertising firm owner, BØRNS acknowledges that the ability to connect a message simply and directly to an audience has been with him his entire life, which comes through in his lyrics.
"I'm inspired by the pairing of words and phrases together to be clear, concise, and simplified," says BØRNS. "Those '60s and '70s era Playboys, the way they're put together with film photography, the articles, the way they advertise products—they know how to explain it to you situationally. 'You're lounging on your balcony as the sun is slowly setting, drinking a Mai Tai, and there she is…' Everything is very sensual and clever. Flipping through those influenced the mood of a few songs on the record."
One such number is Dopamine's "Holy Ghost," with its twinkling keyboards, Zapp-funk pops, synthesized drum rolls, and precise, macho riffs. In a confident, yearning falsetto, BØRNS sings: "Let me satisfy your soul/I'm not a saint but do I have to be/Baby, you're my holy ghost/and I need you close, come back to me."
"American Money," a song for which BØRNS had written the verses on acoustic guitar before bringing it into a session with English, is a twist on a common thematic standard in modern music: cash. "The chorus came out of 'The paradise in your eyes, green like American money'; like saying, 'Darling, you look like a million bucks,' it's the green in her eyes, the greener pasture, she is the promised land. And when Tommy put this darker, down-tempo hip-hop beat behind it, the song took this moodier route."
While the mood of Dopamine is very much about love and its chemical pathways, it is not always overt or obvious in its approach. BØRNS admits he never sets out to write a certain type of song, but rather lets the sentiment flow out of him in the moment. "I guess love, or longing for connection, is something that naturally happens when I'm writing," he says. "I want to keep the songs poetic, in a pop-song context, but to still be able to be poems without the music, and live with visual imagery. I like how things look on paper as much as they sound."
Look to "The Emotion" for an example of such a context: "Shadows fill my mind up/Zeroes tell me my time's up/I lost count so long ago/Maybe my heart's numb/Don't hold my hands accountable/They're young and they're dumb." That a BØRNS song can carry in it such profound simplicity and far-reaching layers of grandness is a testament to the true lightning in a bottle at work. He sings about that same contained electricity in "Electric Love," which he calls simply "the fantasy of a girl in the enchanted forest of my mind": "Drown me, you make my heart beat like the rain/Surround me, hold me deep beneath your waves." The song's early success has been impressive, but it may only be just beginning to rise, with syncs and shares continuing to skyrocket. "I never expected so many people to connect to it," says BØRNS, his awe and pride sincere and palpable.
On his thoughts about finishing Dopamine, BØRNS is quick to share the joy and credit with others, especially his producer, English. "I couldn't be happier that I made my first album with someone I consider such a good friend," he says. "Tommy is so talented and we put a lot of thought, hours, blood, and sweat into this. It came from a very honest place that I really believe in artistically. It's a good feeling to go to LA, a completely foreign land, and form a strong musical bond."
The bright, majestic, lovelorn anthems of BØRNS are sure to pull our heartstrings and drive our acts of romance throughout 2015 and beyond.

This album contains no booklet.