---
Album info
Album including Album cover
1

Climax

03:25

2

La piscine

03:48

3

Marbella

02:45

4

Somebody Else

03:38

5

Le triomphe du soleil

04:35

6

Sauna

04:22

7

Horizon

04:09

8

Absolu

03:08

9

Plexus

03:34

10

Encore et pour toujours

04:12

Total Runtime

37:36
Info for Plexus

For their third album entirely recorded in a proper studio for the first time, Hypnolove was forced to more coherence in their sound. They decided to follow a clear line: make a 100% French record inspired by the French dance music made in France during the 70's and 80's, when a handful of studio heads were driven by the ambition of conquering the world by reappropriating the emerging new genre that was funk at the time.
Slap bass lines, silly erotic hip-hop-ish lyrics, edgy guitar grooves… This new version of funk invented by some French ambitious musicians found its identity under the name of French boogie. "We had Chagrin d'Amour, Pierre Bachelet's early soundtracks, Michel Berger's piano staccato sound but also Inner Life or Chic in mind, explains Henning, the only constraint was to make a 100% French record." "Plexus", "Marbella", "Horizon", "La piscine", "Le triomphe du soleil" or "Sauna"… all these names perfectly sum up the way this new record (sun)shines. At first glance, Hypnolove offers us a fantasy trip on the traces of mass tourism, swimming pools, cocktails, boys and girls in heat… but behind this postcard-perfect landscape, hide some rather bittersweet love stories, sex parties turning into drama, holidays running amok…
Hypnolove immerse irony in their diabolically stirring disco songs and also manage to add a few whispered sensual vocals on top of it here and there. "Vintage but never nostalgic!" was the motto. The record also recalls their all-time favorite soundtracks composed by Serge Gainsbourg, Pierre Bachelet, Francis Lai or Vladimir Cosma. "Plexus" is a joyful record, full of irony and sublimated by wet voices dipped into a cocktail of Isabelle Adjani's "Pull Marine" and Corryne Charby's music.
A record in which the band dives feet first in the groovy bass lines, the Macumba disco, the "Paris Latino-like" boogie, the disco balls and the luminous dancefloors, the 80's and 2020's… Important precaution: apply sunscreen before listening! It's as if Hypnolove's third record was perfectly illustrating the name of the band, originally found in a 70's erotic magazine's ad for a perfume supposedly "irresistibly attracting girls".
Chiquinho, vocals, keyboards
Henning, vocals, chords, drums
Nicolas, guitar, bass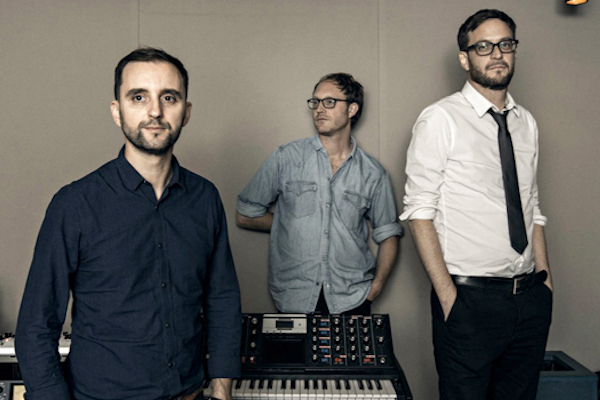 Hypnolove
is a Toulouse based band with mediterranean and german roots. Their disco pop music is chill and emotional, with lyrics in French, Portuguese, German, Italian, and English. They handle both slows and techno beats, in line with their new wave influences but always in a smooth way. The trio shared the scenario with Sebastien Tellier at The Olympiain Paris, they can perform live and Djset aswell.
Featuring the musical talent of Chiquinho (vocals/keys), Henning (vocals/chords/drums) and Nicolas (guitar/bass), Hypnolove is a group formed between friends that share a common dream, and above all, a passion for discovering and creating music that defies easy categorization.

This album contains no booklet.