---
Album info
Album including Album cover Booklet (PDF)
I`m sorry!
Dear HIGHRESAUDIO Visitor,
due to territorial constraints and also different releases dates in each country you currently can`t purchase this album. We are updating our release dates twice a week. So, please feel free to check from time-to-time, if the album is available for your country.
We suggest, that you bookmark the album and use our Short List function.
Thank you for your understanding and patience.
Yours sincerely, HIGHRESAUDIO
1

22

04:58

2

Perpetum

06:55

3

Albatross

04:28

4

After The Rain

02:20

5

The Void

06:32

6

Solace

02:46

7

Sirens

04:37

8

Then Comes The Night

05:04

9

Soften

04:52

10

22 (Var.)

04:58

Total Runtime

47:30
Info for And Then Comes The Night

In 2016, the release of Mats Eilertsen's album Rubicon gave notice of the breadth of the Norwegian bassist's compositional range as well as his capacity to direct an ensemble of strong individual voices. Long an important contributor to ECM recordings, and appearing on albums by Tord Gustavsen, Trygve Seim, Mathias Eick, Nils Økland, Wolfert Brederode, Jakob Young and more, Eilertsen has concurrently maintained projects of his own, including the present trio, now in its tenth year of existence.
The new album (named after the novel Summer Light, And Then Comes The Night by Icelandic writer Jón Kalman Stefánsson) is the trio's first for ECM, and follows two discs on the Hubro label. It was recorded in May 2018 at Lugano's Auditorio Stelio Molo and Eilertsen, drummer Thomas Strønen, and pianist Harmen Fraanje make full use of what Mats calls the studio's "special character and atmosphere" and the acutely-focused interplay the room seems to encourage. Mats explains: "We came in with a number of songs and compositional sketches and the intention of seeing what could be shaped from them, what could be carved out, with Manfred Eicher's help, in that specific location. Playing totally acoustically and without headphones, we could work with fine detail in the improvising and really give the music space to sing out in the natural reverb of the room."
The result is an album of subtle and luminous group music, sidestepping many of the conventions of trio playing, in a recording that demands and rewards concentrated listening. "There is almost no theme-solo-theme playing on this album," Eilertsen notes. "It's more like a river or whirlpool of moods that carries you with it."
The album opens and closes with variations of the sombre "22", titled for the 22nd of July 2011, when it was composed by Eilertsen in stunned response to news of the attacks on the island of Utøya. "It wasn't conceived as a homage," he says quietly. "It was just what I did that day."
Some pieces on the album are more "written" than others. "Sirens" for instance, "moves once through the written material, with Harmen, of course, having the freedom to respond to it as he chooses. He's such a brilliant player and will discover another dimension in the material that I present to him. The same goes for Thomas's drumming, where no parts are written." Sensitised overlapping of deep pulses from double bass and the unpitched throb of the gran casa drum intensifies the sense of mystery at the bottom end of the music.
"The Void" is an older Eilertsen piece, which draws an improviser into its emptiness. "It's a piece I've played for many years in many different ways. Live it can open up into total freedom….Here the piano part is very close to the way it was composed."
Pianist Harmen Fraanje played on Mat's Rubicon, but the association with Eilertsen goes back to 2001, when Mats was living in the Netherlands. "I actually met Harmen in my very last week in Holland, and we played a gig together. That was the start of things." Harmen and Mats worked for a while with Belgian drummer Teun Verbruggen, before Thomas Strønen was drafted into the line-up. Eilertsen and Strønen already had shared history: both had studied in Trondheim, and they had played in numerous groups together.
One early collaboration was on the debut album of the band Food, recorded in 1998: Mats played in the original incarnation of this group, alongside Strønen, Iain Ballamy and Arve Henriksen. A first shared recording on ECM was with the Strønen-led improvisational band Parish in 2004, where drummer and bassist collaborated with pianist Bobo Stenson and saxophonist and clarinettist Fredrik Ljungkvist.
Recent recordings with Mats Eilertsen include Trygve Seim's Helsinki Songs and Mathias Eick's Midwest. In addition to co-leadership of Food, whose ECM albums are This Is Not A Miracle, Mercurial Balm, and Quiet Inlet, Thomas Strønen leads the ensemble Time Is A Blind Guide whose eponymously titled first album was followed in 2018 by Lucus.
Harmen Fraanje has been hailed by All About Jazz as "one of the most impressive young European pianists" of the last decade. Active across a wide area of jazz and improvisation, he leads and co-leads several projects of his own, and has played with musicians including Ambrose Akinmusire, Mark Turner, 
Kenny Wheeler, Thomas Morgan, Tony Malaby, Han Bennink, Ernst Reijseger, Theo Bleckmann, Ben Monder, Enrico Rava, Louis Moholo, Ferenc Kovács, Rudi Mahall and Trygve Seim.
And Then Comes The Night is issued as the Mats Eilertsen Trio embarks on a European tour with concerts in France, England, the Netherlands, Germany, Denmark and Norway. Dates include Sunside Jazzclub, Paris (January 29), Lakeside Arts Centre, Nottingham (January 30), Unterfahrt, Munich (January 31), Nasjonal Jazzscene Victoria, Oslo (February 1), Brorson Kirke, Copenhagen (February 3), Schloß Elmau, Elmau (February 5), Paradox, Tilburg (February 6), Bimhuis, Amsterdam (February 7), Vredenburg, Utrecht (February 8), Arena, Moss (Febnrauyr 10), and UriJazz, Tonsberg (March 20). Further plans for the next year include concerts in which the Mats Eilertsen Trio joins forces with vocal group Trio Mediaeval.
Mats Eilertsen, double bass
Harmen Fraanje, piano
Thomas Strønen, drums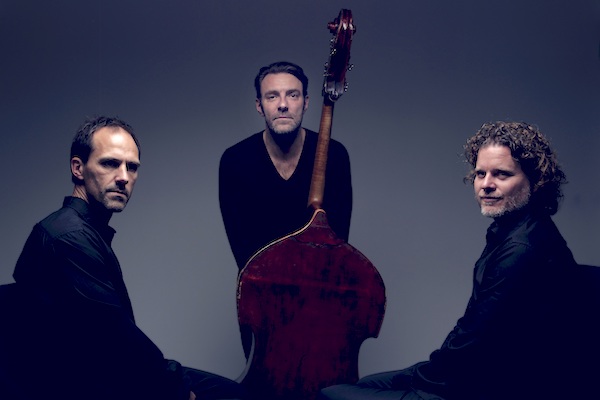 Mats Eilertsen
is educated from the Jazz Department at the Conservatory of Music in Trondheim. He works with bands like Dingobats, Håkon Kornstad Trio, Food (with English saxophonist Iain Ballamy), and Bobo Stenson/Fredrik Ljungkvist/Thomas Strønen/Mats Eilertsen quartet.
Harmen Fraanje
is a pianist, composer and educator from the Netherlands. He leads and co-leads several projects like his solo project, trio Reijseger Fraanje Sylla, a quartet with Magic Malik, Brice Soniano and Toma Gouband, a duo with Anton Goudsmit and a new quartet with Fredrik Ljungkvist, Clemens van der Feen and Tristan Renfrow. These groups mostly perform original works with a lot of space for improvisation.
Harmen is also very active as a sideman in various projects in the European jazz scene, like several groups of Mats Eilertsen, Michael Moore's Fragile Quartet, Thomas T Dahl & Court…
With these projects he frequently performs at festivals and concert venues throughout the world. Recordings of the projects he's involved in have been released by renowned record labels like ECM, Winter & Winter, Hubro Music, Challenge Jazz…
Furthermore Harmen founded the label / platform 'Astropi' with Brice Soniano and Toma Gouband.
Harmen collaborated with the likes of Ambrose Akinmusire, Mark Turner, Kenny Wheeler, Thomas Morgan, Tony Malaby, Han Bennink, Ernst Reijseger, Anton Goudsmit, Jesse van Ruller, Magic Malik, Nelson Veras, Cristina Branco, Theo Bleckmann, Ben Monder, Enrico Rava, Werner Herzog, Trio Mediaeval, Perico Sambeat, Igor Roma, Louis Moholo, Ferenc Kovács, Rudi Mahall, Trygve Seim…
Harmen is in the faculty of the Conservatory of Amsterdam / University of the Arts Amsterdam. He is frequently invited to give workshops and masterclasses at other conservatories in Europe.
Thomas Strønen
is a prolific drummer, composer, arranger, improviser, producer, and bandleader. He has participated in or self-created some 70 albums on his own and in cooperation with a wide variety of talent, including the bands Food (with Iain Ballamy, Arve Henriksen, Mats Eilertsen, and Fennesz), Humcrush (with Ståle Storløkken), Parish (with Bobo Stenson), his own Time Is a Blind Guide, and the Maria Kannegaard Trio. He has also played on and/or composed for recordings by Eivind Aarset, Nils Petter Molvaer, John Taylor, Tore Brunborg, Ingebrigt Håker Flaten, Sidsel Endresen, Bugge Wesseltoft, Tomasz Stańko, and Stian Carstensen. Strønen graduated from the Music Conservatory of Trondheim, Norway in 1999 after studying jazz and composition for six years. Since his student days he has been involved with improvised music in many different contexts. He is an interactive musician who enjoys creating different musical forms to generate unexpected results. Strønen is a melodic, almost circular drummer who plays both acoustic and electronic music. He has record deals with Norway's Rune Grammofon and ECM. His most celebrated recordings are Humcrush (2004), Parish (2006), six Food albums divided between the two labels from 2002-2015, and two Time Is a Blind Guide albums, including 2018's Lucus.

Booklet for And Then Comes The Night