---
Album info
Label: Alpha
Genre: Classical
Subgenre: Vocal
Artist: Sandrine Piau, Le Concert de la Loge & Julien Chauvin
Composer: Jean-Paul-Egide Martini (1741-1816), Benjamin Godard (1849-1895), Felix Alexandre Guilmant (1837-1911), Henri Duparc (1848-1933), Theodore Dubois (1837-1924), Gabriel Pierne (1863-1937), Jules Massenet (1842-1912), Hector Berlioz (1803-1869), Charles Bordes (1863-1909), Camille Saint-Saens (1835-1921)
Album including Album cover
Camille Saint-Saëns (1835 - 1921):

1

Extase

03:43

2

Papillons

03:24

Charles Bordes (1863 - 1909):

3

Promenade matinale

03:29

Hector Berlioz (1803 - 1869):

4

Les Nuits d'été, H. 81: Au cimetière

05:17

Jules Massenet (1842 - 1912):

5

Le Poète et le Fantôme

03:33

Gabriel Pierné (1863 - 1937): Album pour mes petits amis, Op. 14:

6

Album pour mes petits amis, Op. 14: Chanson d'autrefois

01:59

Théodore Dubois (1837 - 1924):

7

Si j'ai parlé... Si j'ai aimé

02:48

Hector Berlioz: Les Nuits d'été, H. 81:

8

Les Nuits d'été, H. 81: Villanelle

02:00

Théodore Dubois:

9

Musiques sur l'eau: Promenade à l'étang

03:13

Hector Berlioz: Trois mélodies, Op. 11:

10

Trois mélodies, Op. 11: Beaux papillons blancs

01:32

Théodore Dubois:

11

Aux étoiles

04:45

Louis Vierne (1870 - 1937):

12

Ce que dit le silence

03:14

Théodore Dubois:

13

Sous le saule

02:44

Camille Saint-Saëns:

14

Aimons-nous

03:40

Jules Massenet:

15

Valse très lente

03:38

Camille Saint-Saëns:

16

L'enlèvement

01:54

Benjamin Godard (1849 - 1895): Symphonie gothique, Op. 23:

17

Symphonie gothique, Op. 23: Grave

05:45

Jean-Paul-Egide Martini (1741 - 1816):

18

Plaisir d'amour

02:48

Total Runtime

59:26
Info for Si j'ai aimé

Sandrine Piau's first recital for the ALPHA Label, with Susan Manoff (Chimère - Alpha 397), proved an enormous hit (Diapason d'Or of the year, Choc of the year, and Gramophone Editor's Choice). Her new project is a recital with orchestra celebrating French song of the period when it moved from the private salon to the concert hall. Planned in partnership with the Palazzetto Bru Zane, this programme evokes anticipation, desire, pleasure, memory, in short all the vagaries of love experienced by a romantic heroine… To verses of the poets Hugo, Gautier, and Verlaine, Sandrine Piau has selected song settings by Saint-Saëns ('Extase', 'Papillons'), Massenet ('Le Poète et le Fantôme', 'Aimons-nous'...), and Vierne, as well as by the rarely-heard Dubois, Bordes… Julien Chauvin and his period instrument ensemble combine these songs with orchestral pieces (the 'Symphonie Gotique' by Godard or the 'Valse très lente' by Massenet). The disc also presents excerpts from Nuits d'Été by Berlioz, and ends with the famous classic 'Plaisir d'amour' by Martini.
Sandrine Piau, soprano
Le Concert de la Loge
Julien Chauvin, violin, direction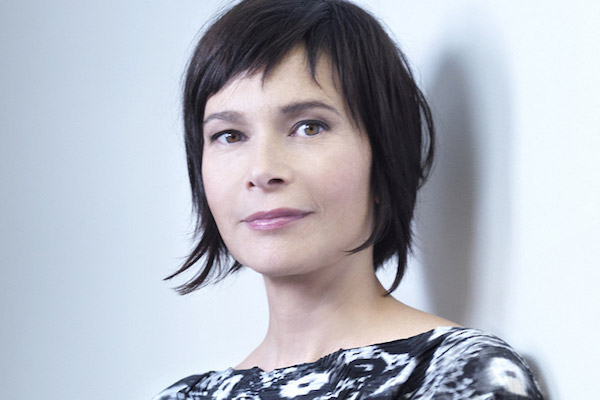 Sandrine Piau
studierte Harfe und Gesang am Pariser Konservatorium und schloss ihr Studium in Versailles ab. Sie wurde zunächst als Sängerin im Bereich der historischen Aufführungspraxis bekannt.
Ihr Repertoire besteht jedoch heute aus der Musik unterschiedlicher Epochen. So singt sie Werke von Johann Sebastian Bach, Claude Debussy, Wolfgang Amadeus Mozart, Christoph Willibald Gluck, Carl Maria von Weber und Benjamin Britten und anderen. Sie arbeitet überwiegend als Opern- und Konzertsängerin auf großen Bühnen. Sie hatte in den vergangenen Jahren Auftritte in London, Bologna, Bordeaux und bei den Festivals von Salzburg, Montreux, Aix-en-Provence, Drottningholm und Dresden. Als Sopranistin arbeitet sie auch mit den Berliner Philharmonikern zusammen.
Die Dirigenten, die mit ihr arbeiten, sind William Christie, Philippe Herreweghe, Frans Brüggen, Paul McCreesh, René Jacobs, Marc Minkowski, Kurt Masur und Jean-Christophe Spinosi. Sie hat einige CDs mit Liedern von Debussy und Arien Mozarts veröffentlicht. Als Spezialistin für Barockmusik hat sie sich einen hervorragenden Ruf ersungen, in Zusammenarbeit mit Christophe Rousset, Maurice Steger, Diego Fasolis und dem Freiburger Barockorchester.
A renowned figure in the world of baroque music, French soprano Sandrine Piau regularly performs with celebrated conductors such as William Christie, Philippe Herreweghe, Christophe Rousset, Gustav Lleonhardt, Ivor Bolton, Ton Koopman, René Jacobs, Marc Minkowski and Nikolaus Harnoncourt.
Sandrine Piau embraces different roles on international stages. The roles she has previously performed include Cleopatra (Giulio Cesare), Morgana (Alcina) at the Opéra de Paris, Dalinda (Ariodante) at the Salzburg Festival, Alcina, Mélisande, Sandrina, (La Finta Giardiniera), Sœur Constance (Dialogue des Carmélites) at the Monnaie, Alcina and Dalinda (Ariodante) in Amsterdam, Pamina (Die Zauberflöte), Donna Anna (Don Giovanni) and Sœur Constance at the Théâtre des Champs-Elysées, and Despina (Cosi fan tutte) and Tytiana (A Midsummer Night's Dream) at the Festival d'Aix en Provence.
As a celebrated recital singer of both French and German repertoire, Sandrine Piau performs with renowned accompanists including Jos van Immerseel, Roger Vignoles and Susan Manoff.
She regularly gives recitals and has appeared in concert in New York, Paris, London, Tokyo, Munich, Zurich, and Salzburg, and recently in Hamburg for the opening of the Elbphilharmonie.
In recent years she has performed at the Salzburg Festival, Carnegie Hall, Wigmore Hall, Covent Garden Festival, Musikverein, Salle Pleyel, Festival de Saint Denis, Amsterdam's Concertgebouw, Teatro Communale in both Florence and Bologna and with the world's most prestigious orchestras including Berlin Philharmonic Orchestra, Munich Philharmonic, Orchestre de Paris and Boston Symphony Orchestra.
Sandrine Piau has an extensive discography, including four CDs of Haendel and Mozart and two recitals albums; "Apres un rêve" and "Evocations", which she recorded with renowned accompanist Susan Manoff, with whom she has a privileged relationship and performs regularly. Together they have performed in Europe, across America, in Japan and most recently at Wigmore Hall. 'Desperate Heroines', a stunning selection of Mozart's arias recorded with the Orchestre du Mozarteum Salzburg and Ivor Bolton, has been a critically acclaimed recording.
Sandrine Piau now records exclusively for "Alpha Classics" and her first CD under this label, released in 2018, is a recital disc recorded with Susan Manoff entitled "Chimère".The disc includes a selection of German Lieder, French Mélodies, and Art Songs.
Highlights of the 2018/19 season include her return to the Lincoln Centre with Les Arts Florissants, a European tour with the Freibüger Barockorchester, as well as her return to the Salzburg Festival for Alcina (Morgana).
Sandrine Piau was given the title of Chevalier de l'Ordre des Arts et Lettres in 2006 and was named "Lyrical Artist of the Year" at the Victoires de la Musique Classique award ceremony in 2009.

This album contains no booklet.