---
Album info
Album including Album cover
I`m sorry!
Dear HIGHRESAUDIO Visitor,
due to territorial constraints and also different releases dates in each country you currently can`t purchase this album. We are updating our release dates twice a week. So, please feel free to check from time-to-time, if the album is available for your country.
We suggest, that you bookmark the album and use our Short List function.
Thank you for your understanding and patience.
Yours sincerely, HIGHRESAUDIO
1

Next Train South

02:33

2

Hickory, Walnut & Pine

03:23

3

Cold Hard Truth

04:47

4

Toil, Tears & Trouble

02:40

5

Ice Covered Birches

03:40

6

Old New Borrowed And Blue

02:45

7

Bidding America Goodbye

03:32

8

Don't Kneel At My Graveside

03:34

9

Ice On The Timber

04:22

10

Widow Mae

03:28

11

Searching For A Soldier's Grave

03:43

12

Longing For The Ozarks

02:24

Total Runtime

40:51
Info for Toil, Tears & Trouble

The Po' Ramblin' Boys, winners of the International Bluegrass Music Association's 2018 Emerging Artist of the Year award, will release their Rounder Records debut (and third album overall) Toil, Tears & Trouble on August 23, 2019.
Performances sparkle throughout the album's twelve tracks, showcasing why the band has not only energized fans of the traditional bluegrass sound, but younger fans of progressive stringband music as well. The album was produced by the band's longtime associate Dave Maggard and was engineered by 10-time GRAMMY winner Gary Paczosa (Dolly Parton, Alison Krauss, Sarah Jarosz).
Ken Irwin, co-founder of Rounder Records, took a very hands-on approach in helping to select material for Toil, Tears & Trouble. He helped point the way to songs including the title track, the Slaid Cleaves co-write "Hickory, Walnut & Pine," and Jamie O'Hara's "Bidding America Goodbye," a signature tune for Tanya Tucker. CJ Lewandowski brought a number of songs to the table, too, most notably underground classics from the vibrant bluegrass tradition of his native Missouri.
Fans got a taste of the new record last fall when The Po' Ramblin' Boys released their single "Next Train South." The album's kick-off track has been high on bluegrass charts for months.
"Cold Hard Truth" and "Bidding America Goodbye," both written by Jamie O'Hara, are best-known for the versions recorded by George Jones and Tanya Tucker, respectively. They both translate to the Boys' style of honky-tonk bluegrass perfectly, especially the latter ode to trouble on the farm. "It's like poetry with a little bit of music behind it," says Lewandowski. "It captured the feeling of a dad sitting at the table, reading the letter about losing the farm to the family." Gary and Roberta Gordon's "Widow Mae" represented a challenge for the band in that it fell well outside their comfort zone, so they zipped it up with a rollicking arrangement recalling classic Stanley Brothers.
Representing the heart of Toil, Tears & Trouble are three songs that pay tribute to the Ozark bluegrass Lewandowski grew up with: Mac Patterson's "Next Train South," Cedar Hill's "Ice on the Timber," and Jim Orchard's album-closing "Longing for the Ozarks." Among the most traditional-sounding songs on the album, they were the most natural fit for the band.
Out of the many songs Ken Irwin suggested to the band, the one he felt strongest about was Barry and Holly Tashian's "Don't Kneel At My Graveside" – a song he'd found years earlier, seeking comfort after a girlfriend died from cancer at a young age.
"Ice Covered Birches," a 1969 Pine Hill Ramblers song by Carl Hoffman, was something of a consensus pick – Lewandowski and Irwin suggested it to each other almost simultaneously. Irwin then tracked down Hoffman – living somewhere up in Alaska – and asked him if he would write a third verse to the song which the Boys debut on the new release.
The album includes an original song that has become a favorite in the band's road shows, "Old New Borrowed and Blue" by guitarist Josh Rinkel, "a true tale of heartache inspired by the experience he had attending an ex's wedding.
"Searching for a Soldier's Grave," penned by Roy Acuff, came to the band by way of the Stanley Brothers. In a nice finishing touch, the outro is Laura Orshaw's fiddle playing "Taps." Finally, "Toil, Tears & Trouble" is an old Connie & Joe and the Backwoods Boys song, and it makes for a fitting title track. Years ago, Irwin asked the song's writer Connie Gately to compose a third verse for a James King recording. Incidentally, The Po' Ramblin' Boys served as King's backup band for a time. "It's an old grassy song that gets you up and moving along," says Lewandowski.. "It came out pretty stout, a good bluegrass song to get on down the road. If you're not on cruise control, you'll be speeding by the end."
The Po' Ramblin' Boys are in the midst of a heavy summer touring schedule, slated to perform at some of the nation's best roots music festivals including Bourbon and Beyond, Pickathon, and DelFest, among others. They will also perform at The Caverns in November with the Del McCoury Band. A full list of dates is below.
Jereme Brown, vocals, banjo
C.J. Lewandowski, vocals, mandolin
Jasper Lorentzen, bass
Josh Rinkel, vocals, guitar
Laura Orshaw, fiddle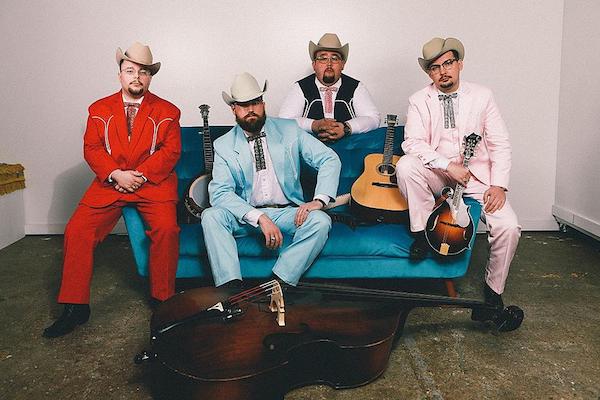 The Po' Ramblin' Boys
Every so often a band comes around that knocks everybody's socks off and gets people talking. I'd bet good money that you're gonna really enjoy them, but I don't want to take your money. Use it to listen to the PRB. I'm putting my money on them. (Jim Lauderdale)
At a time when most people feel constantly distracted by technology and barraged by the news, authenticity and straightforward honesty are paramount. There's something about the music of The Po' Ramblin' Boys that cuts right through the noise of the world and speaks plainly to the soul. Formed in the Smoky Mountains, The Po' Ramblin' Boys are at once exactly what you would expect and not at all what you would expect from a tattooed East Tennessee Bluegrass outfit. No strangers to hard work, the boys are as much at home riding in their 1965 GM Tour bus as they are crawling underneath to fix it when it needs maintenance. But they take pride in being ambassadors of their genre, and the group has brought their music from rural bluegrass festival stages to the rock clubs of Europe, with stunning results. "I think to a certain extent everyone is just craving music that they can feel, and any music that feels real will reach any audience" says CJ Lewandowski, the groups founder, "We want to put bluegrass right where it's least expected".
Lewandowski was working at Ole Smoky Moonshine Distillery in Sevierville, TN when the band first formed. The distillery employed musicians to play for visitors seven days a week, and Lewandowski, who primarily plays Mandolin and sings, was occasionally hired to fill in when the entertainment didn't show. Eventually, the distillery approached him about forming a band for a full time slot, so he reached out to long time music friends Jereme Brown, who plays banjo for the group, and Josh Rinkel, who plays guitar. "Jereme was doing a lot of welding work at that time, and Josh was running a sign company", says Lewandowski, "I think we were all ready to do something new, something with our music but we didn't know when or how". Bassist Jasper Lorentzen happened to be working in the tasting room at the distillery, and he turned out to be the perfect final addition to the band. The four friends played multiple times a week for a year and half, honing their band sound, meanwhile word was spreading about their music. "The first gig we played out of town was a festival in Alberta, Canada, and a week later we went on a two week tour of Europe, it was crazy", says Lewandowski.
Material for the group's debut album "Back To The Mountains", was a combination of original songs and old numbers that honor the group's mentors and bluegrass heroes. "We love to dig up old songs that haven't been heard in years and bring them back into the spotlight", explains Lewandowski. It's no surprise, then, that their latest single "Next Train South", is a song cut by one of Lewandowski's teachers from his native Missouri. "This song hasn't been recorded since 1974, when it was recorded by Dub Crouch, Norman Ford and the Bluegrass Rounders." he says. "Dub was a guy that I learned from back in the day. He was a close friend, and I was with him the day before he died. He was a popular guy for his region, but his music was not as well known on the national circuit. That's why we love to sing these songs, because when we take these songs and bring them to a larger audience, our heroes and their music will not be forgotten".
The Po' Ramblin' Boys passion for bluegrass is as clear as it is contagious. With a heavy touring schedule across the United States and Europe and recently signed record deal with the esteemed Rounder Records, the Boys are well on their way to becoming the quintessential bluegrass band of their generation. Despite all of their recent success, they maintain a humble perspective. "Bluegrass has left such a mark on us that we feel like we owe something back to the music", says Lewandowski. "We want to do something for the music to show our appreciation… There's no telling what could have happened to us, what we would have become if we hadn't found this music. It's gotten us through a lot, the good and the bad. When I think about all of the damn medications that I didn't have to take because I had music to turn to. We didn't have to go to the doctor and pay for something to make us feel better, because we had this music, so we really want to honor it by bringing it out of the shadows and onto new stages and wider audiences. Because we know that if we can bring Bluegrass to new folks, those folks will come with us and support the bluegrass community."

This album contains no booklet.