---
Annabelle Comes Home (Original Motion Picture Soundtrack) Joseph Bishara
Album info
Album including Album cover
I`m sorry!
Dear HIGHRESAUDIO Visitor,
due to territorial constraints and also different releases dates in each country you currently can`t purchase this album. We are updating our release dates twice a week. So, please feel free to check from time-to-time, if the album is available for your country.
We suggest, that you bookmark the album and use our Short List function.
Thank you for your understanding and patience.
Yours sincerely, HIGHRESAUDIO
1

Doll Opening

00:48

2

cemetery pulls

01:15

3

it's the Doll

02:23

4

Doll container

02:52

5

Annabelle Comes Home

00:43

6

cross keepsake

00:56

7

priest follows

00:53

8

no secrets

01:12

9

locked away

00:52

10

artifact room

02:13

11

Doll drops

00:31

12

lost somebody

00:40

13

life somehow

01:25

14

led to Doll

00:54

15

miss me

01:06

16

sometimes see things

02:08

17

feely Meely

02:01

18

gone missing

01:12

19

bedtime tale

00:40

20

artifact leading

02:12

21

you did this

00:24

22

Doll slumber

01:22

23

cathode force

02:55

24

drawn by voices

01:37

25

coins roll

01:27

26

the Ferryman

00:44

27

color wheel

01:38

28

wants a soul

03:59

29

red eyed hunt

01:17

30

armor tells

01:30

31

hauntings compel

01:39

32

locked behind glass

00:52

33

talk somewhere else

00:44

34

birthday made

02:08

35

good out there

02:30

36

wheel traces doll

00:34

Total Runtime

52:16
Info for Annabelle Comes Home (Original Motion Picture Soundtrack)

Joseph Bishara is returning as the composer for the upcoming horror sequel Annabelle Comes Home. The film marks the directorial debut of Gary Dauberman (It, The Nun) who scripted the previous two Annabelle movies and stars McKenna Grace, Madison Iseman, Katie Sarife, Patrick Wilson and Vera Farmiga. The third installment in the Annabelle series follows the daughter of paranormal investigators Ed and Lorraine Warre (from The Conjuring franchise) who is targeted alongside her two teen babysitters by the demonic doll after they bring it home into their artifact room. James Wan (Saw, Aquaman, Furious 7) and Peter Safran (Shazam!) are producing the New Line Cinema production. Bishara has previously scored the original Annabelle film, as well as both The Conjuring movies. 2017's Annabelle Creation was scored by Benjamin Wallfisch. Annabelle Comes Home is set to be released on June 28, 2019 by Warner Bros. Pictures.
Annabelle Comes Home is an upcoming American supernatural horror film based on the legend of the Annabelle doll. It serves as a sequel to 2014's Annabelle and 2017's Annabelle: Creation, and as the seventh installment in the Conjuring Universe franchise. The film is written and directed by Gary Dauberman in his directorial debut, from a story co-written with James Wan. Wan also produced the film with Peter Safran. The film stars Mckenna Grace, Madison Iseman and Katie Sarife, along with Patrick Wilson and Vera Farmiga, who are reprising their roles as Ed and Lorraine Warren from the Conjuring Universe.
"Despite all this general positivity, I feel I still need to make it absolutely clear: Annabelle remains a very challenging, very difficult album to experience, and anyone with an aversion to extreme dissonance and dark, chaotic atmospheres will often find themselves recoiling in disgust from Bishara's vivid music. The intent of this music is to scare the cinema patron with explosions of sound, and in that respect it succeeds entirely. However, more than it did in any of his previous efforts, Bishara's music here also impressed me on a purely technical level; once you've gotten past the initial shock of the sound, it's actually quite fascinating to sit and try to dissect what each part of the string section is doing at any given moment, as more often than not they are performing independently of each other, creating fascinating, inter-woven collisions of noise. All of this, combined with the very subtle increase in overall harmonic beauty, and a few moments of genuine emotional warmth, make Annabelle the best score of Joseph Bishara's career to date." (Jonathan Broxton, movie music UK)
Music composed by Joseph Bishara
Conducted by Jeffrey Holmes
Orchestrations by Dana Niu
Recorded and mixed by Chris Spilfogel
Edited by Julie Pierce
Produced by Joseph Bishara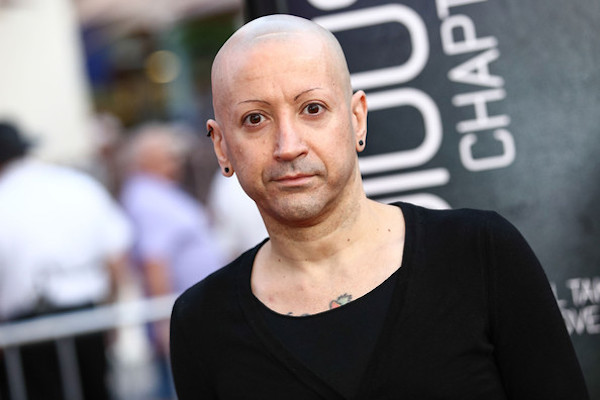 Joseph Bishara
is a composer and music producer of a darker flavor. His scores include The Conjuring and The Conjuring 2, Annabelle,Insidious, Insidious Chapter 2, Insidious Chapter 3, The Other Side of the Door and many others. Bishara has also appeared onscreen as creature performer in Insidious as the Lipstick-Face Demon, The Conjuring as Bathsheba, as well as demons in Annabelle and The Conjuring 2. Music production work includes the soundtrack for the cult musical film Repo! The Genetic Opera and its successor The Devil's Carnival, as well programming and remix contributions for artists such as Tech N9ne, Marilyn Manson, Rasputina, Danzig, Jane's Addiction and Nine Inch Nails.

This album contains no booklet.