---
Album info
Album including Album cover Booklet (PDF)
Arvo Pärt (b. 1935): Solfeggio:

1

Solfeggio (Version for Chorus)

03:28

Summa:

2

Summa (Version for Chorus)

06:21

Zwei Beter:

3

Zwei Beter

05:25

The Woman with the Alabaster Box:

4

The Woman with the Alabaster Box

05:57

Franz Liszt (1811 - 1886): Via crucis, S. 53:

5

Via crucis, S. 53: Vexilla regis

04:23

6

Via crucis, S. 53: I. Jesus wird zum Tode verdammt

01:22

7

Via crucis, S. 53: II. Jesus trägt sein Kreuz

02:21

8

Via crucis, S. 53: III. Jesus fällt zum ersten Mal

01:26

9

Via crucis, S. 53: IV. Jesus begegnet seiner heiligen Mutter

02:15

10

Via crucis, S. 53: V. Simon von Kyrene hilft Jesus das Kreuz tragen

03:09

11

Via crucis, S. 53: VI. Sancta Veronica

02:29

12

Via crucis, S. 53: VII. Jesus fällt zum zweiten Mal

01:26

13

Via crucis, S. 53: VIII. Die Frauen von Jerusalem

03:05

14

Via crucis, S. 53: IX. Jesus fällt zum dritten Mal

01:32

15

Via crucis, S. 53: X. Jesus wird entkleidet

01:46

16

Via crucis, S. 53: XI. Jesus wird ans Kreuz gsechlagen

00:58

17

Via crucis, S. 53: XII. Jesus stirbt am Kreuze

07:41

18

Via crucis, S. 53: XIII. Jesus wird vom Kreuz genommen

03:50

19

Via crucis, S. 53: XIV. Jesus wird ins Grab gelegt

05:25

Total Runtime

01:04:19
Info for Liszt: Via crucis, S. 53 - Pärt: Sacred Choral Works

This program by the award-winning Estonian Philharmonic Chamber Choir under the direction of its artistic director and chief conductor Kaspars Putnins includes Franz Liszt's (1881-1886) mystery-filled Via Crucis as well as four enigmatic and spiritual choral works by Arvo Pärt (b. 1935). Liszt's Via Crucis is one of his religious keyworks representing his late modern style. Liszt joined the Franciscan Order in Rome in 1865 and remained as a devout Catholic until the end of his life. Liszt became interested in the Gregorian chant and the works of Palestrina. His stay in Rome inside the Vatican walls inspired him to write several religious works, including the Via Crucis. During Liszt's lifetime, and even today, his religious works were somewhat neglected: Via Crucis was completed in 1879, but not premiered until 1929. This recorded version for choir and piano features Kalle Randalu, one of Estonia's internationally most well-known pianists. This recording includes Arvo Pärt's first choral work, Solfeggio, from the 1960s, which is already looking towards his later style. Pärt has described his Summa from 1977 as his "most strict and enigmatic work" in his series of works in the tintinnabuli style. The two other choral works are based on biblical passages from the Gospels of Luke and Matthew.
Kalle Randalu, piano
Estonian Philharmonic Chamber Choir
Kaspars Putniņš, conductor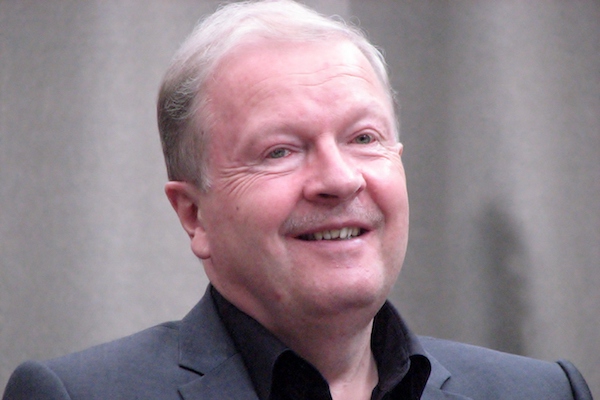 Kalle Randalu
was born 1956 in Tallinn (Estonia).When barely 6 years old, he already attended a special music school for especially talented children. After spending 5 years at the academy of music in Tallinn, where he was a student of Prof. Bruno Lukk, he changed to the Music Conservatory in Moscow, as a student in the masterclass of Prof. Lev Vlassenko.
Mr. Kalle Randalu is the winner of many internationally recognized piano competitions: in 1971 at the Czechoslovakian competition for young pianists, and in addition, he was awarded the first prize in 1976 at the all-union-competitions in Tallinn,; in 1981 he won the Robert Schumann Competition in Zwickau; in 1982 he won the Tschaikowsky Competition in Moscow; and in 1985 he won the first prize in the ARD (German television) Competition in Munich.
He gave concerts in Canada, Japan, Brasil, Russia, and in many european countries. Since 1988 he has lived in Germany. He has worked as a teacher at the Staatliche Hochschule for Musik (Conservatory of Music) in Karlsruhe since 1989; since 1994 he is a professor at the University of Freiburg,. During various summer festivals, Mr. Randalu offers master classes in Finnland, Brasil and Canada. Between 1991 and 1993 he was the artistic director of the summer festival in Jyväskylä, Finnland.
He has made music with some of the world's most famous orchestras, such as the St. Petersburg Philarmonic Orchestra, the orchestra of the Bavarian State Opera, the Bavarian Radio Orchestra, the Moscow Philarmonic Orchestra and the Grand Symphony Orchestra of Moscow, the chamber orchestras of Württemberg, Bratislava and St. Petersburg, the Symphony Orchestra of Göteborg, the Symphony Orchestra of Iceland, and the Finnish Radio Orchestra.
He has worked together with such conductors as Jörg Faerber, Wolfgang Sawallisch, Hans Martin Schneidt, Neeme Järvi, Peeter Lilje, Mariss Jansons, Natan Rachlin, Vladimir Fedossejew, Maxim Schostakowitsch, Leif Segerstam and many others.
Randalu is also well known as a chamber musician. He has worked with such soloists as Sabine Meyer, Jewgeni Nesterenko, Wolfgang Meyer, David Geringas, Reinhold Friedrich and many others. In addition, he is a member of the internationally renowned chamber orchestra "Villa Musica", working together with soloists such as Thomas Brandis, Ida Bieler, Ulf Rodenhäuser, Radovan Vlatkovitch, Klaus Thunemann, Sergio Azzolini, Martin Ostertag, Peter Sadlo, Ingo Goritzki, Jean-Claude Gerard, Boris Björn Bagger and others.

Booklet for Liszt: Via crucis, S. 53 - Pärt: Sacred Choral Works