---
Album Info
Album Veröffentlichung:
2019
HRA-Veröffentlichung:
22.03.2019
Das Album enthält Albumcover
Mark Dal Porto (b. 1955):

1

Song of Eternity

08:18

2

I Seek Rest for My Lonely Heart

04:02

3

When Your Song Rang Out to Me

05:43

4

Romance

11:53

5

Spring, the Sweet Spring

03:05

Exotic Animals Suite:

6

Exotic Animals Suite: I. Exotic Birds

02:51

7

Exotic Animals Suite: II. Exotic Snakes and Lizards

02:57

8

Exotic Animals Suite: III. Exotic Cats

03:05

Mark Dal Porto:

9

Mystic Mountain

07:41

Total Runtime

49:35
Info zu Peace, Nature & Renewal
Composer Mark Dal Porto's award-winning, neo-Romantic Song of Eternity for Orchestra starts off The Music Of Mark Dal Porto in epic fashion. If Mahler and Prokofiev had collaborated on a composition, it would probably have sounded a lot like this: pensive, evocative, and nostalgic. Song of Eternity describes the eternal renewal of nature with cinematic impact. It is inspired by an ancient Chinese poem, as is the next piece, I Seek Rest for My Lonely Heart for A-Cappella Choir. This work continues the subject of nature, albeit in a more individualized fashion, capturing the sentiment of a distressed soul in search of peace in a pastoral setting.
But it isn't just Far Eastern poetry which Dal Porto sets to music. Western verse receives due attention as well, and it's quite a trip through the ages: Spring, the Sweet Spring is an enthusiastic anticipation of the end of winter, based on a poem by Elizabethan poet Thomas Nashe. On the other hand, German Romantic poet Clemens Brentano laid the conceptual groundwork for Dal Porto's musical adaptation When Your Song Rang Out to Me, an unbridled, joyful choir supported by a lively piano accompaniment.
Dal Porto strikes a more personal note with Romance for Oboe and Piano, dedicated to his beloved wife, oboist Tracy Carr. He also demonstrates considerable humor in his Exotic Animals Suite for Woodwind Quintet, depicting warbling birds, crawling reptiles, and growling big cats. The final piece, Mystic Mountain, evokes the sublime sensation of one overlooking a vast landscape after a breathtaking ascent to a mountaintop with an intensity that is both uncanny and awesome. Caspar David Friedrich's "Wanderer Above the Sea of Fog" immediately springs to mind, and indeed, if one were to liken the Romantic painting to an album The Music Of Mark Dal Porto would be it.
Moravian Philharmonic Orchestra
Petr Vronský, conductor
Vox Futura
Andrew Shenton, conductor
Tracy Carr, oboe
Mark Dal Porto, piano
Arcadian Winds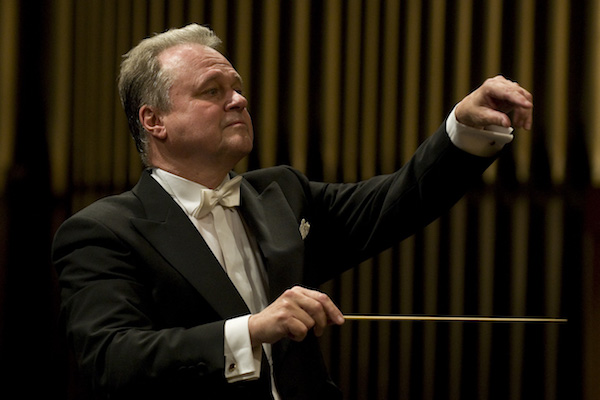 Petr Vronsky
After successes in several important international competitions for conductors including the competition in Besancon [France] in 1971 and the Karajan Competition in Berlin in 1973 his career began at the opera company in Pilsen. From 1974 till 1978 he was Chief of opera of the State Theater in Usti nad Labem [Czech Republic]. In 1978 he was appointed Chief conductor of the Brno Philharmonic Orchestra which position he held until 1991. Since 2002 he is Chief conductor of the Janacek Philharmonic Orchestra Ostrava.
As a guest conductor he has conducted many famous foreign symphony orchestras e.g. Berlin Symphony Orchestra, Munic Radio Symphony Orchestra, Dresden Philharmonic Orchestra, Stuttgart Philharmonic Orchestra, St.Petersburg Philharmonic Orchestra, Royal Philharmonic Orchestra Antverpen, Zagreb Philharmonic Orchestra, Zurich Symphony Orchestra, Yomiuri Symphony Orchestra, Tokyo Metropolitan Symphony Orchestra, etc.
He is also frequent guest conductor of Czech orchestras as Czech Philharmonic Orchestra, Prague Symphony Orchestra, Prague Radio Symphony Orchestra, Brno Philharmonic Orchestra, etc. In addition to conducting symphonic works he collaborates also with opera companies as National Theater in Prague, State Opera Prague, Vienna Chamber Opera, Monte Carlo Opera, Danse Theater in Den Haag, Teatro Colon Buenos Aires.
Mr. Vronsky's broad repertory includes more than two hundred symphonic and operatic works.
The Moravian Philharmonic Orchestra
ranks among the oldest symphony orchestras in the Czech Republic and is based in Olomouc, the historic capital of Moravia. The orchestra has participated in important international festivals in Greece, Germany, Spain, France, Italy and Austria as well as annually touring Europe. Critics and audiences everywhere have responded enthusiastically to their performances. In recent years the orchestra has made many recordings of contemporary music.
I would like to thank Vít Mužík, the producer and Aleš Dvořák and Jan Košulič, the recording engineers for all the care and attention they gave to making the recordings. I would also like to thank Jan Sítař, the manager of the orchestra for all his kindness and thoughtfulness during our time in Olomouc. Nothing was ever too much trouble for him.
I am very grateful to Colin Attwell of Claudio Records for liaising with the recording engineers in order to achieve beauty of sound on the recording sessions.
Petr Vronský
was originally a very successful violinist and started conducting in 1971 in The Opera of Plzeň, from where he moved to Ústí nad Labem as a head of the opera ensemble. Successes in a number of competitions Prague (1970), Besancon (1971) and Berlin (1973) helped him to develop his career as a conductor. He has conducted many important Czech orchestras and regularly works with orchestras in other countries. Since 2005 he has been the principal conductor of the Moravian Philharmonic Orchestra.
Duo Ahlert & Schwab
Birgit Schwab (guitar) and Daniel Ahlert (mandolin) have been performing together since 1992 and have given hundreds of recitals in Europe and the US. During their first year of giving concerts as a duo they won 1st prize at the international chamber music competition in Soumagne/Belgium. Critics and audiences have admired their unique sound, brilliant technique and rhythmical fire.
Duo Ahlert & Schwab have made six CDs for Antes and Naxos and their performances have been broadcast on TV and radio in many countries. They have premiered more than 100 compositions, almost all of which have been dedicated to them. Daniel and Birgit have their own publishing company "Edition Corvus" which has published many of these works.


Dieses Album enthält kein Booklet