---
Biographie Ingrid Riollot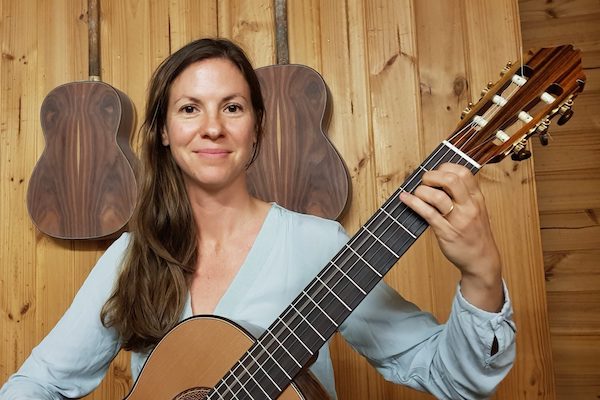 Ingrid Riollot
Born in 1981 in France, Ingrid Riollot began learning music at the age of 6 and classical guitar at 8. She graduated from the National Conservatory of Music in Lyon France where she studied with Jesus Castro-Balbi and Marc Franceries. She obtained distinctions with the highest awards and honors: First Prize Classical Guitar, Chamber Music, Analysis, Harmony and received a "Special Prize Young Talent" from Lyon Philharmonic Society. She continued her superior guitar studies with Ricardo Gallen in Barcelona, Spain.
She perfected her skills in master classes held by renowned guitarists such as Joaquin Clerch, Marco Tamayo, Costas Cotsiolis, Gerard Abiton, Eric Franceries, Alberto Ponce.
Ingrids international solo career has seen her perform in many countries. She has been invited to perform in several prestigious venues such as 1st International Guitar Festival Peru (2021), opening ceremony WA Museum Perth (2020), Music School Giovani Andrei Peru (2020), Albania International guitar Festival (2020), Silpakorn University Bankok Thailand (2020), Madrid International guitar festival(2019), Shenzhen cultural centre China (2019), Sai Kung West Hong-Kong(2019), Montreal Guitar Society Canada (2018), Hamilton Guitar 2018 (Canada), 23eme Festival International des Cordes Pincees de Rabat (Morocco), 2018 Taranaki Concert Series (New-Zealand),Taranaki Classical Summer School 2018 (New-Zealand), Alberton House Aukland 2016 (New-Zealand), 4th Wall Theatre New-Plymouth 2016 (New-Zealand), The Hong-Kong Academy for Performing Arts 2018 (HongKong), International Guitar Festival 2016 (HongKong), Atrium Church (HongKong), Shenzhen International Guitar Festival 2016 (China), Shanghai (China), Trinity College London Kuala Lumpur (Malaysia), Trinity College London Johor Bahru 2017 (Malaysia), Johor Bahru Philharmoniker Classical Guitar Festival 2018 (Malaysia), Guitar Retreat Cameron Highlands (Malaysia), Sydney St Peter's Church (Australia), Sydney Hunters Hill (Australia), Katoomba Carrington Ballroom 2015 (Australia), Nowra (Australia), Fiuggi Guitar Festival (Italy), Milano International Guitar festival (Italy), Classical Guitar Society (Mauritius Island), Classical Guitar Society (Rodriguez), Montreux (Switzerland), Coppet (Switzerland), Casa Luthier Barcelona (Spain), Renier III Academy (Monaco) and in numerous prestigious venues in France : Hotel de Ville de Paris, Les Guitares en Cormatinois, Nancyphonies, Adagio Thionville, Les 4 Saisons en Charolais, Mirecourt Museum, Gustave Courbet Museum, Ecole de Nancy Museum, Nancy Music Conservatory, Superior School of Arts Lorraine, French Guitar Society, Basilique Notre Dame de Lourdes Nancy, Theatre Conflore (Reunion Island), Music Conservatory (Reunion Island), Institut d'Enseignement Superieur de la Musique en Europe et Mediterranee, CEFEDEM Normandie, Fondation de Coubertin…
Ingrid Riollot is also an experienced guitar professor. She studied pedagogy at the Ecole Superieure d'Art de Lorraine in France where she obtained a Licence and then a Master in classical guitar pedagogy. She specialised in teaching the Kodaly Music Education method. For the last 18 years Ingrid has taught in French music conservatories: Nancy, L'Hay-Les-Roses, Albertville and Montbeliard where she was the head of the guitar studies. She taught in Geneva, Studio Kodaly, Switzerland.
She has led master classes in several Universities, Music Conservatories and International Guitar Festival: Silpakorn University Bangkok Thailand, UQUAM Universite du Quebec a Montreal Canada, Trinity London College Malaysia, Shanghai, Bourg St Maurice Music Conservatory France, Music Conservatory Thionville France, Reunion Island and for several International Guitar Festivals such as Taranaki Summer School New-Zealand, International Guitar Festival Shenzhen China, International Guitar Festival Peru, Summer Camp Hong-Kong, Hamilton Guitar Canada, Classical Guitar Society Mauritius island, Classical Guitar Society Rodriguez, Morvan France, Guitar Retreat Cameron Island Malaysia,…
She sits on juries throughout the world: Changsha International Guitar Festival China, Ecole Superieure d'Art de Lorraine France, Institut d'Enseignement Superieur de la Musique Europe et Mediterranee France, Academy Renier III Monaco, Music Conservatories Metz, Dijon, Paris XIX, Chartres, Reunion Island, Belfort, Bourg en Bresse, Classical Guitar Society Rodriguez, Albania International Guitar Competition, Montigny-le-Bretonneux Guitar Competition France, Epinal Guitar Competition France …
Since 2018, Ingrid & Damon Smallman give lectures/demonstrations about history and design of Smallman Guitars: Changsha International Guitar Festival China, The Hong-Kong Academy for Performing Arts, Vancouver Classical guitar Society Canada, Pakan Nanas Philharmoniker Malaysia, Kuala Lumpur Malaysia, Fiuggi Guitar Festival Italy, International Guitar Festival Madrid
She currently lives in Esperance, WA Australia since 2019.
Currently, she plays on a 2021 Greg Smallman and Sons Damon & Kym guitar. She is sponsored by Savarez. She is the Sponsor of Mauritius Classical Guitar Society, She is President of the French Guitar Society.