---
Biographie Fanou Torracinta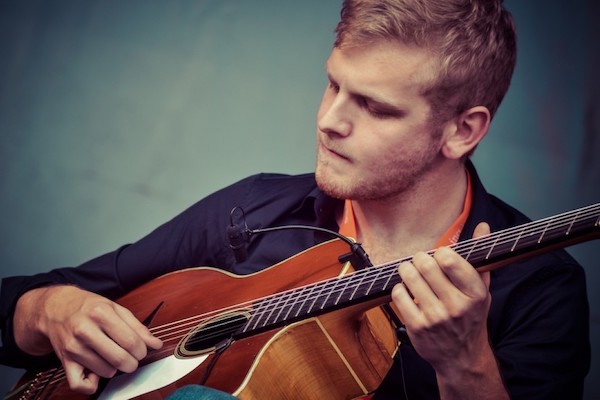 Fanou Torracinta
Coming from a family of musicians, from an early age, Fanou Torracinta has the chance to rub shoulders with the best, he immerses himself in their games with fervor, discovers the gypsy sounds of Django Reinhardt's music: he dreams of them. imitate. Its Corsican origin influences its tastes, shapes the basis of its training because, if the island calls for a change of scenery, the search for contrasts at the same time as the affirmation of its roots, it is often a beneficial stopover for visiting musicians.
Sometimes this can seal a fate: meeting Tchavolo Smchitt, a true legend of the gypsy style, will be decisive for Fanou. He will see him again and play with him at each of his participations in island festivals.
In 2019, Fanou Torracinta formed his new group alongside William Brunard, Benji Winterstein and Bastien Brison and, last November, he recorded in Paris Gipsy guitar from Corsica. There he presents his new compositions in a repertoire combining his Corsican and Manouche influences. He uses standards but, above all, he invents his music. The release of Gipsy Guitar From Corsica is scheduled for January 2021.
"I've known Fanou for a little while now. He looks adorable like that but don't let that fool you. First he is young, very young even and then he plays the guitar really well. And playing like that, at that age, is bordering on rude compared to elders like me. Frankly I believed that the Corsicans treated their elders with more respect than elsewhere, well let me tell you that it is not so, Fanou, under my nose, does not hesitate to play as on his record, with a very great harmonic and rhythmic virtuosity, with ease and relaxation, with a magnificent touch and feeling. Fanou, he is gifted, and in addition he is very hardworking, and that, if we want to be a minimum correct with others, that is not done, I say that, I say nothing, Fanou, it is not very all that nice, you could try to laze around, drink too much or just play less well, and if you really can't, for example cut yourself a finger or two, to give yourself a handicap, there is even some some who succeeded, what are you risking?!
Finally, despite all these faults, I am proud that Corsica gave birth to such a good, as talented musician-guitarist as Fanou. In concrete we make urban music, in Corsica we are lucky to prefer the serenade and the guitar, songs on summer evenings under the stars or concerts on the beach with friends and music lovers. It's no wonder, in Corsica there is beauty everywhere, guitar everywhere, and there is even Fanou!"