---
Glenn Crytzer's Secluded Seven
---
Biographie Glenn Crytzer's Secluded Seven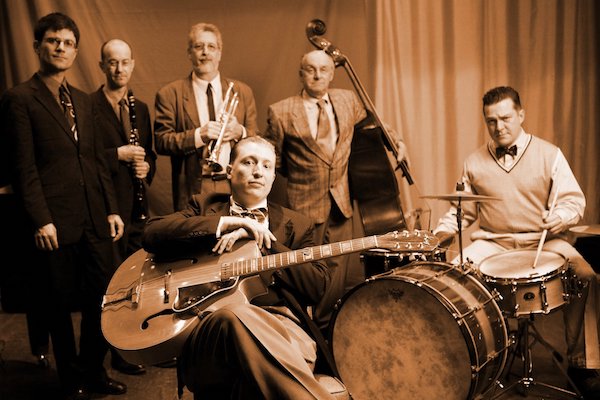 Glenn Crytzer
is a New York City based bandleader, arranger, composer, guitarist, and vocalist who is in love with the music of the Jazz Age and Swing Era. ​
While completing his formal training in classical composition and cello at the Cleveland Institute of Music and the Florida State University, Glenn took up dancing the Lindy Hop as a hobby. Through the Lindy his love of early jazz grew, but he lamented that there were so few musical groups that specialized authentic performance of his favorite kind of music. Glenn decided to put his musical training to use, taught himself guitar, banjo, and jazz arranging, and set about bringing to life the music he loved. ​
Now in his mid 30s, Glenn has become a staple in New York City's jazz scene as a guitarist and bandleader. He has released 8 albums with his big band and combos and dozens of his recordings have been featured in films and TV shows seeking to evoke the sound of the golden age of radio. In 2017 his big band was named Best Group in New York in the NYC Jazz Awards.
The Glenn Crytzer Orchestra
(GCO) is New York City's premiere vintage jazz orchestra, specializing in the music of the 1920s, 1930s, and 1940s. Named "Best Group" in New York in the 2017 NYC Jazz Awards, the GCO is comprised of an elite group of world-class musicians, each of whom has a personal passion for the music of the Jazz Age and Swing Era. This expertise gives audiences a chance to not only hear classic songs and arrangements, but to hear them brought to life just as they would have been performed when they were new. An authentic and exciting performance from the GCO is just about as close as one can get to time travel; audience members may spontaneously leap from their seats and start dancing in the aisles!
The GCO has an extensive book of arrangements; their standard performance includes repertoire from classic jazz artists like Benny Goodman, Tommy Dorsey, Artie Shaw, Count Basie, Duke Ellington, Glenn Miller, and more, as well as acclaimed new songs and arrangements of standards written in the vintage style by bandleader and composer Glenn Crytzer. Their recordings have been featured in numerous film and TV productions including Pretty Little Liars, Bomb Girls, Manhattan, Growing Up and Other Lies, Alive and Kicking, Famous In Love, and more.