---
Biographie Jupiter & Thomas Dunford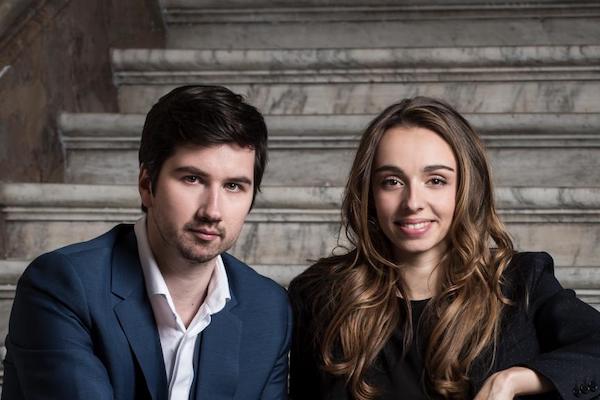 Lea Desandre
Die französisch-italienische Mezzosopranistin Lea Desandre wurde 2017 bei den Victoires de la Musique Classique als sängerische "Entdeckung" ausgezeichnet, war HSBC-Preisträgerin beim Festival d'Aix-en-Provence und gewann 2018 den Prix Jeune Soliste der Médias Francophones Publiques. Mit 20 Jahren wurde sie in William Christies renommierte Akademie Le Jardin des Voix aufgenommen, mit der sie zahlreiche Konzerte gab. Nach ihrem Debüt an der Pariser Opéra Comique in der Titelrolle in Marin Marais' Alcione 2017 war sie an den wichtigsten Opernhäusern und in den renommiertesten Konzertsälen zu Gast, darunter das Théâtre des Champs-Élysées und das Théâtre du Châtelet in Paris, das Sydney Opera House, die Opéra National de Bordeaux, das Theater an der Wien, die Alice Tully Hall und das Lincoln Center in New York, der Wiener Musikverein, die Philharmonie de Paris, der Tschaikowski-Konzertsaal in Moskau, das KKL Luzern und der Konzertsaal des Shanghai Symphony Orchestra. Außerdem war sie beim Festival d'Aix-en-Provence, den Osterfestspielen Salzburg und den Salzburger Festspielen zu Gast. In Salzburg war sie erstmals zu Pfingsten 2018 in einer konzertanten Aufführung von Offenbachs La Périchole zu hören.
Lea Desandre hat bereits mit renommierten Dirigenten und Musikern wie William Christie, John Eliot Gardiner, Jordi Savall, Raphaël Pichon, Thomas Dunford, Jean Rondeau, Christophe Rousset, Marc Minkowski, Fabio Biondi, Leonardo García Alarcón und Emmanuelle Haïm zusammengearbeitet und mit namhaften Regisseuren, darunter Barrie Kosky, Jan Lauwers, Jean-Yves Ruf, Aurélien Bory und Jean Bellorini.
Zu ihrem umfangreichen Repertoire gehören Rollen wie Annio (La clemenza di Tito), Sesto (Giulio Cesare), Ruggiero (Alcina), Dido (Dido and Aeneas), Rosina (Il barbiere di Siviglia), Cherubino (Le nozze di Figaro), Urbain (Les Huguenots), Valletto und Amor (L'incoronazione di Poppea) sowie die Botin (L'Orfeo).
In der Spielzeit 2018/19 sang sie u. a. Amor in Glucks Orphée et Eurydice an der Opéra Comique in Paris und war in einem Konzert mit dem Ensemble Jupiter mit Werken von Vivaldi, in Bachs h-Moll-Messe sowie dem Programm Stravaganza d'Amore unter Raphaël Pichon, bei einem Konzert anlässlich des 150. Todestags von Hector Berlioz im Auditorium de Radio France in Paris sowie bei Liederabenden mit Thomas Dunford in Ambronay, Marokko und Kilkenny sowie in der Salle Cortot in Paris und an der Angers Nantes Opéra zu hören. weniger anzeigen
Thomas Dunford
Born in Paris in 1988, Thomas Dunford discovered the lute at the age of nine, thanks to his first teacher Claire Antonini. He completed his studies in 2006 at the Conservatoire de Paris (CRR), when he obtained a unanimous 1st Prize with honors in the class of Charles-Edouard Fantin. ​
Thomas Dunford continued his studies at the Schola Cantorum in Basel with Hopkinson Smith, and participated in several master classes with artists the caliber of Rolf Lislevand and Julian Bream, and in workshops with Eugène Ferré, Paul O'Dette, Pascale Boquet, Benjamin Perrot and Eduardo Eguez. He was awarded his Bachelor's degree in 2009. ​
From September 2003 through to January 2005, Thomas gave his first performances playing the role of the lutenist in Shakespeare's Twelfth Night on stage at the Comédie française. Since then, Thomas has played recitals in New York's Carnegie Hall and Frick Collection, London's Wigmore Hall, the Washington Kennedy Center, the Vancouver Recital Society, Cal performances at Berkeley, the Banff center, the Palau de la Musica in Barcelona, the festivals of Saintes, Utrecht, Maguelone, Froville, TAP Poitiers, WDR Cologne, Radio France Montpellier, Saffron Hall. He made numerous solo or ensemble appearances in the most prestigious European festivals including Ambronay, Arc La Bataille, Bozar, La Chaise-Dieu, Nantes, Saintes, Utrecht and many others. He has also performed further afield in England, Scotland, Ireland, Spain, Germany, Austria, Norway, Belgium, Netherlands, Switzerland, Poland, Hungary, Romania, Estonia, Czech Republic, Bresil, Colombia, Chili, Mexico, United States, Israel, China, Japan and India. ​​