---
Matthew Gee & Chris Hopkins
---
Biographie Matthew Gee & Chris Hopkins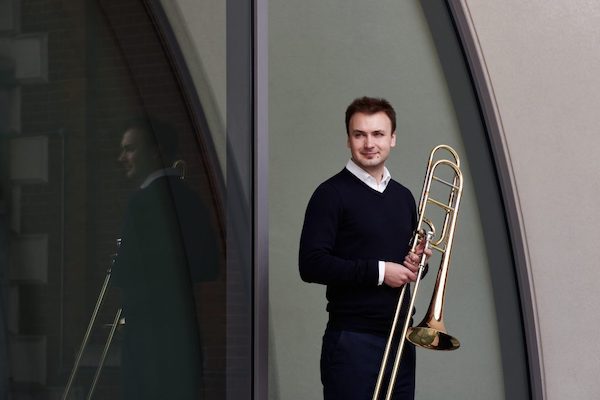 Matthew Gee
is making a name for himself as one of the freshest and most imaginative performers on the current scene. He maintains a strong desire to relinquish trombone playing from its stereotype and illuminate the wider public as to the beauty and terror of this misunderstood instrument.
Matthew is Principal Trombone with the Royal Philharmonic Orchestra (RPO) and the Aurora Orchestra. He has played with some of the finest orchestras and chamber ensembles in the world, such as the Vienna Philharmonic Orchestra, recorded and appeared in film and television scores, and worked with some of the greatest conductors of this generation.
After studying Music at King's College London and the Royal College of Music, Matthew took up the position of Principal Trombone with the Orchestra of Scottish Opera. Since then he has held principal trombone positions with the Orquesta Filharmónica de Santiago in Chile and the Orchestra of Opera North, before starting with the RPO in January 2010.
As a soloist and chamber musician Matthew has performed internationally in some of the world's most famous venues, including London's Wigmore Hall and Purcell Room. He has had a number of works written for him including 'The Conquests of Zeus' by Oliver Rudland and 'Circus Games' by Rob Keeley, and gave the UK premiere of Kurt Schwertsik's 'Trombone Concerto' at St John's Smith Square. Recent performances include the UK première of Elliott Carter's 'Retracing V' at Kings Place, in which he 'guided it with just the right degree of cool vibrato' (arts desk), and Iannis Xenakis's 'Keren' in the Arcomis International Brass Festival. Concerto performances include works by Rimsky-Korsakov, Buxton Orr, Derek Bourgeois, Ferdinand David, Johann Albrechtsberger and earlier this year, Luciano Berio's demanding concerto 'Solo' in the beautiful Konzerthaus in Bern.
Matthew is also Chairman of the British Trombone Society, taking an active part in promoting the trombone, developing its repertoire and bringing it to new audiences.
Chris Hopkins
was born in Princeton, New Jersey (USA) on April 18, 1972. When still a child, Chris' family moved to Germany where he has spent most of his life. He began playing music at the age of six, and started with training in classical music, at first on the harpsichord. When Chris was about thirteen years old, he got a hold of an old Jazz LP and was immediately captured by the spirit of this special music which soon turned out to be his main interest. Still in school he led his own band and due to his talent, passion and devotion to jazz quickly made himself a name in the jazz scene. He nowadays lives in Bochum (near Düsseldorf), Germany, from where he frequently travels to concerts and jazz festivals all over the world - playing piano and also alto sax.
Chris' piano playing is deeply rooted in the fascinating and highly demanding tradition of 1920s to 1940s Stride and Swing piano. His style reflects imports from James P. Johnson, Fats Waller and Willie "the Lion" Smith via Count Basie and Duke Ellington up to Earl Hines, Teddy Wilson and Nat King Cole and many others. Combining all these influences to form his own very personal sound and approach, Chris is internationally regarded as one of the biggest talents in this field proving a sensitive accompanist as well as tasteful soloist with a broad repertoire and stylistic knowledge.
Chris is also the leader of the well-known international group "Echoes of Swing" in which he plays the alto sax, finding inspiration in the legacy of Pete Brown, Benny Carter and Johnny Hodges. The exciting combo - now existing in the original line-up since 1998 - which covers a wide range of unusual material from sophisticated chamber music to hot swinging jazz so far has recorded 10 CDs. The group's album "Message From Mars" received the "Prix de L'académie du Jazz" in Paris as well as the prestigious "German Record Critics Award". In 2013 "Echoes of Swing" signed an exclusive recording contract with 'ACT Music + Vision', one of the leading independent Jazz labels with worldwide distribution and subsequently produced four critically acclaimed albums: "Blue Pepper", "Dancing", "Bix - A Tribute To Bix Beiderbecke" and "Travelin' - Celebrating 20 Years on Tour".
Traveling through Germany, Belgium, Holland, Switzerland, Austria, Italy, France, Sweden, Norway, Finland, the USA, Japan, Australia, New Zealand, and even the Fiji-Islands, he has accompanied and recorded with many renowned international musicians, i.e. Howard Alden, Tom Baker, Dan Barrett, Bob Barnard, Lillian Bouttée, Kenny Davern, Harry "Sweets" Edison, Jim Galloway, Jeff Hamilton, Jake Hannah, Peanuts Hucko, Hazy Osterwald, Ken Peplowski, Bent Persson, Scott Robinson, Randy Sandke, Antti Sarpila, Dick Sudhalter, Clark Terry, Warren Vaché, Joe Wilder, Jackie Williams, Roy Williams, Louis Bellson, Kenny Burrell, and many others.
Since 1998, Chris has been regularly invited to perform as a soloist at American jazz events such as the "International March of Jazz" in Clearwater, Florida where - over the years – he has had the opportunity to share the stage with such legendary jazz stars as Bob Haggart, Flip Phillips, Benny Waters, Milt Hinton, Ruby Braff, Jack Lesberg, Joe Bushkin, Buddy De Franco, and Ralph Sutton.
Other special events in Chris's musical biography include extended European tours with the "International Stride Piano Summit", playing duets with fellow pianists Louis Mazetier, Bernd Lhotzky, Rossano Sportiello, and Dick Hyman as well as several tours including or lead by Dan Barrett which resulted in CD-projects such as "Portrait of Duke Ellington", "Sophisticated Swing", and "Dan Barrett's International Swing Party".
Among the over 40 CDs he has recorded, three albums were produced on the American label "Arbors Records" - one of them his first and only piano solo album "Daybreak". His recording "Teddy Wilson in 4 Hands" – a two-piano-CD with Dick Hyman – was issued on Victoria Records, St. Louis (Missouri) and was presented for the first time during a concert at the "92nd Street Y" in New York City. The album was recently awarded 4 stars by the renowned American Jazz Magazine "Downbeat".
In addition to his extended concert schedule, Chris Hopkins has been a university lecturer at the "Hochschule für Musik", Cologne since 2005, teaching swing & classic jazz styles.
In 2013 Chris Hopkins received the German "Keeper Of The Flame" accolade for his "outstanding services to classic jazz in Europe" and in 2017 the "Jazz Pott Award" as "best progressive artist".