---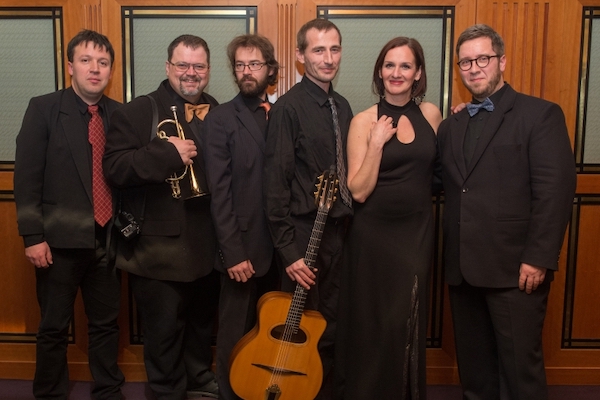 Papajazz
was formed in 2005 by professional musicians. Each member of the band - originally a quartet - has been a big fan of the so called "old school jazz, despite that not all of them had in depth experience in this style. Papajazz is committed to bringing the music of the 1920s, 1930s, and 1940s to life. Their latest record, My Blue Heaven features Scott Robinson, who also appeared on stage with the band in the Fall of 2016. The album and the concert brought fame for Papajazz who please the crowd with their light-hearted and highly entertaining music. Their repertoire feature well-known American and Hungarian jazz standards as well as hidden gems from the era. For their concert in the Zoo, Papajazz is joined by two popular Hungarian singers, Andrea Malek and Péter Szolnoki.
Their first record "Papajazz" was released in 2006. In 2009 following a member change, the band became truly committed to the music of the '20es, '30es and '40es, later on in the beginning of 2013 a new, fifth musician joined the group.
The band has three albums: 2006 Papajazz, 2015 My Blue Heaven (with special guest Scott Robinson), 2016 Let's Dance.
Whether in a pub or in a huge concert hall they play delectable, entertaining music to their audience, their repertoire includes many well and lesser known old school hits. They fain to satisfy special requests, such as providing the background music at swing dance festivals or at other events like private parties.