---
Leo Halsdorf & Kae Shiraki
---
Biographie Leo Halsdorf & Kae Shiraki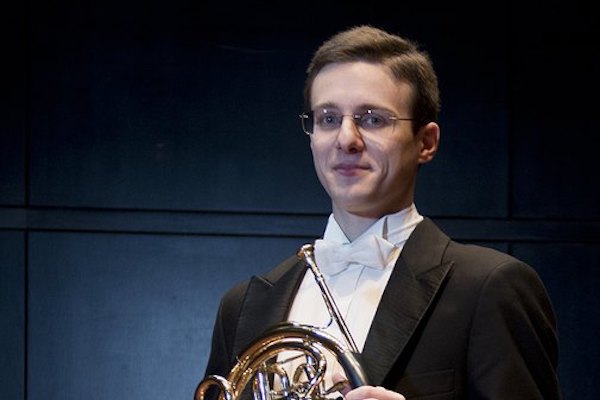 Leo Halsdorf
was born in 1979 in Luxembourg. He started to play the horn at the age of ten in Marc Bouchard's class at the Luxembourg Conservatory. In 2001 he gave up his maths studies to focus on his passion, music. He started to study music in Maastricht with Prof. Erich Penzel, and after graduating, continued advanced studies in Stuttgart with Prof. Christian Lampert. After just one year of studies, he obtained his first job, with the Aachen Symphony Orchestra, and was later hired as associate principal horn at the Bavarian State Orchestra. He switched to the same position in the Lucerne Symphony Orchestra and was hired one year later as principal horn of the Hamburg State Opera. From 2006 to 2012, he was principal horn of the Düsseldorf Symphonic Orchestra. In October 2012, he returned to Luxembourg, where he plays as principal horn with the OPL.
Kae Shiraki
was born in Tokyo, Japan. From an early age it was already apparent that Kae possessed exceptional musical talent. Having started to play the piano at the age of three, in the class of Hideko Kikukawa, Kae won her first prize at the East Japanese Piano Competition two years later. Then, at the age of six, she made her first appearance with a chamber orchestra in Tokyo.
After successful formative years in Japan, she moved to Germany to continue her piano education under the tutelage of Michael Schäfer at the Hochschule für Musik und Theater München, graduating with top honors. Following graduation, she remained in Munich to further develop her artistic skills with the famous Georgian pianist, Elisso Wirssaladze.
In 2001, Kae then moved to Paris to refine the art of piano playing with Gerard Frémy and Guigla Katsarava at the Ecole de Musique de Paris - Alfred Cortot where she graduated with "1er prix avec les félicitations du Jury" (highest honours).
Kae lives and performs in Luxembourg and also frequently appears in France, Germany and throughout Europe.