---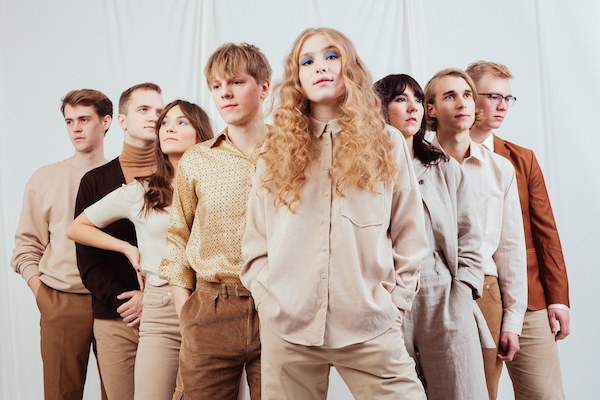 Fieh
For as long as Sofie Tollefsbøl can remember, she's been surrounded by music. From the classical piano lessons she took as a child to the blues festivals and concerts that her guitar-obsessed older brother shared with her to the seventies rock she discovered at school, music has been a constant presence in her life.
It wasn't until she started singing in high school that she stumbled upon the path that she walks to this day. "We were being taught basic jazz stuff in music class," she recalls, "so I started checking out Ella Fitzgerald and Billie Holiday, those kind of artists. Then I found Erykah Badu and D'Angelo – the whole neo soul thing – and I was like: 'What? How is this music even possible?' It seemed like the perfect mix of everything I'd been loving for so long."
Inspired, it was the moment that Tollefsbøl resolved to start writing her own music. To begin with she just "messed around" with a midi keyboard and GarageBand but she soon found allies in classmates Ola Øverby (drums) and Andreas Rukan (bass). The trio bonded over a shared love of D'Angelo's seminal Voodoo; "In the beginning, that was our ideal for music, and the album is always with us, but of course we realized we had to make our own thing and not just copy stuff we love."
Over time, the band naturally grew as Tollefsbøl added friends from music school and artists "we just found along the way who shared our musical preferences." They are a band in every sense – as Tollefsbøl notes, "In my eyes, we've been a band since the first gig. The words are by me, but because I know these musicians well – they're my friends and I know what they are capable of musically – I want them to bring as much of their personality and taste into this project as possible."
Now after five years of writing, playing, and honing their sound, Fieh – has ten fierce, punchy soul songs ready to unveil to the world. The band is now an eight-piece, alongside the original trio there are Jørgen Kasbo on guitar, Edvard Synnes on keys, Lyder Øvreås Røed on horns and trumpet, Solveig Wang on backing vocals and Moog, and Thea Arnesdotter Lien on backing vocals.
"Songwriting came fairly naturally to us," says Tollefsbøl. "We actually played '25' at our first ever gig, back in 2014. It's stuck around because we like it so much." It's also because it reminds them of their beginnings, as a raw group of teenagers uniting through their different musical tastes. Those bonds are strong, and that sense of unity and purpose formed when they were 16 shines through on Cold Water On Burning Skin. Fieh is a close-knit gang, invested in real music, making a statement to their peers.
"One thing that's been important to us is giving people a live experience." says Tollefsbøl. Fieh represent the transformative power of music, and how it can unite youth behind noble goals. 'Glu', is an empowering anthem about taking no shit and how "All these old men cannot tell me what to do".
"The way you act as a person is just as significant as writing those kinds of songs. In my mind, it's been important to give people a good time at concerts, like: 'Here's an hour of my life where I'm experiencing nice feelings.' That's meaningful, and music is a nice way to give that to people."
Live, the band are a revelation. Gifted instrumentalists who hark back to the age of smoky clubs, passionate fans, and musicians who lived and breathed their craft. Taking their cue from some of those greats, their songs have plenty of grit and fuzz, a rough-hewn quality that adds warmth and character. "A seventies sort of ideal for how instruments should sound," is how Tollefsbøl describes it. "We didn't want that extremely polished, pop sort of sound."
Listen to the bright, airy 'So Fly', the nonchalant sunny vibes of 'Samurai/When The Summer Is Through', and the sultry, nocturnal 'Douwanna', and it's apparent just how easily Fieh can switch things up; future funk, leftfield R&B, jazz, hints of swing, and lashing of passionate soul all swirl around in a heady, intoxicating mix, music for romantic nights in and for loosening dancing limbs. "We're always getting better at including different stuff from genres that we like," says Tollefsbøl of their magpie approach. "We've got such diverse tastes."
Yet the songs on the album never lapses into a jumble of ideas or lazy facsimiles. It's a record that shimmers with energy and excitement, the sound of friends pouring their heart and soul into something they believe in, something joyful they wish to share with the world. "We spent a lot of time making the album, and deciding on the sound of it," says Tollefsbøl. "The essence of the band is that we are many, and everyone brought their own voice to the project. That's a big part of what makes it interesting." Fieh are all that and more – a true musical collective finding its voice and eager to make their mark on the world at large.