---
Biographie Sheryl Bailey & Harvie S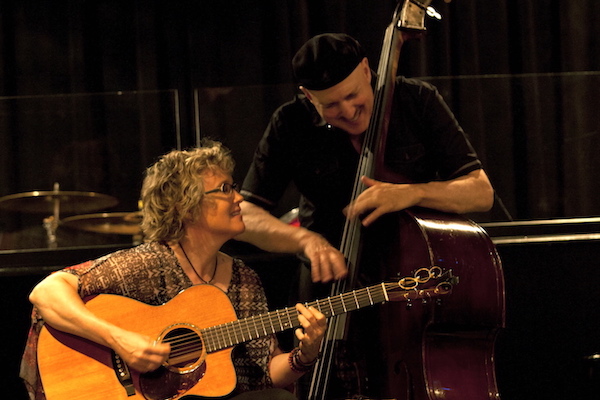 Sheryl Bailey
The Downbeat Critics Poll voted Sheryl a Rising Star (2013-2016) and One of the new greats of her chosen instrument Phillip Booth, Downbeat Magazine
As a leader, she has toured the US, Canada, Finland, Austria, Italy, Australia, Hong Kong, China, Japan, and the UK with her many projects: The Sheryl Bailey 3, The Sheryl Bailey 4, The Electric Ladyland Project, Acoustic Muse, and Plucky Strum. She has 10 critically acclaimed releases as a leader. Her latest is Plucky Strum with bass master Harvie S via Whaling City Sound.
She has toured and recorded with Richard Bona, Anat Cohen, David Krakauers Ancestral Groove, Abraham Inc., John Zorn, Irene Cara, Lea Delaria, George Garzone, Jack Wilkins, Shingo Okudaira, Steve Slagle, Harvie S, Ken Peplowski, Kim Plainfield, and Gary Thomas.
As an educator, she has been Professor of Guitar at Berklee College of Music since 2000, is faculty at The Collective School of Music in NYC, and has hosted master classes and workshops worldwide. Her Mel Bay publication, Moveable Shapes, is a top seller in their Jazz Curriculum Series. Her latest adventure is The Bebop Dojo, an interactive, online jazz academy developed for the Guitar Sherpa program at truefire.com. Her Bebop Dojo Essentials course and her 50 Bebop Licks Everyone Should Know are also top TrueFire titles.
Sheryl plays her Signature McCurdy Mercury Model, Acoustic Image Amplifiers, Stone Bridge Acoustic Guitars and Earthquaker Devices.
Harvie S
award winning bassist, educator, composer, arranger, and producer, is continually challenging himself and his peers, expanding the borders of musical direction.
His Latest CD "Plucky Strum" teams him with extraordinary guitarist Sheryl Bailey in a powerful duo with acoustic bass and acoustic guitar doing a program of 10 originals.
A legendary bassist, he has performed and recorded with Stan Getz, Chet Baker, Dexter Gordon, Tony Bennett, Ray Baretto, Michael Brecker, Jean Pierre Rampal, Paquito D'Rivera, Gil Evans, Art Farmer, Mark Turner, Jim Hall, Stefon Harris, Billy Hart, Lee Konitz, Yusef Lateef, Dave Leibman, Joe Lovano, Pat Metheny, Paul Motion, Chico O'Farrill, Danilo Perez, Maria Schneider, Zoot Sims, Toots Thielemans, Ray Vega, James Williams, Phil Woods, Louie Bellson and countless others. He can be heard on twenty albums as a leader, fifteen as a co-leader, and over four hundred albums as a sideman.
These recordings include his work with James Brown, Kenny Barron, Chick Corea, Tom Harrell, Sheila Jordan, Steve Kuhn, Pat Martino, Wycliff Gordon, David Mathews, Virginia Mayhew, Lee Konitz, Eddie Henderson, James Moody, Danilo Perez, Anat Cohen, James Weidman, Jack Wilkins Mike Stern, Dave Leibman, John Scofield, Dr. Billy Taylor, Dave Liebman, Yusef Lateef and Grover Washington Jr.
Harvie's album with the legendary Sheila Jordan Harvie S duo is a magical live performance released on High Note Records in 2012 called "Yesterdays". Jazz times included it in the best 100 recordings of 2012.
In January 2013, Witchcraft was released on High Note Savant with Jazz master Kenny Barron. It was #1 on Jazz Week national radio charts. This is a follow up to the previous 2009 duo recording with Kenny Barron, Now Was the Time, also on High Note/Savant Records.
Harvie S was selected a Jazz Ambassador for the United States and toured throughout Europe and Southeast Asia in this honored capacity. He has been a guest on NPRs All Things Considered and Fresh Air. His career is documented in Leonard Feather's Encyclopedia of Jazz, the Grove Dictionary of Jazz and the All Music Guide. Mr. S composed the musical themes for the documentaries The Trumpet Kings, The Piano Legends and John Coltrane.
Harvie S has been featured in print and internet articles in The New York Times, The New York Post, The Daily News, Japan Times, USA Today, Downbeat, All About Jazz, Jazziz, Cadence , Jazz Improv, Coda(Canada), Jazztimes, Swing Journal(Japan), Jazz Life(Japan), Jazz Forum(Poland), Jazz Hot (France), Hot House, Jazz Improv, The Los Angeles Times, Jazz Podium and Jazz-it (Italy).
Harvie S has performed at The Blue Note, The Iridium, The Kennedy Center, Montreal Jazz Festival, JVC Jazz Festival, Monterey Jazz Festival, Detroit Jazz Festival, Berlin Jazz Festival, Molde Jazz Festival, Moscow Jazz Festival and countless other venues worldwide.
In addition to his performance career, Harvie S is an active educator. He is a Professor of Jazz Bass and Jazz Ensemble at Manhattan School of Music, in both Undergraduate and Graduate divisions.Currently developing new music for a variety of musical ensembles and recordings, Harvie S is integrating his lifetime of musical experience and research into opening doors to new and exciting pathways of creative expression. He has also written a series of bass duets that are revolutionary in their concept for teaching and performing.