---
Album Info
Album Veröffentlichung:
2020
HRA-Veröffentlichung:
12.03.2021
Das Album enthält Albumcover
1

Shivers

03:29

2

Surrender Dear

04:14

3

Soft Winds

03:38

4

Squatty Roo

03:36

5

Six Appeal

03:45

6

Sunday

03:05

7

El Salon de Gutbucket

03:49

8

On the Sunny Side of the Street

04:04

9

Jacquet in the Box

03:07

10

If I Had You

04:28

11

Coquette

02:51

12

Esquire Jump

02:26

Total Runtime

42:32
Info zu Groove at First Sight
The names of Jonathan Stout and Enric Peidro sure sound very familiar to the swing fans all over the world: Both are not only well-known musicians, highly respected players on their respective instruments, but also experienced bandleaders in their own right: Stout, based in California leads the Campus Five, one of the most in-demand bands at Lindy Hop and dance Festivals all over the world. From his headquarters in the east coast of Spain, Peidro also travels internationally very often, either as a soloist or bringing his high voltage swing combo, the "Swingtet" to all kind of audiences.
In late autumnn 2019 Stout, responding to Peidro's invitation, came to Spain in between two Campus Five European gigs and joined Peidro's band for a string of gigs on a two-week tour over Spain.
From their very first gig together, and never having met before, the sparks flew in between Stout and Peidro.The rapport and understanding they developed all over the tour, both in and out of the stage was really "Groove at first sight" as they have appropriately titled this Cd
The album was recorded, -"In the old-fashioned way we'd like, in Peidro's words"- over a 5-hour recording session, with all the band "cookin'" together in one room, and with no edits at all.
In fact, most of the takes chosen for the album were first takes, for a solid reason: there were no second takes on half of the selections!!! The recording session was also taped on video.You can check the videos by clicking in the "video" link beside the title of each tune
When listening to the Cd the understanding and rapport in between the two musicians as well as with Peidro's regular -and hard -swinging'!- rhythm section is more than obvious.
Not in vain Stout and Peidro share a deep love, passion and respect for the very same musical language: the swing, classic jazz of the 30's and 40s.
Consecuently, a good-natured, friendly vibe of mutual respect and relaxation, all wrapped up in a extremely laid-back atmosphere spices all the Cd from beginning to end, and for sure its a welcome addition to contemporary swing collections.
Enric Peidro, tenor saxophone
Jonathan Stout, guitar
Richard Busiakiewicz, piano
Andrés Lizón, bass
Simone Zaniol, drums
Guests:
Paul Evans, trumpet (Esquire Jump)
Pedro Ortuño, trombone, (Esquire Jump)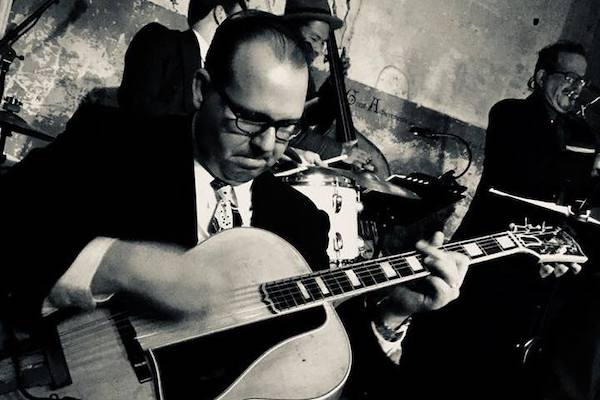 Enric Peidro
A self taught musician, Peidro began playing tenor at the age of fourteen. A couple of years later he was playing on several blues and rhythm and blues bands. His interest in Jazz developed quickly and since then, Peidro has remained loyal to his musical heros: jazz masters like Leon "Chu" Berry, Ben Webster, Don Byas, Coleman Hawkins Benny Carter,Johnny Hodges,Lester Young as well as some of their disciples, like illinois Jacquet, Arnett Cobb, Paul Gonsalves,Flip Phillips, Jimmy Forrest, Buddy Tate, etc.
Although Peidro's sound and phrasing are deeply rooted in the swing-era, his approach is so natural and genuine that he has achieved great popularity and is aknowledged as a real "keeper of the flame" among the classic jazz lovers all over Spain. Often labeled in the past as an "outsider" a "rara avis" or "an stylist swinmming against the current" by some Jazz writers, also at the same time he's been always regarded in high esteem by the jazz media (critics, magazines etc) wich have always appreciated his honest, genuine and unpretentious approach and invariably have pointed out the richness of his tenor sound and his knowledge of the classic jazz idiom.
In the later years, he works mainly as a leader with two main units under his name: a quartet consisting on him plus a rhythm section and a six piece band (often augmented to 7 or 8 pieces) wich under the name of Enric Peidro Swingtet has become increasingly popular in the Jazz scene not only in Spain but also in Europe, touring quite a lot and delivering some swingin' jazz to the audiences everywhere. As a leader he has recorded 14 Cds under his own name with several different units and as a sideman his recorded work goes up to 35 Cds at last count..
Beside his projects as a leader, he loves to play in other bands either as a sideman or sharing the leadership duties with other musicians. Currently he co-leads a quintet with intertational sax player and entertainer Ray Gelato. Together they have recently recorded an album wich will be released in June 2019.
Also, he has recorded and frecuently tours with world class trombone player Dan Barrett, whith whom he also co-leads a quintet that in 2018 released their first cd wich was more than well received and got great reviews at the jazz media A particularlly interesting unit wich features Peidro its the "International Classic Jazz All Stars" wich include among others musiciams australian bass player and vocalist Nicki Parrott, french drummerGuillaume Nouaux or London based piano man Richard Busiakiewicz.
Always a hard worker, Peidro's schedule keeps him busy most of the year and as he has done for the last 20 years he keeps relentelessly exploring the legacy of the masters of tenor sax he admires, trying to find his personal voice within that musical language and delivering swinging, creative and imaginative music to audiences wordlwide ...
Jonathan Stout
is a bandleader and guitarist specializing in pre-bebop jazz guitar. As a guitarist, Jonathan draws from the many and varied styles of pre-bebop jazz guitar, including the rhythm guitar of Freddie Green, the electric single-note style of Charlie Christian, the acoustic block-chord solos of Allan Reuss, and the gypsy-jazz of Django Reinhardt. Jonathan also writes a noted blog on swing guitar (now found here, on this website). Beside playing in his own bands, Jonathan is a member of the Bonebrake Syncopators (led by DJ Bonebrake of the band X), and has played guitar for Michael Gamble and his Rhythm Serenaders, Josh Collazo's Candy Jacket Jazz Band, Casey MacGill, Dean Mora (Mora's Modern Rhythmists, et. al), the Boilermaker Jazz Band, the Lucky Stars, Jim Ziegler's Swingsations, Josh Collazo and his Feetwarmers, Bill Elliott, and Johnny Crawford. He played on Jeremy Wakefield's 2005 Album, "Steel Guitar Caviar" (Ecco-Fonic), as well as Michael Gamble and his Rhythm Serenaders' self-titled 2016 debut album.
As a dancer, Jonathan is proud to have learned from such original masters Ann Mills, Hal Takier, Freda Angela, and Bart Bartolo. Jonthan danced on the first place team at the 2002 National Jitterbug Championships. Because of his experience as a dancer, Jonathan is uniquely suited to understand the interaction between Swing music and dance.
As a bandleader, Jonathan has studied the authentic sound of the Swing-era, and how that differs from the styles of jazz that came before and after. Armed with this knowledge, Jonathan has given many musicality classes at dance events, using a live band to demonstrate the differences between Swing, pre-Swing Jazz, and post-Swing straight-ahead jazz.
As a student of the era, Jonathan has also branched out to study swing drumming, based on fourteen years of first-hand observations of only the best Swing drummers, Josh Collazo, Hal Smith, Brooks Tegler, Russ Wilson and Paul Lines. Jonathan has played drums for The Careless Lovers, Casey MacGill, Janet Klein, Falty and Friends, Stompy Jones, Dean Mora, Dave Stuckey, and Carl Sonny Leyland, as well as filling-in occasionally in the Campus Five and Orchestra. He most recently played drums on Janet Klein's 2015 CD "It's the Girl", using his 1941 Leedy drum set.
Jonathan has also DJed at swing dance events, including Camp Hollywood, Lindy Groove, and Camp Jitterbug. When DJing, Jonathan brings the same focus on authentic Swing music and unmatched danceability.


Dieses Album enthält kein Booklet