---
Album Info
Album Veröffentlichung:
2017
HRA-Veröffentlichung:
22.09.2017
Das Album enthält Albumcover Booklet (PDF)
1

We All Need Somethin'

03:59

2

Money

05:09

3

California Way

03:47

4

Already There

03:06

5

Breathin' out Breathin' In

05:35

6

It's Rock and Roll, Man

02:26

7

Point and Click

04:51

8

Black Lives Matter

05:03

9

It Ain't Much

03:13

10

Black Man in America (feat. Mic Murphy & William "Hollywood" Doughty)

05:45

11

1969

04:33

12

Is That You

03:24

Total Runtime

50:51
Info zu 1969
1969 is a sonically bracing, lyrically incisive record drawing startling parallels between it's titular year - the year when the utopian ideals of the '60s came face to face with harsh reality - and today. The result is a deeply compelling musical statement; the work of a passionate idealist confronting the brutal disappointments of the real world. This album is a landmark in a long and colorful career of creative pursuits, from Cymone's early collaborations with Prince through his solo successes in the '80s and his work as a hitmaker for notable pop and R&B acts. In 2014, Cymone ended a self-imposed 27 year hiatus with The Stone, a remarkable self-reinvention that saw the artist emerge with some of the most accomplished and personal music he's ever made. With 1969, Cymone returns to craft songs insightfully addressing issues of racial and economic inequality.
A passionate politically-charged soul/rock album from revered studio musician and producer Andre Cymone, who has worked extensively with Prince and the likes of Jody Watley, Adam Ant, Evelyn "Champagne" King and Tom Jones.
As soon as the first track begins on this wide-ranging record, a familiar sound emerges like a beacon: the squeal and squalor of a radio dial, tuned by Andre Cymone himself, inviting us to step back in time. For the next 51 minutes, he's got this. All we have to do is sit back, open up our minds, and listen.
Andre is taking us back to 1969, when he was only 11 years old, sifting through his older siblings' records and listening to their heated discussions about politics. Back to a pivotal moment in U.S. history that was reverberating throughout his neighbourhood in North Minneapolis, and an explosive moment in rock music history that shook a young Andre to the core.
As that radio dial twists and Andre pulls us through the anthemic opening track "We All Need Something," the Hendrix-inspired psychedelic trip of "California Way," the Rolling Stones-channeling woozy blues of "It's Rock n' Roll," and the politically charged and poignant stomp of "Black Man In America," the nostalgia for those early sounds is evident, as are all the similarities that exist between that moment in time and this one. After 50 years of struggle, hope, and change, why does it seem like so much has stayed the same?
Andre Cymone, vocals, lead guitar, bass
Chris Vasquez, guitar
Devon Ian Pangle, guitar
Nick Adams, drums
Clark Dark, bass
Additional musicians:
Mic Murphy, vocals
Produced by André Cymone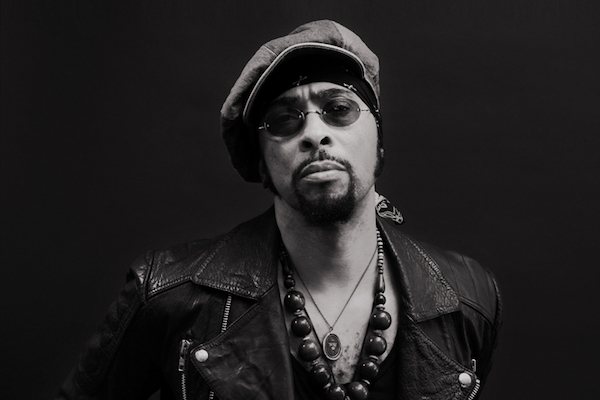 André Cymone
Since 2014 release of The Stone – his first record after a self-imposed twenty-seven-year hiatus - Andre Cymone has been working hard on a follow up full length. The plan from the beginning had been to take as much time as needed to craft a cohesive, holistic piece of art. Releasing an EP had never crossed the veteran singer / songwriter / producer's mind, until it became obvious that it was a necessity (the full length, titled 1969, will be out in early 2017.)
"As the songs for the record took shape it became clear that I needed to get this EP out before the election," says Cymone. "We as a people need to continue and contribute to an ongoing conversation about the racial state of mind America and really the world is in. I think it's past time for artists to step up and speak out."
Compelled to act, Cymone naturally turned to the medium in which he is most comfortable. "This is our moment to put our time money and talents to work for the people and for the kind of future we know we can achieve," Cymone declares. "It's time to be bold and go on record, put our resources, gifts and money where our mouth is and let history know we did not stand in silence at this crossroads, that we wrote songs, played shows and did all that we could do to let the people struggling know there are artists and so many others out here willing to sacrifice and do what we do to give their unfortunate realities a voice and refused to let anyone or anything stop us..."
A concise, compelling statement, Black Man In America is an intense and emotional four song work of art that pulls no punches. The lead-in title track was "inspired by a close friend from my hometown of Minneapolis who, while waiting for a city bus, was assaulted by the police handcuffed, tasered and beaten," explains Cymone. "I was moved to write 'Black Lives Matter' by seeing all races and cultures coming together to stand up for each other; and particularly in this case, seeing whites and Asians stepping up and taking it to the streets with signs reading Black lives matter..." "Hot Night In The Neighborhood" was written the day Cymone saw the execution of Mike Brown and "the fact that they left him out there lying dead for four hours for all in that black community to see. That scene hit me like a ton of bricks... I don't think there's anything that says "animals" more than to kill and leave a dead black boy's body in the street bleeding out."
Yet while Cymone paints bold lyrical portraits of a society deeply flawed and hurting, he ends the EP with a declaration of hope for healing; an up-tempo, fuzz-soaked rendition of the iconic "Hallelujah". "It's a bridge between all the brutality and injustice," says Cymone. "It's the redemption song, a celebration of the power of music and how music can speak directly to the heart."
While his current outpouring of creativity has added a significant new chapter to his story, Cymone's musical life began decades ago. He found a kindred spirit in his schoolmate Prince, and the two began playing in bands together in their teens, laying the groundwork for the revolutionary Minneapolis sound that would alter the face of popular music in the '80s.
In the early '80s Cymone broke away from Prince's band to launch a solo career, releasing three well-received albums - Livin' in the New Wave, Survivin' in the '80s and AC - whose visionary new wave/funk fusion spawned half a dozen hit R&B singles. Cymone also established himself as an in-demand producer, overseeing a series of successful releases by a diverse array of acts including Jody Watley, Tom Jones, Pebbles, Adam Ant, Jermaine Stewart and Evelyn "Champagne" King. Cymone stepped away from the spotlight in the late 1980s, to focus on raising his children while channeling his creative urges into a variety of writing projects.


Booklet für 1969