---
Album Info
Album Veröffentlichung:
2019
HRA-Veröffentlichung:
13.12.2019
Das Album enthält Albumcover Booklet (PDF)
Louis Spohr (1784 - 1859): Grand Duo for 2 Violins in D Minor, Op. 39 No. 1:

1

Grand Duo for 2 Violins in D Minor, Op. 39 No. 1: I. Allegro

09:10

2

Grand Duo for 2 Violins in D Minor, Op. 39 No. 1: II. Adagio

05:00

3

Grand Duo for 2 Violins in D Minor, Op. 39 No. 1: III. Presto

05:43

Grand Duo for 2 Violins in E-Flat Major, Op. 39 No. 2:

4

Grand Duo for 2 Violins in E-Flat Major, Op. 39 No. 2: I. Andante

09:38

5

Grand Duo for 2 Violins in E-Flat Major, Op. 39 No. 2: II. Menuetto. Allegro

04:51

6

Grand Duo for 2 Violins in E-Flat Major, Op. 39 No. 2: III. Vivace

06:36

Grand Duo for 2 Violins in E Major, Op. 39 No. 3:

7

Grand Duo for 2 Violins in E Major, Op. 39 No. 3: I. Adagio - Allegro molto agitato

07:39

8

Grand Duo for 2 Violins in E Major, Op. 39 No. 3: II. Andante con variazioni

11:51

9

Grand Duo for 2 Violins in E Major, Op. 39 No. 3: III. Rondo alla polacca

05:57

Total Runtime

01:06:25
Info zu Spohr: Violin Duets, Vol. 2
Louis Spohr's reputation as one of Germany's leading violinists was at its height when he composed his Duets for Two Violins, Op. 39, and while it appears his intention was to finance an Italian concert tour with marketable duets, the publishers complained of their technical difficulty. Spohr defended this aspect by stating his 'desire to give my duets more inner value, more richness of harmony' than is usual in this genre. Indeed, a contemporary critic exclaimed that 'it is no exaggeration to say that the ideas and artistry required for these works would be sufficient… to create three concertos.'
Vol. 1 of this complete edition of Louis Spohr's Violin Duets (8.573763) was released in July 2018, and was welcomed by the American Record Guide as 'like a breath of fresh air.' This second volume with the three Op. 39 duets appears unchallenged by any competition from alternative recordings, and is a significant addition to our exploration of Spohr's neglected work. His Violin Concertos have equally been much admired, Naxos 8.570528 being 'an urgently recommended Want List candidate' for Fanfare, and 8.555101 for its 'sumptuous performances' by MusicWeb International.
Jameson Cooper, violin
James Dickenson, violin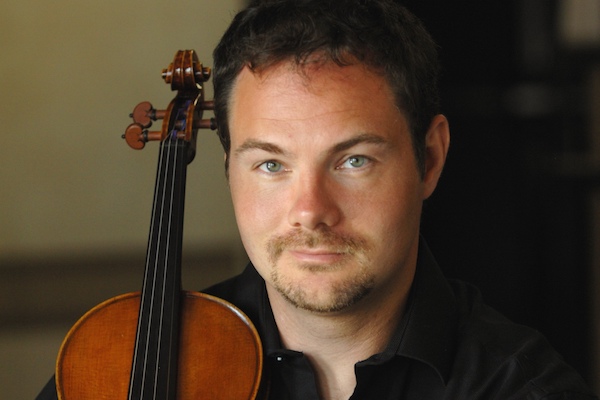 Jameson Cooper
Originally from Sheffield, England, Jameson Cooper began playing the violin at age 6. At 13 he joined the National Youth Orchestra of Great Britain and later became concertmaster of the National Youth Chamber Orchestra. He studied at The Royal Northern College of Music, where he earned a Graduate of Music Degree with Honors and a Professional Performance Diploma. Mr. Cooper first came to the U.S. as a participant in the Aspen Music Festival. Since then, he has studied with Dorothy DeLay, Masao Kawasaki, and Roland and Almita Vamos.
He earned Masters Degrees in Violin and Conducting from Kent State University, where he later served as Assistant Professor of Violin and Viola at the University's Hugh A. Glauser School of Music. He has performed as soloist with orchestra, recitalist, and chamber musician throughout the U.S. and Europe. In the 2001-02 season, Jameson played in the Audubon Quartet in its Beethoven Quartet cycle series. Mr. Cooper has recorded Icelandic music for Musart, and an disc of new music for solo violin by Kent State University composers on Centaur Records. His most recent album features music by Prokofiev for violin and piano, with pianist and IUSB colleague Ketevan Badridze on Afinat Records. Jameson has given masterclasses at Oberlin Conservatory, Virginia Tech, Michigan State University, and Morningside College, and regularly serves as judge for the Fischoff Chamber Music Competition Senior Strings Division.
He is a founding member and first violinist of the Euclid Quartet, with whom he has won numerous national and international chamber competition prizes and performed to critical acclaim across the country. Commercial recordings of Mr. Cooper's playing with the quartet include Hugo Kauder's string quartets 1-4, the complete quartets of Bartok, and an upcoming disc of Dvorak and Wynton Marsalis.
James Dickenson
started the violin aged 7 and studied at the Junior Academy, the Royal Northern College of Music with Lydia Mordkovitch, Christopher Rowland and then in the USA with Daniel Phillips of the Orion Quartet.
From 2000 to 2008 James was the leader of the Degas Quartet, USA, giving concerts in over 20 states, at numerous Universities, Weill Hall Carnegie and the Aspen Festival. Between 2003 to 2007 James was the Concertmaster of Western Piedmont Symphony in North Carolina.
In 2010 he started the Villiers Quartet. The Quartet is now resident at Oxford University and at Southern Sinfonia and have recently released their first disc on NAXOS , the Complete Quartets of Robert Still.
James has spent the last 8 years studying the work and teaching methods of Constantine Dounis, a pedagogue which he believes was unparalleled in his approach to the violin.


Booklet für Spohr: Violin Duets, Vol. 2