---
Album Info
Album Veröffentlichung:
2018
HRA-Veröffentlichung:
04.05.2018
Das Album enthält Albumcover Booklet (PDF)
Johann Sebastian Bach (1685-1750): Mache dich, mein Geist, bereit, BWV 115:

1

Mache dich, mein Geist, bereit, BWV 115: II. Aria (Arr. for Violin and Piano)

06:24

Sonata for Violin and Piano in B Minor, BWV 1014:

2

Sonata for Violin and Piano in B Minor, BWV 1014: I. Adagio

04:29

3

Sonata for Violin and Piano in B Minor, BWV 1014: II. Allegro

02:51

4

Sonata for Violin and Piano in B Minor, BWV 1014: III. Andante

03:39

5

Sonata for Violin and Piano in B Minor, BWV 1014: IV. Allegro

03:12

Sonata for Violin and Piano in A Major, BWV 1015:

6

Sonata for Violin and Piano in A Major, BWV 1015: I. Andante

02:44

7

Sonata for Violin and Piano in A Major, BWV 1015: II. Allegro

03:07

8

Sonata for Violin and Piano in A Major, BWV 1015: III. Andante un poco

02:17

9

Sonata for Violin and Piano in A Major, BWV 1015: IV. Presto

04:12

Sonata for Violin and Piano in E Major, BWV 1016:

10

Sonata for Violin and Piano in E Major, BWV 1016: I. Adagio

05:08

11

Sonata for Violin and Piano in E Major, BWV 1016: II. Allegro

02:49

12

Sonata for Violin and Piano in E Major, BWV 1016: III. Adagio ma non troppo

05:53

13

Sonata for Violin and Piano in E Major, BWV 1016: IV. Allegro

03:42

Sonata for Violin and Piano in C Minor, BWV 1017:

14

Sonata for Violin and Piano in C Minor, BWV 1017: I. Largo

04:23

15

Sonata for Violin and Piano in C Minor, BWV 1017: II. Allegro

04:23

16

Sonata for Violin and Piano in C Minor, BWV 1017: III. Adagio

03:26

17

Sonata for Violin and Piano in C Minor, BWV 1017: IV. Allegro

04:29

Sonata for Violin and Piano in F Minor, BWV 1018:

18

Sonata for Violin and Piano in F Minor, BWV 1018: I. Largo

07:32

19

Sonata for Violin and Piano in F Minor, BWV 1018: II. Allegro

04:20

20

Sonata for Violin and Piano in F Minor, BWV 1018: III. Adagio

04:04

21

Sonata for Violin and Piano in F Minor, BWV 1018: IV. Vivace

02:19

Sonata for Violin and Piano in G Major, BWV 1019:

22

Sonata for Violin and Piano in G Major, BWV 1019: I. Allegro

03:37

23

Sonata for Violin and Piano in G Major, BWV 1019: II. Largo

02:00

24

Sonata for Violin and Piano in G Major, BWV 1019: III. Allegro

04:29

25

Sonata for Violin and Piano in G Major, BWV 1019: IV. Adagio

03:40

26

Sonata for Violin and Piano in G Major, BWV 1019: V. Allegro

03:09

Orchestral Suite No. 3, BWV 1068:

27

Orchestral Suite No. 3, BWV 1068: II. Aria (Arr. for Violin and Piano)

04:33

Sonata for Violin and Piano in G Major, BWV 1019a:

28

Sonata for Violin and Piano in G Major, BWV 1019a: I. Cantabile, ma un poco adagio

10:32

29

Sonata for Violin and Piano in G Major, BWV 1019a: II. Adagio

01:20

30

Sonata for Violin and Piano in G Major, BWV 1019a: III. Allegro

03:04

Total Runtime

02:01:47
Info zu Bach: 6 Sonatas for Violin and Piano, BWV 1014-1019
One of the most original features of the Sonatas for violin and piano BWV 1014-1019 is the imagination shown by Johann Sebastian Bach in harmonic, melodic and contrapuntal terms. The pianist's right hand and the violin must constantly answer each other, while the basso continuo is entrusted to the pianist's left hand. The exceptional degree of invention to be found in this musical dialogue – a felicitous harmony between melody and counterpoint – irremediably excludes any form of excessive soliloquising.
Bach's music can adapt to practically any instrument. The source of sonority is relatively insignificant, since what counts for the composer is the philosophical and intellectual content: the form, the tonal structure and the melodic contours of the work are of greater importance than the instrument per se.
Do we not see in the master of Leipzig a universal icon, a supreme instance through which, in a sense, all music has come into being? In the face of such immensity, it was therefore appropriate to observe a certain simplicity: this disc is anything but a 'historical' recording. It does not claim to be the depository of any particular learning and bears the seal of no particular heritage.
The performers play for the listeners of their time. On the one hand, there is Nicolas Dautricourt's 1713 Stradivarius and, on the other, Juho Pohjonen's modern Steinway & Sons D.
To listen to this double album is to immerse oneself in a world of abundance and to gain an insight into how such controlled music can still provoke such great emotion, thanks to the talents of these two magnificent artists. This is the amazing sonic adventure on which we are invited to join Florian Noack, one of today's most exciting artists.
Nicolas Dautricourt, violin
Juho Pohjonen, piano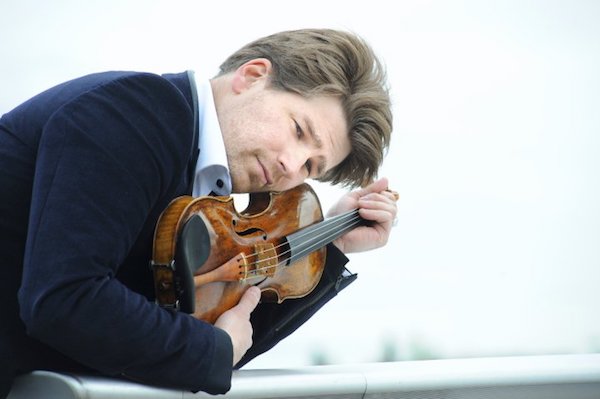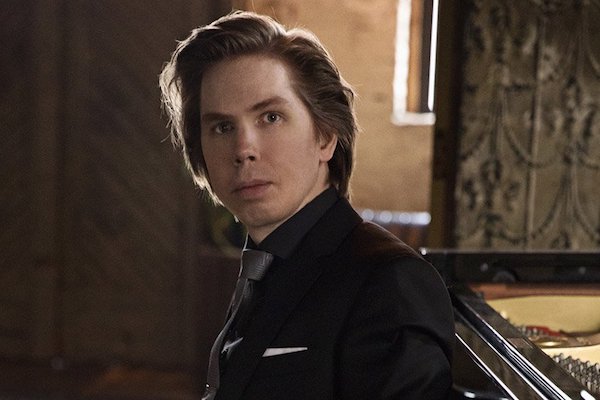 Nicolas Dautricourt
Voted ADAMI Classical Discovery of the Year at Midem in Cannes and awarded the Sacem Georges Enesco Prize, Nicolas Dautricourt is one of the most brilliant and engaging French violinists of his generation. In the 2017-18 season he returns to the Capitole de Toulouse Orchestra; makes his performance debuts with the Royal Philharmonic Orchestra, Liège Philharmonic, and Helsingborg Symphony; and starts the second part of his solo violin project, Bach & Beyond, at the National Recital Hall in Taipei, Taiwan. He appears at major international venues, including the Kennedy Center, Wigmore Hall, Tchaikovsky Hall, Tokyo's Bunka Kaikan, Salle Pleyel in Paris, and Théâtre des Champs-Élysées, and appears at many festivals such as Lockenhaus, Music@Menlo, Pärnu, Ravinia, Sintra, and Davos. He also has performed with the Detroit Symphony, Orchestre National de France, Orchestre de Toulouse, Quebec Symphony, Sinfonia Varsovia, Mexico Philharmonic, NHK Tokyo Chamber Orchestra, and the Kanazawa Orchestral Ensemble, under conductors Leonard Slatkin, Paavo Järvi, Tugan Sokhiev, Dennis Russell Davies, Eivind Gullberg Jensen, Yuri Bashmet, Michael Francis, François-Xavier Roth, Fabien Gabel, and Kazuki Yamada. He appears in such jazz festivals as Jazz à Vienne, Jazz in Marciac, Sud-Tyroler Jazz Festival, Jazz San Javier, Copenhagen Jazz Festival, and the European Jazz Festival in Athens. Award winner in numerous international violin contests, such as Wieniawski, Lipizer, and Belgrade, he has studied with Philip Hirschhorn, Miriam Fried, and Jean-Jacques Kantorow. A former member of CMS Two, he plays a magnificent instrument by Antonio Stradivari, the "Château Fombrauge" (Cremona 1713), on loan from Bernard Magrez.
Juho Pohjonen
One of the brightest young instrumental artists to emerge from Finland, Juho Pohjonen has attracted great attention as one of the Nordic country's most intriguing and talented pianists. Widely praised for his broad range of repertoire from Bach to Salonen, his interpretations are known for their intensity, thoughtfulness and fearless musical conviction.
Juho Pohjonen opened the 2015-2016 season with the Buffalo Philharmonic, performing Grieg's Piano Concerto with conductor JoAnn Falletta. He performs the work again across England in concerts with the Bournemouth Symphony Orchestra and Kirill Karabits. In New York, Mr. Pohjonen continues his close association with The Chamber Music Society of Lincoln Center, performing a four-hand program of Bartók and Lutosławski as well as a chamber music program with internationally renowned horn virtuoso Radovan Vlatković in Alice Tully Hall. In spring 2016, Mr. Pohjonen embarks on a chamber music tour with violinist Karen Gomyo and cellist Christian Poltéra. Summer festival appearances include a return visit to Music@Menlo, Santa Fe Chamber Music Festival and performances with Chamber Music Society of Lincoln Center in Saratoga Springs as well as in Alice Tully Hall for their inaugural "Summer Evenings" series in New York City.
Mr. Pohjonen has appeared with the Los Angeles Philharmonic, San Francisco, Atlanta, Danish National, Malmö and Finnish Radio Swedish Radio symphonies, Tonhalle-Orchester Zürich, Orquesta Sinfónica Nacional, Scottish Chamber Orchestra, KBS Symphony Orchestra, and Lahti Symphony, with which he toured Japan. Mr. Pohjonen has studied with Meri Louhos and Hui-Ying Liu at the Sibelius Academy, where he completed his master's degree in 2008.


Booklet für Bach: 6 Sonatas for Violin and Piano, BWV 1014-1019