---
Album Info
Album Veröffentlichung:
2018
HRA-Veröffentlichung:
11.01.2019
Das Album enthält Albumcover
1

Opening (A Journey)

03:55

2

Grandma

05:19

3

Reborn/4 Am/The Teddy Bear

08:57

4

In February

03:56

5

For JT

02:58

6

Kind Folk

06:51

7

Hungarian Folksong

05:51

8

And It Ends When It Needs to, Pt. 1

01:00

9

And It Ends When It Needs to, Pt. 2

02:34

10

Interlude 1

02:15

11

Soldiering On/On

07:06

12

Interlude 2

01:34

13

I'm Sorry!

04:35

14

Find the Way Through

03:21

15

Closing (Tomorrow)

08:37

Total Runtime

01:08:49
Info zu Soldiering On
Trombonist, improviser, composer and educator, Raph Clarkson, presents 'Soldiering On' - the debut recording of his new ensemble, The Dissolute Society, released on the Babel label. It is a highly personal, poignant, often dark album - interweaving a wide range of genres, styles and influences, including: avant-garde improvised music, traditional & modern jazz, contemporary classical music, folk, funk, poetry and spoken word.
Raph's musical palette covers all these areas and more. In addition, he has developed a compositional and improvisational interest in the intersection between trombone and voice - an area he explores with The Dissolute Society, for which he provides most of the compositions and writes the words. He especially likes to employ the power of words in music to give a narrative arc, which also acts as a 'glue' for the many genre styles within this project.
The 15-track album is full of remarkable performances: Fini Bearman's breath-taking part-spoken vocals; Huw Warren's mesmerising piano; Laura Jurd's fleet-footed trumpet; Mia Marlen Berg's elastic voice; and not least, Raph Clarkson's trombone virtuosity - from soft, mournful refrain to unrestrained vigour, and all shades in between. But, genuinely, all the participating musicians bring phenomenal feeling and interpretation to this complex, opaque recording - that also has such immediacy and inner energy.
'Soldiering On' is full of auto-biographical material, including references to Raph's German-Jewish grandmother, who lived in Palestine for many years, and his mother, the well-known violinist and Early Music specialist. His father, Gustav Clarkson, plays delightful viola on the album, and there are two compositions by John Taylor (including the title track) who was to have guested on this project, but sadly died in July 2015. Raph (and Phil Merriman & Simon Roth) were all taught at York University by John Taylor, a close friend of Kenny Wheeler, whose composition 'Kind Folk' is also included on the album.
Raph Clarkson, trombone, vocals
Fini Bearman, voice
Naomi Burrell, violin
Zosia Jagodzinska, cello
Gustav Clarkson, viola
Laura Jurd, trumpet
Raph Clarkson, trombone, vocals
Phil Merriman, keys, synth bass
Simon Roth, drums
Special guests:
Huw Warren, piano
Mia Marlen Berg, vocals, fx
Joshua Idehen, rap vocals
Mike Soper, trumpet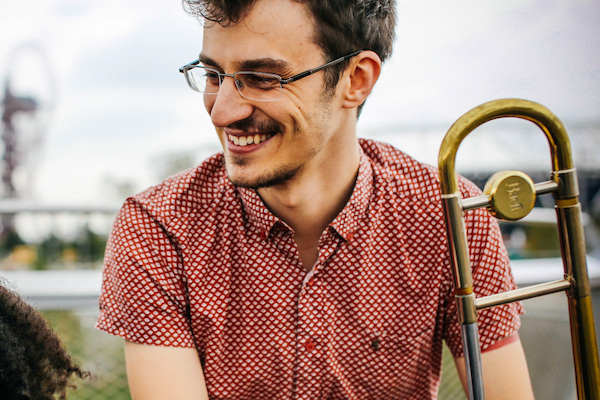 Raph Clarkson
studied music at the Universities of York & Oxford - and is probably best known as a member of award-winning jazz-punk ensemble WorldService Project. Other projects include The Vanderbilts, a contemporary cross-arts collaboration with pianist-composer Elliot Galvin, and dancer Kasia Witek; the free-improvising Speckles Brass ensemble; and The Old Bone Band, who specialise in the swing jazz tradition of the 1930s and 40s.
Raph also loves to use creative music-making and song-writing in his work as an educator and workshop leader, particularly with children who have special educational and social needs. He has participated/directed numerous projects with: Be Creative Music, English Touring Opera, Spitalfields Music, Opera Holland Park, Sinfonia Viva, London Philharmonic Orchestra, the Match & Fuse initiative, and others.
In 2016, he performed with: the Octandre Ensemble (a Radio 3 broadcast); the Kazzum theatre company's new pop-up piece 'Sprung' at festivals; the Engines Orchestra & Femi Temowo at the Love Supreme Festival; the Brassroots brass band; and toured with WorldService Project's new album 'For King and Country' across Europe, China, Japan and India.
In 2017, Raph worked with: Benin City (Joshua Idehen's RnB/Hip Hop band); a jazz & shadow puppetry project in Brecon with Huw Warren, Laura Jurd, Chris Williams & others; participated in projects for English National Opera and the Royal Philharmonic Orchestra; and in October, recorded the fourth WorldService Project album, 'Serve', which is to be released in May 2018 on Rare Noise Records.
Meanwhile, also last year, The Dissolute Society itself presented large ensemble performances at The Vortex and Cambridge Jazz Festival, plus some Dissolute Society Trio gigs in Bristol, the London Jazz Festival, and Brighton (the latter gig was recorded and may well form the basis of a future release).
Raph has recently written music for a new ensemble - 'Equal Spirits' is a celebration of UK-South African jazz connections post-war, including collaborations between Keith Tippett and Mongesi Feza – and currently featuring Chris Batchelor, Steve Watts, Phil Merriman, Leeto Thale, and Mike Pickering. This project will be on tour in South Africa in February 2018: sophiatownthemix.com/event/sophiatown-jazz-encounter-raph-clarkson-presents-equal-spirts.
Raph has also been composing music for a number of commissions and projects - including pieces for the Derby-based Sinfonia Viva, the Common & Kind Charity, and arrangements for a fundraising, collaborative Ghana-UK album, featuring Laura Jurd, Mark Lockheart, Liran Donin and Seb Rochford – and overseen by Sonny (John Simpson) who engineered "Soldiering On".


Dieses Album enthält kein Booklet