---
Album Info
Album Veröffentlichung:
2020
HRA-Veröffentlichung:
15.05.2020
Das Album enthält Albumcover
Entschuldigen Sie bitte!
Sehr geehrter HIGHRESAUDIO Besucher,
leider kann das Album zurzeit aufgrund von Länder- und Lizenzbeschränkungen nicht gekauft werden oder uns liegt der offizielle Veröffentlichungstermin für Ihr Land noch nicht vor. Wir aktualisieren unsere Veröffentlichungstermine ein- bis zweimal die Woche. Bitte schauen Sie ab und zu mal wieder rein.
Wir empfehlen Ihnen das Album auf Ihre Merkliste zu setzen.
Wir bedanken uns für Ihr Verständnis und Ihre Geduld.
Ihr, HIGHRESAUDIO
1

Miracles

02:54

2

Devil Is A Liar

02:45

3

Can't Quit You

03:20

4

Wanderer

03:14

5

Not Goodbye

03:18

Total Runtime

15:31
Info zu Colton Dixon
Colton Dixon quickly became a household name in 2012 when he was voted a fan favorite and made it to the top seven on Season 11 of Fox's hit show AMERICAN IDOL. His career has been on the fast track ever since, now boasting over 100 million streams across all platforms.
"Expanding the scope of his signature sound for the first time, Dixon imparts life's ebbs and flows into an empowering, engaging and enigmatic take on pop referential of his catalog, yet evolved and steeped in newfound inspiration. Acclaimed by everyone from People to Billboard and streamed over 100 million times to date, the award-winning and history-making singer, songwriter and producer channels such growth into the EP. Following a three-year break, Dixon returns with a new sound informed by true experiences."
In order to find this space, Dixon challenged himself to not only adapt to personal and professional changes, but also pursue them. After signing with Atlantic Records, he flew out to Los Angeles for dozens of writing sessions.
Not only would "Colton Dixon" be his debut for the label, but it also marked his first time working with producers such as Robopop (Maroon 5, Lana Del Rey), the late busbee (Timbaland, P!nk, Gwen Stefani) and Grant Averill (The Holdup), to name a few. Under the influence of everyone from OneRepublic and Imagine Dragons to Adele, Justin Bieber, Lauv, and Shawn Mendes, he embraced the creative ecosystem.
"I've written so many songs over the past three years," Dixon said. "Even though the world probably won't hear them all, I enjoyed every session. I've gotten to write with people from all different beliefs and walks of life. We were able to have real conversations about faith, family, struggles, and life, in general. I hope these songs reflect those conversations and inspire you to have conversations of your own."
"There are several themes on the EP, but it all goes back to hope," Dixon said. "My goal is to spread hope. I see a lot of people looking for hope, and I'd love to come alongside of them and show support. I've learned so much about love. Love isn't always a feeling. Love is a commitment. Love sometimes means sacrifice. I'm glad I've had the opportunity to write about some of these things in the project. It's really me."
Dixon quickly became a household name in 2012 when he was voted a fan favorite and made it to the top seven on season 11 of FOX's hit show "American Idol." His career has been on the fast track ever since, now boasting over 100 million streams across all platforms.
Colton Dixon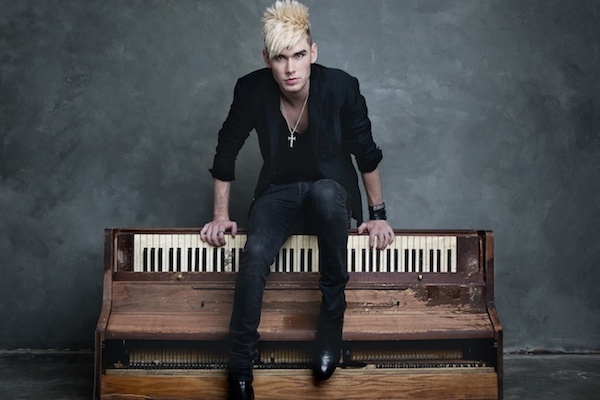 Colton Dixon
2013 debut, A Messenger, set the record for biggest first-week sales by a new solo Christian act, becoming the No. 1 selling album of 2013 by a new Christian artist and the No. 9 best selling album of 2013 in the Christian genre overall. A Messenger also became the No. 22 best-selling album across all genres that same year, while Dixon was still reeling from his highly publicized seventh place finish on Season 11 of American Idol.
Awards and accolades followed. Colton received three Dove Award nominations, winning for Best Contemporary/Rock Album, and he was nominated for Male Artist of the Year at the 2014 KLOVE Fan Awards. Colton also racked up two No. 1 radio singles in 2013 and toured with Third Day, TobyMac and Josh Wilson. And he was recently named an Official Steinway Artist by the legendary piano maker.
It was a dream debut, but Idol fame can be fleeting without a strong foundation and a solid sense of who you are as an artist and a person. Fortunately, as Colton Dixon readies his sophomore project, Anchor (August 19, 19 Recordings/Capitol CMG), he's as grounded as ever, with his feet planted firmly in faith and family and a clear idea of where he's headed artistically.
Despite all the life-changing opportunities of the past few years, Colton is still pretty much the same guy that left Tennessee for Hollywood. Home base is still in Murfreesboro, which speaks as much to his grounded foundation as it does to his hectic schedule. While Colton's parents were always extremely supportive, a career in music wasn't a given. A self-described "sports guy," his early interests included soccer, hockey and baseball. His dad coached his little league team, and Colton loved the pitcher's mound and the psychological aspects of the game.
As kids, he and his sister Schyler would regularly perform for their parents, but the music gene wasn't necessarily something that was inherited. It was actually a passion that grew slowly and steadily. An aunt who taught piano talked Colton's parents into signing him up for lessons when he was eight. It was hardly love at first sight. In fact, like many kids, he grew to hate those structured sessions, but they gave him a musical foundation that would take him places he couldn't even begin to imagine back then. At age 13, he sang in public for the first time, and that's when everything finally began to fall into place.
His earlier athletic pursuits gave way to activities like school choir and songwriting. Throughout his teen years, the piano became his escape. "Some people journal, some vent to other people, I liked sitting behind a piano, playing what I felt," he shares.
A talented elementary school best friend named Paul became Colton's first songwriting partner. They wrote together and it was, well, terrible. "If anyone says their first song was great, they're lying to you!" Colton says with a laugh. But those early songwriting sessions taught him how to put melody and words together and paint a picture. Eventually, he and Paul would form the band Messenger, along with Schyler. Like most Christian teens with musical aspirations, they got their start leading worship for their church's youth group.
If music hadn't worked out, Colton probably would have gone into ministry. His passion for inspiring people and meeting them where they are may have been put to use pastoring a church, leading worship full-time or serving as a youth minister. Instead, music just happens to be the tool God gave him to minister to others.
"I have a strong passion for my generation, to motivate them to the keep the torch lit," he says. That passion plays a starring role on the new album. After the first record, he realized how easy it was to get distracted, to drift from where he needed to be. That's where the title Anchor came from. That tendency to drift wasn't something unique to him. Colton knew that others would relate, and that he could encourage listeners by being honest about his own struggles.
As he began writing, Colton felt more at home with the process on his second outing and the music definitely benefits. He co-wrote with renowned songwriters and artists such as Trevor McNevan (TFK), Matthew West, TobyMac, Ben Glover, Matt Bronleewe and the album's producers. He already knew many of them so that awkward phase was gone, allowing for much more honesty in the room this time around.
Not that there weren't some awe-inducing moments. "I was so nervous to write with Toby," Colton recalls. "He walked into the room and I could barely speak, saying, 'Hello, Mr. Mac.'" The veteran artist quickly put Colton at ease, though, and their sessions yielded tracks like "Our Time Is Now," which has become a favorite to play live. TobyMac even lent his voice to the tune.
Recorded in Nashville's Berry Hill neighborhood, a creative hub dotted with recording studios, Anchor was produced by David Garcia (TobyMac, Mandisa, Newsboys) and Red Decibel (Switchfoot, Kelly Clarkson, Jeremy Camp). On it, Dixon explores not just new topics, but new sonic territory as well.
As an artist, Colton's style is dramatic, and he's not afraid to take risks. The result is a diverse record that relies on a variety of unique elements. You'll hear metal breakdowns, full-on classic rock, piano-driven vocals and everything in between. He describes "Loud & Clear" as sounding like "Chris Daughtry on steroids," while lead single "More Of You" has an almost worship vibe that took everyone involved by surprise.
The end product is an edgy rock record with appeal that crosses generational lines to have mass appeal. Audiences that were granted an early preview of the new album have responded even more enthusiastically than Colton had hoped. But in the end, its not just about making music that is fun to listen to - the goal is to create songs that have the ability to inspire listeners.
Or as Colton explains it, "My hope is that at the end of it all, you feel closer to God than you did when you first pressed 'play.'"
Colton played to more than 500,000 people in 2013, and his 2014 tour schedule will place him in front of more than 800,000 people by year's end.
At one point, Dixon toyed with switching to guitar. "You can't take a piano to the beach, so I tried to learn guitar," he says. "It lasted about a week." In the end, he realized he just felt really comfortable behind the piano.
In spring 2012, Colton placed seventh in Season 11 of American Idol, appearing alongside contestants Jessica Sanchez and winner Phillip Phillips. During his time on Idol Colton covered hits by Billy Joel, Coldplay, Switchfoot, Lady GaGa and Daughtry.
Performing was a family affair from an early age. "My sister was singing before I ever thought about it," Dixon recalls. "Every night we would put on a show for our parents -- everything from 'N Sync to Michael Jackson to you name it. I tried to steal her thunder, but she always grabbed the spotlight. I pray those videos never surface!"
Dixon was named the third Fan-favorite American Idol Contestant of all time in Ryan Seacrest's online contest.


Dieses Album enthält kein Booklet