---
Album Info
Album Veröffentlichung:
2021
HRA-Veröffentlichung:
26.03.2021
Das Album enthält Albumcover Booklet (PDF)
Franz Liszt (1811 - 1886): Buch der Lieder I, S. 531:

1

Liszt: Buch der Lieder I, S. 531: No. 1, Die Loreley

06:59

2

Liszt: Buch der Lieder I, S. 531: No. 2, Am Rhein im schönen Strome

02:57

3

Liszt: Buch der Lieder I, S. 531: No. 3, Mignons Lied

07:07

4

Liszt: Buch der Lieder I, S. 531: No. 4, Der König von Thule

03:33

5

Liszt: Buch der Lieder I, S. 531: No. 5, Der du von dem Himmel bist

05:25

6

Liszt: Buch der Lieder I, S. 531: No. 6, Angiolin

06:26

Franz Liszt:

7

Liszt: Die Loreley, S. 532

07:21

Buch der Lieder II:

8

Liszt: Buch der Lieder II: No. 1, Oh! Quand je dors, S. 536

06:15

9

Liszt: Buch der Lieder II: No. 2, Comment, disaient-ils, S. 535

02:59

10

Liszt: Buch der Lieder II: No. 3, Enfant, si j'étais roi, S. 537

04:24

11

Liszt: Buch der Lieder II: No. 4, S'il est un charmant gazon, S. 538

03:44

12

Liszt: Buch der Lieder II: No. 5, La tombe et la rose, S. 539

04:18

13

Liszt: Buch der Lieder II: No. 6, Gastibelza, S. 540

06:06

Geharnischte Lieder, S. 511:

14

Liszt: Geharnischte Lieder, S. 511: No. 1, Vor der Schlacht

01:35

15

Liszt: Geharnischte Lieder, S. 511: No. 2, Nicht gezagt

03:24

16

Liszt: Geharnischte Lieder, S. 511: No. 3, Es rufet Gott uns mahnend

02:23

Total Runtime

01:14:56
Info zu Liszt: Complete Piano Music, Vol. 57
It was natural for virtuoso performer Franz Liszt to expand his repertoire by transcribing his songs for solo piano. The human voice is the purest of musical instruments, and composers have always been inspired by its warmth, expression and emotional power. Liszt's masterful command of the piano and his ability to transform vocal lines into purely instrumental sounds is evident throughout this album: the dramatic narrative in both versions of Die Loreley, the watery, arpeggiated texture of Am Rhein im schönen Strome and the orchestral qualities of Gastibelza being only a few examples of these pianistic treasures. Considered an 'extraordinary musician' by Martha Argerich, critically acclaimed Steinway Artist Alexandre Dossin enjoys active performing, recording and teaching careers. A prizewinner of several international piano competitions, Dossin received First Prize and the Special Prize at the 2003 Martha Argerich International Piano Competition in Buenos Aires. Other international awards include the Silver Medal and Second Honourable Mention at the Maria Callas Grand Prix, and Third Prize and the Special Prize at the 'W.A. Mozart' International Piano Competition, in addition to several awards from competitions in Brazil. An active recording artist, his discography comprises 15 albums released across several labels, including seven albums with Naxos.
Alexandre Dossin, piano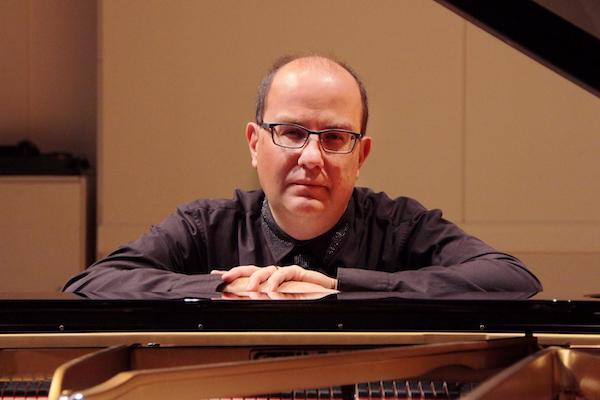 Alexandre Dossin
Considered an 'extraordinary musician' by Martha Argerich, critically acclaimed Steinway Artist Alexandre Dossin enjoys active performing, recording and teaching careers.
Dossin is professor of piano and chair of piano at the University of Oregon School of Music, and is also on the faculty at the University of Melbourne Conservatorium of Music.
Originally from Brazil, Dossin is a graduate of the Moscow Tchaikovsky Conservatory, and holds a doctorate degree from the University of Texas at Austin. He served as assistant for Sergei Dorensky at the Tchaikovsky Conservatory, and William Race and Gregory Allen at UT, Austin.
A prizewinner of several international piano competitions, Dossin received First Prize and the Special Prize at the 2003 Martha Argerich International Piano Competition in Buenos Aires. Other international awards include the Silver Medal and Second Honourable Mention at the Maria Callas Grand Prix, and Third Prize and the Special Prize at the 'W.A. Mozart' International Piano Competition, in addition to several awards from competitions in Brazil.
An active recording artist, his discography comprises 15 albums released across several labels, including seven albums with Naxos and six editions/recordings for G. Schirmer. His work has been praised in numerous international publications including Diapason, Financial Times, Fanfare, American Record Guide and Clavier.
Dossin is vice president of The American Liszt Society, president of the Oregon Chapter of The American Liszt Society, and is one of the recipients of the prestigious Fund for Faculty Excellence at the University of Oregon.


Booklet für Liszt: Complete Piano Music, Vol. 57