---
Album Info
Album Veröffentlichung:
2023
HRA-Veröffentlichung:
03.03.2023
Das Album enthält Albumcover
Entschuldigen Sie bitte!
Sehr geehrter HIGHRESAUDIO Besucher,
leider kann das Album zurzeit aufgrund von Länder- und Lizenzbeschränkungen nicht gekauft werden oder uns liegt der offizielle Veröffentlichungstermin für Ihr Land noch nicht vor. Wir aktualisieren unsere Veröffentlichungstermine ein- bis zweimal die Woche. Bitte schauen Sie ab und zu mal wieder rein.
Wir empfehlen Ihnen das Album auf Ihre Merkliste zu setzen.
Wir bedanken uns für Ihr Verständnis und Ihre Geduld.
Ihr, HIGHRESAUDIO
1

Songbird (Orchestral) (Orchestral)

03:50

2

Autumn Leaves (Orchestral) (Orchestral)

04:34

3

People Get Ready (Orchestral) (Orchestral)

03:22

4

Waly Waly (Orchestral) (Orchestral)

05:10

5

Time After Time (Orchestral) (Orchestral)

05:00

6

Tall Trees In Georgia (Orchestral) (Orchestral)

05:01

7

Ain't No Sunshine (Orchestral) (Orchestral)

03:58

8

You've Changed (Orchestral) (Orchestral)

05:07

9

I Can Only Be Me (Orchestral) (Orchestral)

04:21

Total Runtime

40:23
Info zu I Can Only Be Me (Orchestral)
"I Can Only Be Me" ist das jüngste Kapitel einer unvergleichlichen posthumen Karriere und ein bahnbrechendes neues wegweisendes Album in Zusammenarbeit mit dem London Symphony Orchestra. Neun Songs wurden von William Ross (Star Wars, Harry Potter) und Christopher Willis (The Twilight Saga, X-Men, Death Of Stalin) mit neuen Arrangements versehen. Das Projekt wurde durch die jüngsten Fortschritte in der Audio-Restaurierungstechnologie möglich. Mit neuestem Studio-Equipment wurden die Original-Gesangsparts isoliert, sorgfältig restauriert und so verbessert, dass ein bisher ungehörtes Maß an Klarheit und Tiefe erreicht wurde. Das Ergebnis ist ein gefühlvolles, atmosphärisches Album mit voluminösen Klanglandschaften, die den unverfälschten Gesang von Eva Cassidy begleiten.
Das Album "I Can Only Be Me" wird einen Monat nachdem Eva Cassidy ihren 60. Geburtstag (02.02.23) gefeiert hätte, am 03. März 2023 veröffentlicht. Der Titelsong ist eine radikale Neubearbeitung eines wenig bekannten Songs von Stevie Wonder, einem von Eva Cassidys musikalischen Helden.
"Ich kann unmöglich die Worte finden, um meine Gedanken und Gefühle über Eva auszudrücken. Sie ist eine der einzigartigsten und kraftvollsten Sängerinnen aller Zeiten. Ihre Stimme durchdringt mein ganzes Wesen. Ich verstehe nicht, was sie mit mir macht, aber ich bin überwältigt von dieser Erfahrung", sagt William Ross, der "Autumn Leaves" neu arrangierte. Christopher Willis kümmerte sich um die anderen acht Tracks: "Der erste Song des Albums ist Evas kultige Interpretation von ´Songbird`. Die wunderbare, mitschwingende Wahrheit an diesem Song ist, dass Eva der Songbird ist, der natürlich aus ihrem Herzen singt. Das Ziel bei der Orchesterversion war es, ihre reine stimmliche Essenz mit einem Instrumentalarrangement zu ergänzen – eine üppige musikalische Landschaft mit Evas Stimme im Zentrum."
"Songbird" wurde 2003 eindrucksvoll bei dem Film "Tatsächlich… Liebe" eingesetzt. Mittlerweile hat sich der Film in vielen Ländern zum Kult-Weihnachtsfilm entwickelt und wird jährlich im TV gezeigt. Er spielt zwei Monate vor Weihnachten in London und erzählt parallel zehn verschiedene Geschichten über die Liebe, die sich am 24. Dezember miteinander verbinden. "Songbird" – in der neuen Orchester-Version – erschien bereits als Single, ebenso wie "Tall Trees In Georgia".
In den letzten Jahren ist Eva Cassidy zum Vorbild für eine jüngere Generation von Sängerinnen geworden. Jedes Jahr gibt es unzählige neue Verwendungen von Evas Musik in Film, Fernsehen und darüber hinaus: Eiskunstlauf-Meisterin Michelle Kwan lief während der Abschlussfeier der Olympischen Winterspiele 2002 zu "Fields Of Gold". Evas Musik wurde in "Maid in Manhattan", "Alpha Dog", "Party of Five", "So You Think You Can Dance", "CSI: Crime Scene Investigation", "Smallville" und sogar beim deutschen "Tatort" eingesetzt. 2007 belegte Eva Cassidy in einer BBC-Umfrage Platz 21 der 100 Stimmen des 20. Jahrhunderts und 2015 wurde bei den 67. Emmy Awards ihre Version von "Over The Rainbow" als Untermalung der "In Memoriam"-Verleihung gespielt, mit dem die Fernsehbranche das Ableben bedeutender Persönlichkeiten würdigt. In jüngerer Zeit haben Shows wie "Firefly Lane", "This Is Us", "CSI: Vegas" und auch eine COVID-19-Impfkampagne Evas Musik verwendet. In Talent-Shows wie "The X Factor", "The Voice", "American Idol", "America's Got Talent", "Dancing With The Stars" und "The Masked Singer" hängen Evas Arrangements und Aufnahmen weiterhin die Messlatte weit nach oben.
Weltweit hat Eva Cassidy inzwischen mehr als 12 Millionen Alben verkauft und viele Top-Stars wie Paul McCartney, Eric Clapton und Adele ("Ich habe mich als Slipknot-Fan verkleidet und nach der Schule bin ich nach Hause gelaufen und habe Eva Cassidy gehört.") sind Fans von ihr.
Eva Cassidy hat ihren späteren immensen Erfolg nicht mehr erleben können; sie starb im Alter von nur 33 Jahren. Ihre Interpretationen klassischer Titel aus den Genres Jazz, Blues, Gospel und Soul sollten erst Jahre später die Charts erobern. Schon früh interessierte sie sich für Musik, lernte als Kind Gitarre und spielte aber erst nur im Kreis der Familie. Inspiriert hat sie die große Plattensammlung der Eltern – hören allein war ihr nicht genug, sie wollte selbst singen und spielen. Die ersten öffentlichen Auftritte absolvierte Cassidy auf Hochzeiten und Straßenfesten, später wurde sie Sängerin einer High School Band und bekam immer mehr Aufträge als Studio- und Backgroundsängerin, bis sie ihre eigene Formation, die Eva Cassidy Band, gründete. Fast alle der heute existierenden Aufnahmen wurden mit ihrer Band eingespielt oder resultieren aus Studio-Sessions aus dem Black Pond Studio.
Während sie zwar Auszeichnungen der Washington Area Music Association (WAMA) erhielt (1993, 1994 und 1995 in der Kategorie "Beste Sängerin für Jazz/Traditional", 1994 in der Kategorie "Beste Sängerin für Roots Rock/Traditional R&B", 1995 als "Beste Sängerin Jazz/Contemporary"), wollte ihre Karriere aber ansonsten keine Fahrt aufnehmen.
Eva Cassidys mittlerweile legendäre Konzerte im Nachtclub Blues Alley am 2. und 3. Januar 1996 waren in gewisser Weise ein glücklicher Zufall. Obwohl sie jahrelang mit dem Produzenten Chris Biondo im Studio verbracht hatte, um ein Meisterwerk aufzunehmen, beschlossen die beiden, dass ein Live-Album der schnellste Weg war, um ihr unmittelbares Ziel zu erreichen, eine CD zu produzieren, die bei Live-Shows verkauft werden konnte. So kratzte man Geld zusammen und buchte den berühmten Jazzclub Blues Alley in ihrer Heimatstadt Washington D.C. in der ruhigsten Zeit des Jahres, direkt nach den Silvesterknallern am 2. und 3. Januar 1996. Das zweites Ziel war, genug Profit zu erwirtschaften, um ein ordentliches PA-System für zukünftige Shows zu kaufen. Die Songs des zweiten Abends fanden dann den Weg auf das Album "Live At Blues Alley", welches im Sommer 1996, wenige Monate vor ihrem Tod, veröffentlicht wurde. Das erste Studioalbum "Eva By Heart" war zu diesem Zeitpunkt in Arbeit, wurde aber erst nach ihrem Tod fertiggestellt. 25 Jahre nach der Veröffentlichung von "Live At Blues Alley" wurde das Album im letzten Jahr neu gemastert und veröffentlicht. Es ist ein Eckpfeiler einer großen posthumen Karriere.
Eva Cassidy
London Symphony Orchestra
William Ross, Dirigent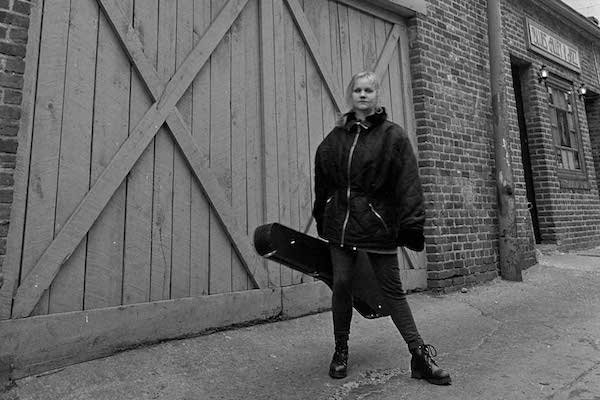 Eva Cassidy
Eva Marie Cassidy (February 2, 1963 in Washington, DC – November 2, 1996 in Bowie, Maryland) was an American vocalist described by the British newspaper The Guardian as "one of the greatest voices of her generation." She had a diverse repertoire of jazz, blues, folk, gospel and pop. Cassidy remained virtually unknown outside of her native Washington, DC, when she died of melanoma (which had spread to her bones) in 1996. Her posthumously released recordings have since sold in excess of 12 million copies, and in early 2001 the compilation album Songbird reached #1 on the UK album charts.
Eva Cassidy was the third of four children born to Hugh and Barbara Cassidy. From an early age, she displayed artistic and musical talent. When she was nine years old, her father taught her to play the guitar, and she began to play and sing at family gatherings.
While a student at Bowie High School, she did sing with a local band, called Stonehenge, and received considerable praise.
At the age of eighteen, Cassidy began her professional career, singing and playing guitar in a Washington, D.C., area band, called Easy Street. This band performed in a variety of styles, at weddings, corporate parties, and pubs.
During the summer of 1983, Cassidy sang and played guitar, six days per week, at Wild World, in Maryland. Her brother Dan was also a member of this working band.
Throughout the 1980s, Cassidy worked with a number of other bands, including the soul and Motown-oriented band The Honeybees, and the techno-pop band Characters Without Names, later called Method Actor.
During this period, Cassidy also worked as a propagator at a plant nursery and as a furniture painter in Annapolis, Maryland. In 1986, she met (bassist and recording engineer) Chris Biondo, who encouraged her and helped her find work as a backup singer for various acts. In 1990, Biondo and Cassidy hired the so-called "Eva Cassidy Band", composed of Chris Biondo, Lenny Williams, Keith Grimes and Raice McLeod, and she began to perform frequently in the Washington area.
In 1992, Biondo played a tape of Cassidy's voice for Chuck Brown. Best known as the "Godfather of Go-go", Brown is also a jazz and blues vocalist. This led to the first commercial recording of Cassidy, the duet album with Chuck Brown, The Other Side; which featured performances of classic songs such as "Fever", Billie Holiday's "God Bless the Child" and Cassidy's signature tune "Over the Rainbow". The album was released and distributed by Liaison Records, the label that also released Brown's Go-go albums. The duet CD attracted the attention of various record companies, but the offers all required Cassidy to pigeonhole herself within a single style (e.g., pop or jazz), something she adamantly refused to do.
In 1993 Eva Cassidy was first honored by the Washington area music community when she was awarded two Wammie awards for "Female Vocalist Roots /Traditional R&B" and "Vocalist Jazz/Traditional." The next year she was chosen to perform for the awards ceremony.
In January 1996, Cassidy recorded the album Live at Blues Alley, about which The Washington Post later commented that "she could sing anything and make it sound like the only music that mattered". Cassidy was unhappy with her singing on the album, because she had a bad cold on the night of the recording; she began recording a studio album which was eventually released as Eva by Heart posthumously in 1997.
During a promotional event for the Live at Blues Alley CD in July 1996, Cassidy noticed an ache in her hips, which she attributed to stiffness from painting murals. The pain persisted, and, a few weeks later, Cassidy was diagnosed with melanoma. By the time of her diagnosis, the cancer had spread throughout her body. Cassidy's health rapidly deteriorated, and her final performance was in September 1996. At the performance, she had used a walker to reach the stage, sang "What a Wonderful World" in front of an audience of friends, and was subsequently admitted to Johns Hopkins Hospital.
Eva Cassidy died on November 2, 1996, at the age of 33. She was posthumously inducted into the Hall of Fame of the Washington Area Music Association.


Dieses Album enthält kein Booklet