---
Album Info
Album Veröffentlichung:
2019
HRA-Veröffentlichung:
15.11.2019
Das Album enthält Albumcover Booklet (PDF)
Johann Sebastian Bach (1685 - 1750): French Suite No. 1 in D Minor, BWV 812:

1

French Suite No. 1 in D Minor, BWV 812: I. Allemande

03:30

2

French Suite No. 1 in D Minor, BWV 812: II. Courante

01:51

3

French Suite No. 1 in D Minor, BWV 812: III. Sarabande

03:33

4

French Suite No. 1 in D Minor, BWV 812: IV. Menuets I & II

03:03

5

French Suite No. 1 in D Minor, BWV 812: V. Gigue

02:47

French Suite No. 2 in C Minor, BWV 813:

6

French Suite No. 2 in C Minor, BWV 813: I. Allemande

03:12

7

French Suite No. 2 in C Minor, BWV 813: II. Courante

01:43

8

French Suite No. 2 in C Minor, BWV 813: III. Sarabande

03:15

9

French Suite No. 2 in C Minor, BWV 813: IV. Air

01:25

10

French Suite No. 2 in C Minor, BWV 813: V. Menuets I & II

03:37

11

French Suite No. 2 in C Minor, BWV 813: VI. Gigue

02:23

French Suite No. 3 in B Minor, BWV 814:

12

French Suite No. 3 in B Minor, BWV 814: I. Allemande

03:41

13

French Suite No. 3 in B Minor, BWV 814: II. Courante

02:04

14

French Suite No. 3 in B Minor, BWV 814: III. Sarabande

03:30

15

French Suite No. 3 in B Minor, BWV 814: IV. Anglaise

01:19

16

French Suite No. 3 in B Minor, BWV 814: V. Menuet I - Trio - Menuet II

04:17

17

French Suite No. 3 in B Minor, BWV 814: VI. Gigue

01:56

French Suite No. 4 in E-Flat Major, BWV 815a:

18

French Suite No. 4 in E-Flat Major, BWV 815a: I. Prélude

01:48

19

French Suite No. 4 in E-Flat Major, BWV 815: I. Allemande

02:51

20

French Suite No. 4 in E-Flat Major, BWV 815: II. Courante

01:38

21

French Suite No. 4 in E-Flat Major, BWV 815: III. Sarabande

03:01

22

French Suite No. 4 in E-Flat Major, BWV 815a: V. Gavottes I & II

04:37

23

French Suite No. 4 in E-Flat Major, BWV 815: V. Menuet

00:48

24

French Suite No. 4 in E-Flat Major, BWV 815: VI. Air

01:34

25

French Suite No. 4 in E-Flat Major, BWV 815: VII. Gigue

02:15

Johann Sebastian Bach:

26

Adagio in G Major, BWV 968

04:24

French Suite No. 5 in G Major, BWV 816:

27

French Suite No. 5 in G Major, BWV 816: I. Allemande

03:06

28

French Suite No. 5 in G Major, BWV 816: II. Courante

01:37

29

French Suite No. 5 in G Major, BWV 816: III. Sarabande

04:39

30

French Suite No. 5 in G Major, BWV 816: IV. Gavotte

01:12

31

French Suite No. 5 in G Major, BWV 816: V. Bourrée

01:22

32

French Suite No. 5 in G Major, BWV 816: VI. Loure

02:07

33

French Suite No. 5 in G Major, BWV 816: VII. Gigue

03:22

French Suite No. 6 in E Major, BWV 817:

34

French Suite No. 6 in E Major, BWV 817: I. Allemande

02:35

35

French Suite No. 6 in E Major, BWV 817: II. Courante

01:33

36

French Suite No. 6 in E Major, BWV 817: III. Sarabande

03:42

37

French Suite No. 6 in E Major, BWV 817: IV. Gavotte

01:10

38

French Suite No. 6 in E Major, BWV 817: V. Polonaise

01:21

39

French Suite No. 6 in E Major, BWV 817: VIII. Menuet

01:08

40

French Suite No. 6 in E Major, BWV 817: VI. Bourrée

01:22

41

French Suite No. 6 in E Major, BWV 817: VII. Gigue

02:17

Johann Sebastian Bach:

42

Fantasia in G Minor, BWV 920

07:49

43

Prélude in C Minor, BWV 921

02:47

44

Prélude in A Minor, BWV 922

07:01

Keyboard Sonata in D Minor, BWV 964:

45

Keyboard Sonata in D Minor, BWV 964: I. Adagio

04:13

46

Keyboard Sonata in D Minor, BWV 964: II. Fuga. Allegro

06:18

47

Keyboard Sonata in D Minor, BWV 964: III. Andante

04:49

48

Keyboard Sonata in D Minor, BWV 964: IV. Allegro

04:36

Total Runtime

02:20:08
Info zu J.S. Bach: Piano Works
One of the greatest achievements in musical composition history, The Well-Tempered Clavier of Johann Sebastian Bach is a collection of two sets of preludes and fugues in all 24 major and minor keys. It seem both books, composed two decades apart, were written primarily for educative personal and private use in the home probably to be played on the intimate clavichord. One of the most famous works written for the keyboard, The Well-Tempered Clavier is simply enjoyable music of the highest craftsmanship. Alexandra Papstefanou graduated from Athens Conservatoire, where she studied piano under Aliki Vatikioti. She followed her studies with Olga Zhukova at the Moscow Tchaikovsky Conservatory, with Peter Solymos, at the Franz Liszt Academy of Music in Budapest and, on a scholarship from the Alexander Onassis Foundation, at the University of Indiana in Bloomington, USA, with the highly influential teacher György Sebok. She has also taken lessons from Alfred Brendel. Papastefanou was a finalist at the Clara Haskil Competition in Switzerland and received the Liebstoeckl and Fazioli Prizes at the International Geneva Competition, as well as the Spyros Motsenigos Prize from the Academy of Athens. She has performed all of Bach s keyboard works and, in a series of recitals, has presented his complete Well-Tempered Clavier, Goldberg Variations, The Art of Fugue, and The Musical Offering as well as his keyboard concertos.
"How refreshing and deeply compelling to encounter Alexandra Papastefanou's no-holds-barred, red-blooded, freely yet subtly pedalled responses to this era-defining compendium. As if entranced by the music's purely expressive contours, Papastefanou imbues Bach's imperious musical logic with a rich humanity and emotional narrative. Inauthentic? Almost certainly. Musically in the moment and convincing? Absolutely." (BBC Music Magazine)
"Salient aspects of harpsichord technique inform Papastefanou's approach, such as varied legato articulations and arpeggiations, strong finger independence, plus the occasional use of agogic caesuras and tenutos to demarcate phrase groupings and points of harmonic tension…Beyond question, Papastefanou more than holds her own alongside the catalogue's top piano versions of the '48'." Gramophone Magazine)
"If any recording ticks all the right boxes for me, it's this one. Papastefanou's performances are technically faultless. The Steinway model D has been expertly voiced and tuned to perfection. The warm, intimate ambience of the Aris Garoufalis Concert Hall, Athens Conservatoire provides an ideal venue to facilitate clarity and delineation of the contrapuntal lines of the music. This complete cycle stands shoulder to shoulder with the very best in the catalogue. I have every confidence it won't be straying too far from reach." (Stephen Greenbank, MusicInternational)
Alexandra Papastefanou, piano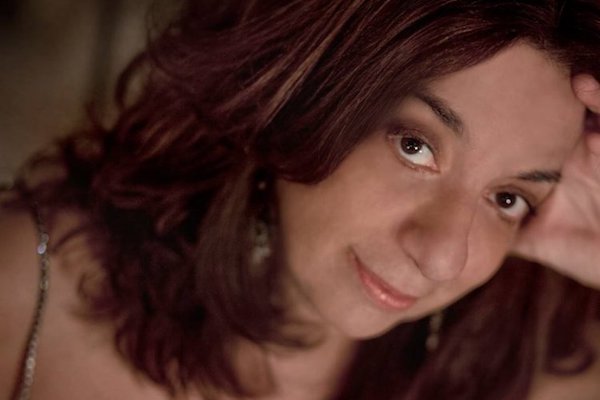 Alexandra Papastefanou
Born into a musical family, Alexandra Papastefanou graduated from the Athens Conservatoire, where she studied piano under Aliki Vatikioti. She followed her studies with Olga Zhukova at the Moscow Tchaikovsky Conservatory, with Peter Solymos at the Franz Liszt Academy of Music in Budapest and, on a scholarship from the Alexander Onassis Foundation, at the University of Indiana in Bloomington, with György Sebők. She has also taken lessons from Alfred Brendel, who has praised her playing and editing of The Well-Tempered Clavier.
Alexandra Papastefanou was a finalist at the Clara Haskil Competition in Switzerland and received the Liebstoeckl and Fazioli Prizes at the International Geneva Competition, as well as the Spyros Motsenigos Prize from the Academy of Athens.
Whilst pursuing her piano studies, Alexandra took up music theory and composition, firstly with I. A. Papaioannou, and then later, in the United States, under Frederic Fox.
(Along with her activity as a performer, Alexandra pursued her in-depth study of J.S. Bach's music, the meaning and enduring appeal of which she examined in a lecture series). She has performed all of Bach's keyboard works and, in recital cycles, has presented his complete Well-Tempered Clavier (which she also edited for Nakas Music Publications), the Goldberg Variations, the Art of Fugue, The Musical Offering as well as his keyboard concertos. She has also performed and recorded the works of Robert Schumann.
Her diverse repertoire extends from composers of the baroque era to more recent composers such as Toru Takemitsu, Karlheinz Stockhausen, György Ligeti and George Crumb. Alexandra Papastefanou has also repeatedly performed and recorded the piano works of major Greek composers Dimitris Mitropoulos, Nikos Skalkottas, George Koumendakis, I. A. Papaioannou and Vangelis Katsoulis. Her musical career has also extended to lecture-recitals, featuring innovative thematic cycles that she has chosen and presented including Fantasias for Piano, Works Inspired by Fairy Tales, Romantic German Literature and the Music of Robert Schumann, The Tradition of the French Clavecinists in the Piano Works of Debussy and Ravel, Sounds of Nature and the Exotic Element in Music, Music and Astronomy, Music and Poetry, and Music and Myth.
Alexandra has appeared to enthusiastic acclaim with symphony orchestras, in solo recitals and with chamber music groups across Europe (in Germany, France, Great Britain, the Netherlands, Luxembourg, Spain, the Czech Republic, Russia, Finland and Hungary), the United States and Canada.
Also, Alexandra recorded her début album, as a composer, entitled Enamel (Smalto, in Greek), a collection of songs to her own compositions, lyrics and musical arrangements (released on Lyra Records). Recently, her composition cycle 12 Minerals, for solo piano, and 12+1 Shells and Shadows, for voice and piano, were published by Ph. Nakas Music Publications.
Her recording recently released by 'First Hand Records' of a 4CD set of Bach's Well Tempered Clavier has met with wide critical acclaim.


Booklet für J.S. Bach: Piano Works