---
Album Info
Album Veröffentlichung:
2018
HRA-Veröffentlichung:
05.07.2018
Das Album enthält Albumcover Booklet (PDF)
Entschuldigen Sie bitte!
Sehr geehrter HIGHRESAUDIO Besucher,
leider kann das Album zurzeit aufgrund von Länder- und Lizenzbeschränkungen nicht gekauft werden oder uns liegt der offizielle Veröffentlichungstermin für Ihr Land noch nicht vor. Wir aktualisieren unsere Veröffentlichungstermine ein- bis zweimal die Woche. Bitte schauen Sie ab und zu mal wieder rein.
Wir empfehlen Ihnen das Album auf Ihre Merkliste zu setzen.
Wir bedanken uns für Ihr Verständnis und Ihre Geduld.
Ihr, HIGHRESAUDIO
1

This Time

04:52

2

Turn to Miami

04:54

3

Paralyzed

05:15

4

Sometimes the World Ain't Enough

04:33

5

Moments of Thunder

04:26

6

Speedwagon

03:22

7

Lovers in the Rain

04:09

8

Can't Be That Bad

03:40

9

Pretty Thing Closing In

04:30

10

Barcelona

05:30

11

Winged and Serpentine

03:41

12

The Last of the Independent Romantics

09:16

Total Runtime

58:08
Info zu Sometimes the World Ain't Enough
Es begann 2006 als gemeinsame Vision der Gründungsmitglieder Björn Strid (Gesang) und David Andersson (Gitarre), irgendwo auf einer dieser endlosen amerikanischen Highways während einer SOILWORK-Tour. Die eigentlichen Idee war es, einen Soundtrack zu ihrer Reise zu kreieren, etwas, was man hören konnte, wenn jeder die Schnauze von »Detroit Rock City«, »Goodbye Girl« und »Born To Run« voll hatte. Sobald das Ziel klar war, machten sich die beiden daran, die perfekten Musiker, die diese Vision teilten und erfüllen könnten, zusammenzutrommeln…. das dauerte ein paar Jahre. Schlussendlich aber fanden sie Sharlee D'Angelo (Bass, ARCH ENEMY, SPIRITUAL BEGGARS u.v.m), Richard Larsson (Keyboard), Jonas Källsbäck (Schlagzeug) und Sebastian Forslund (Gitarre, Percussion). Wie es das Schicksal wollte, waren schon die ersten Jams und Proben absolut magisch.
Die Band veröffentlichte die ersten beiden Album »Internal Affairs« und »Skyline Whispers« über Coroner Records. Beide wurden hochgelobt und verschafften der Band in bestimmten Kreisen eine gewisse Reputation. Sie wollten und brauchten jedoch noch mehr. Mit der Vertragsunterzeichnung bei Nuclear Blast schaffte es die Band, die nächste Ebene zu betreten und veröffentlichte ihr bis dato letztes Album »Amber Galactic«. Die Platte wurde verdientermaßen Album des Monats in verschiedenen europäischen Rock Magazinen, verschaffte der Band eine Nominierung für einen schwedischen Grammy und gipfelte in einer intensiven und erfolgreichen Europa-Tour im Herbst/Winter 2017.
Dieses Jahr melden sie sich mit »Sometimes The World Ain't Enough« zurück und setzen noch einen drauf. Dieses Album hat alles - die eingängigen Songs, den künstlerischen Anspruch und die unnachahmliche schwedische Melancholie - alles ist etwas "over the top" und es gibt einfach mehr, was sich lohnt zu lieben.
"Don't forget, the NFO is your band, there to cheer you on when you're attending a party you know you shouldn't, to nurse you through the hangover, to comfort you when you realize that you're probably too old for this. But you're not, and neither are we! Hang on in there, and we'll show you a way to die with your beret on and your dignity still intact."
»Sometimes The World Ain't Enough« beinhaltet alles, was man zum Überleben braucht in dieser leicht verwirrenden Landschaft des Erwachsenseins, und egal, wie viel Ärger Ihr habt, irgendwo gibt es einen weiblichen Space Commander, dessen aktuellen Situation die Eure lächerlich erscheinen lässt.
"If you want nice music and to have a good time, listen to whatever you want to. If you want to experience uninhibited euphoria and high jinks, listen to the NFO! We won't be there to help you, but we'll provide an interesting soundtrack to your experience."
"Ein wahres Classic-Rock-Meisterwerk!" (STAR FM)
"Die Sommerplatte des Jahres!" (ROCK HARD)
"..entfesseln erneut ihr geballtes Hitpotential..!" (CLASSIC ROCK)
"Sunny, groovy, sexy - einfach mitreißend! NFO klingen wie ihre Vorbilder, schreiben aber die besseren Songs!" (LEGACY)
"Mit keiner anderen Platte wird man 2018 mehr Spaß haben als mit ›Sometimes The World Ain't Enough‹, versprochen!" (FUZE)
"Die schwedische Hitmaschine bleibt mit zwölf neuen 80er-Volltreffern auf Kurs Höhenflug!" (DEAF FOREVER)
Björn Strid, Gesang
David Andersson, Gitarre
Sebastian Forslund, Gitarre
Richard Larsson, Keyboards
Sharlee D' Angelo, Bass
Jonas Källsbäck, Schlagzeug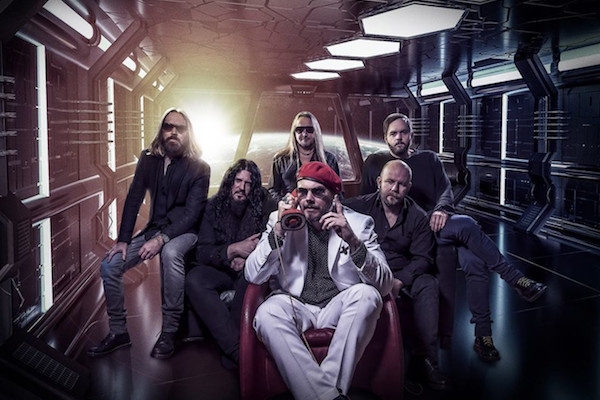 Night Flight Orchestra
They have been drifters for a thousand years, victims of circumstance. Now, the erstwhile classic rock pariahs of the NFO have finally found a place to call home.
Björn Strid, the infamous singer of Soilwork, made a name for himself as one of the best metal vocalists out there around the turn of the millenium. What no one expected was that had been hiding a classic rock heart behind that titanium ribcage of his for quite some time. When he spent some time in 2006 with David Andersson, who was then the new Soilwork live session guitarist, on tour somewhere in the US, he knew he'd found a kindred spirit. It might've happened when the local runner drove them over the bridges of Asbury Park, NJ blasting Layla on classic rock radio, it might've happened when they got drunk in the morning and drove from LA to Palm Springs to do a radio interview, and ended up doing acoustic Whitesnake covers instead. Actually, no one knows what really happened. But one of those American highways, they found out that they had a mission; to start a classic rock band and play it the way it's supposed to be played.
Sharlee D'Angelo had long been a fan of Chris Glen and Dick Kemper. While playing high-profile metal shows with Arch Enemy at night, he spent the early mornings thinking about David Hungate's note choices, sometimes with a bottle of champagne, sometimes with two bottles of champagne. When David and Björn and David offered him a third bottle of champagne in exchange for being an adventurous bass consultant and phase manipulator, he didn't have a choice but to say yes.
Richard Larsson is a ladies' man. He drives a Jaguar and has one brown and one green eye, and has once described himself as a semi-psychopath from the South of Sweden. Apart from those qualities, he's also a keyboard wizard with a silver-haired chest that he's very fond of exposing.
Jonas Källsbäck is the mad-man drummer. He's entered drum solo competitions in Tokyo so drunk he could barely walk, but he still won. He has ruptured his spleen in Cyprus, he has experienced dirty living in Greenland, and he has played drums with the likes of Mean Streak and Jupiter Society. In short, he is one of Sweden's secret weapons.
Sebastian Forslund is a musical prodigy that was just too good to not have in the band. He's a proficient drummer, percussionist, guitarist, back-up vocalist and songwriter, who's been around ever since mixing the first album. He participated in our first live show on a whim, armed with only a pair of congas and a plastic owl, and shortly after, he became a permanent member.
And in the middle of all this talent, this whirlwind of emotions, this primal purging of raw, unadultered feeling, stand Björn Strid and David Andersson, still not quite knowing what to do with it all. Björn recently came out of Lou Gramm rehab, and David has recently undergone treatment for his Tommy Bolin psychosis. Stil they show no signs of improvement.
After so many years battling northwinds, fire, water and walking in the shadow of the blues, Nuclear Blast have finally agreed to sign them on, starting with their new LP Amber Galactic, coming this spring.
We, the Night Flight Orchestra, will continue to push the boundaries of classic rock; we will continue with the unecessarily catchy choruses, the unecessary solos, the atmospherics that no one will understand but us, and the female voices that seem to stem from your unconscious. Will you be there for us? We probably won't be there for you, but since when did rock-star public availability ever become classic?
You'll see us in the videos, during the shows and in the mug shots from Palm Springs.


Booklet für Sometimes the World Ain't Enough