---
Album Info
Album Veröffentlichung:
2015
HRA-Veröffentlichung:
21.08.2020
Das Album enthält Albumcover
Entschuldigen Sie bitte!
Sehr geehrter HIGHRESAUDIO Besucher,
leider kann das Album zurzeit aufgrund von Länder- und Lizenzbeschränkungen nicht gekauft werden oder uns liegt der offizielle Veröffentlichungstermin für Ihr Land noch nicht vor. Wir aktualisieren unsere Veröffentlichungstermine ein- bis zweimal die Woche. Bitte schauen Sie ab und zu mal wieder rein.
Wir empfehlen Ihnen das Album auf Ihre Merkliste zu setzen.
Wir bedanken uns für Ihr Verständnis und Ihre Geduld.
Ihr, HIGHRESAUDIO
1

Yer Not The Ocean

03:35

2

The Lonely End Of The Rink

03:51

3

In View

03:58

4

Fly

03:42

5

Luv (sic)

03:43

6

The Kid's Don't Get It

04:35

7

Pretend

03:47

8

Last Night I Dreamed You Didn't Love Me

04:21

9

The Drop-Off

03:39

10

Family Band

03:40

11

World Container

03:36

Total Runtime

42:27
Info zu World Container (Remastered)
World Container is the tenth full-length album by Canadian rock band The Tragically Hip. It was released in Canada on October 17, 2006, in two formats: as a limited edition Digipak and regular jewel case. The United States release was March 6, 2007, in advance of a planned tour. This album was recorded at various locations including Maui, Vancouver and Toronto. In concert Gord Downie joked that the title of the album is actually a typo, and should read "World Contain Her."
A surprising call from Bruce Allen started it all. On his advice, I scheduled a meeting with Gord. I believe it was the summer of 2005. It was agreed that Gord would make the very long trip from Toronto to the little town of Paia, on the north shore of Maui, where I live. We met for lunch at The Fish Market for one of their famous fish burgers and had a great conversation about life, kids, surfing and The Hip. He gave me the first book (always a good sign) and a cd of some ideas the hip had been throwing around. He had asked me about "Jaws", the famous tow-in surfbreak, so we took a drive to Huelo to stare out at the famous wave that really gets big, maybe 6 times a year (the north swells don't come til the winter).
Later that evening, I visited the ohana he was staying at, on the east side of Paia Bay. Gord sang and played some other ideas and we continued our conversation. It became clear that this was going to be a very different record for The Hip. The songs were very personal and one in particular, "Fly", got to me right away. I had never heard a song like that from The Hip, It was so direct and pop-like. Visions of making "The Great Canadian Record" (a secret goal of mine, that I had been ranting to Gord about) seemed all laid in front of me. We agreed that a trial session, in the fall, would be in order, to see if we could work as a team.
In September 2005, we all assembled, in Vancouver, at the Warehouse Studio and cut the first four songs. On the first day, we rehearsed in the vast main studio with a monitor system, just throwing around ideas, trying to find the first tracks to cut. We were also in the process of feeling each other out. Was I the metal head as rumoured? Were they stubborn and fixed in their musical ways? The first thing you notice about The Hip is that remarkable trait that all great bands have; the bands music is not carried by one persons individual talent. Like The Stones, Led Zep, the Beatles and the Who, it is the collective that gives the band it's sound and feel. This is my best case scenario for making a record; a band that is open to ideas but is also entrenched in it's sound. You can go anywhere and it sounds like them. We settled on the songs to try the next day.
"World Container, the Tragically Hip's eleventh studio LP, finds the Canadian quintet going for their biggest sound to date. Sure, their previous two albums -- 2002's In Violet Light and 2004's In Between Evolution -- found the band experimenting with a larger guitar-driven sound, but not in the same way that World Container reaches for the brightest sound imaginable. This ten-song set comes off with as much fever as the band's live shows, and frontman Gordon Downie finally captures his bona fide rock star appeal as a performer on record! Songs such as "Yer Not the Ocean" and "In View" retain that intoxicating energy that's made the Tragically Hip one of the decade's favorite concert draws. Working with veteran rock producer Bob Rock (Mötley Crüe, Metallica), was one smart move. As he did with Mötley Crüe's Dr. Feelgood album, Rock zeroed in on what makes the Tragically Hip such a vital rock band -- the dual guitar attack of Paul Langlois and Rob Baker, and Downie's clever and poetic state of mind as expressed in his singing -- and drew it in, forcing the Tragically Hip to embrace a sonically richer sound while doing some soul searching for what rock & roll ultimately means to them. The swaggering hard rock leanings of "The Drop-Off" are as classic as anything from Day for Night, while gritty, anthemic moments like "The Kids Don't Get It" and "Luv (sic)" define the band's newfound rawness. "The Lonely End of the Rink," which debuted on Hockey Night in Canada one week prior to the album's Canadian release in October 2006, continues on that path with its U2-like, arena-sized guitar riffs, and Downie, too, has never sounded better. The poetic obliqueness that's carried his lyrics since the Tragically Hip's 1983 inception has obviously made him a Canadian celebrity, but Rock tossed such dramatics aside, encouraging Downie to really rip it all apart and say things in a more straightforward fashion. Getting back to a simple approach might have been a difficult find at first, but World Container does it all without losing sight of what the Tragically Hip have achieved in their 20-plus years in the business, once again solidifying their mark on alternative rock." (MacKenzie Wilson)
The Tragically Hip
Produced by Bob Rock
Digitally remastered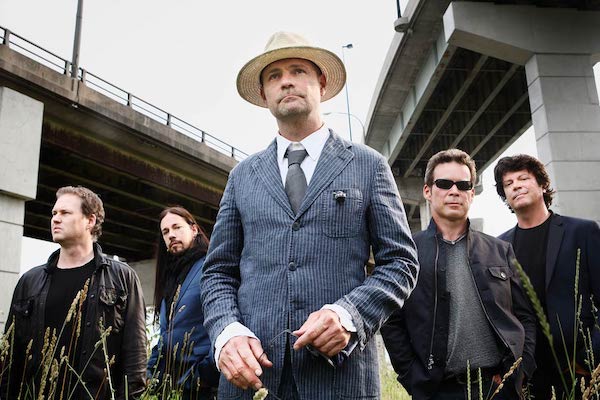 The Tragically Hip
Critically acclaimed for more than three decades, The Tragically Hip has been at the heart of the Canadian musical zeitgeist, evoking a strong emotional connection between their music and their fans that remains unrivalled in this country. A five-piece group of friends including Rob Baker (guitar), Gord Downie (vocals, guitar), Johnny Fay (drums), Paul Langlois (guitar) and Gord Sinclair (bass), who grew up in Kingston, Ontario, The Hip has achieved the enviable status of a band that enjoys both mass popularity with more than 8 million albums sold worldwide, as well as peer recognition through 16 Juno Awards - and the fourth-most ever for an artist – picking up their last two in for Group of the Year and Rock Album of the Year for Man Machine Poem. Their studio catalogue includes their self-titled debut album The Tragically Hip (1987), Up To Here (1989), Road Apples (1991), Fully Completely (1992), Day For Night (1994), Trouble At The Henhouse (1996), Phantom Power (1998), Music @ Work (2000), In Violet Light (2002), In Between Evolution (2004), World Container (2006), We Are The Same (2009), Now For Plan A (2012) and Man Machine Poem (2016). Through their career the band became a cultural touchstone in Canada; receiving the distinguished Order of Canada and even being featured on a set of postage stamps. The band's final concert in their hometown of Kingston, Ontario took place on August 20th, 2016 and was broadcast nationally on CBC to a record breaking audience of 11.7 million, the second highest audience ever in Canada.


Dieses Album enthält kein Booklet