---
Album Info
Album Veröffentlichung:
2017
HRA-Veröffentlichung:
12.04.2017
Das Album enthält Albumcover Booklet (PDF)
1

Let's Just BasH!

05:16

2

Twa Groove

05:07

3

Ballad For Roy Hargrove

07:07

4

Chaplin BasH!

04:11

5

Morais Spirit

04:02

6

One Note For Miles

11:38

7

Pipillita

03:44

8

Sur le pont d'Avignon

03:24

9

Asi Paré

04:11

10

Love & Honesty

07:29

11

Something Clear

05:13

12

Mellow On The SaxO

07:25

13

Letter 4 Brad (Bonus Track)

06:09

14

La Bohème (Bonus Track)

05:41

Total Runtime

01:20:37
Info zu Let's BasH!
Jowee Omicil, who plays a multitude of wind and brass instruments, is like no other. Originally from Haiti, he was born in Montreal and now lives in Paris. He recorded his first 'international' album in the south of France as part of a long-running session during a week when the full moon shone above, alongside a dozen militants of groove. In his total mix music, which speaks to both body and mind and in which melodic storytelling is essential, his Creole roots blend with gospel, soul, hip hop culture and world folklore, while also including nods to his forefathers from Charlie Parker to Ornette Coleman to Wayne Shorter. As for Let's BasH!, it is at once a battle cry and a declaration of love which conceal a fine profession of faith : I want jazz to be popular again.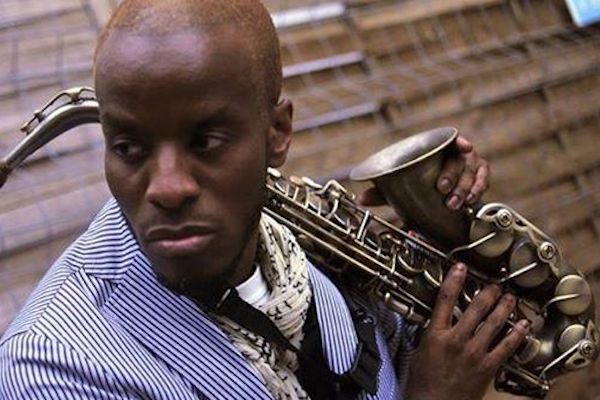 Jowee Omicil
Multi instrumentalist-composer-educator-producer Jowee (pron. "Joey") Omicil brings a novel and distinctly Afro-Haitian perspective to his music.
He's part of a growing cadre of Caribbean-descended artists bringing new flavors to the creative music spectrum. Jowee possesses a distinctive, soulful and spiritual sound on saxophones and flutes that extends to his clarinet and harmonica ventures.
Born in Montreal to Haitian parents, Jowee was once summoned to honor his heritage at a Haitian Flag Day observation at the Obama White House, further strengthening his resolve that his music has a higher purpose. His father Joseph Sr., a minister and college professor, who raised Jowee alone after the premature passing of his mother, deeply infused that spiritual pursuit. Dad envisioned an orchestra in the church and encouraged Jowee to take up a wind instrument. Thus persuaded, young Jowee selected an old alto saxophone from his first teacher's collection. Steadily and surely he fell in love with the instrument and was hooked by age 15.
Always an avid listener, Omicil quickly came under the spell of a diverse core of saxophonists, including Steve Coleman, David Sanborn and particularly Kenny Garrett. Perseverance and further immersion led to a scholarship to prestigious Berklee College of Music, and eventually to Jowee being selected for advanced studies at the Thelonious Monk Institute's summer colony, and a feature on BET's jazz channel.
Besides his diverse bandstand and studio pursuits, Jowee is a dedicated educator, conveying his philosophy of never stop questing to his students. "All of the great cats were searching… you've got to dedicate yourself," he asserts. "I encourage them to take their craft seriously and make a contribution that is singularly their own."
Another facet of Jowee's rangy career came when he proudly produced the final recording of the great Haitian accordionist-bandleader and philanthropist Pepe Bayard, whose eventual passage to ancestry was delayed a bit by the joy he found working with Jowee on his music. "Immersing himself in music helped him live a whole lot longer… that's the power of music."
Not satisfied with crafting mere blowing vehicles for aimless improvising, Jowee invests deeper meanings in the original compositions he records. The multi-cultural dimension of his Roots & Grooves record, engaging musicians and sonic landscapes from four continents, personifies this. Jowee infuses his music with the freedom of jazz, the spirituality of gospel, and an aural universe of soul-shaking grooves.
Jowee's sense of sincerity and his innate curiosity are borne out by his compositions, including the kinetic "CubhaTiando," a Cuba/Haiti collaboration with the brilliant Afro-Cuban drummer Francisco Mela. The self-explanatory "4 My People" is dedicated to flood & earthquake victims in Haiti. The "victory chant" "Wole" is written for his daughter Marissah Jann, while the celebratory "Micky's Groove" was inspired by Michel "Sweet Micky" Martelly, "a real pioneer, El Presidente of Compas Music," explains Jowee. His "Ayibobo" exemplifies Jowee's adroit versatility as he takes on the challenge of playing all the instruments, as well as engaging turntablist Val Jeanty. And that's just a sampling of the depth & breadth of Jowee Omicil's compositional skills.
A list of Jowee's collaborators and musicians he's played opposite mirrors his broad approach to music-making – to name a few: Kenny Garrett, Roy Hargrove, Richard Bona, Wyclef Jean, Branford Marsalis, Marcus Miller, Pharoah Sanders, Marlon Saunders, Mike Stern, Jeff "Tain" Watts… Jowee seeks collaboration for creative sustenance as well as bringing his unique skills to diverse settings. (Willard Jenkins, Journalist)


Booklet für Let's BasH!