---
Album Info
Album Veröffentlichung:
2020
HRA-Veröffentlichung:
14.02.2020
Das Album enthält Albumcover Booklet (PDF)
Domenico Scarlatti (1685 - 1757):

1

Sonata in G Minor, K. 426, L. 128 (Andante)

07:37

2

Sonata in E Major, K. 135, L. 224 (Allegro)

04:24

3

Sonata in C Minor, K. 158, L. 4 (Andante)

06:41

4

Sonata in D Major, K. 118, L. 122 (Non presto)

04:56

5

Sonata in D Major, K. 119, L. 415 (Allegro)

05:24

6

Sonata in D Minor, K. 32, L. 423 (Aria)

02:41

7

Sonata in C Major, K. 515, L. 255 (Allegro)

03:21

8

Sonata in D Minor, K. 213, L. 108 (Andante)

08:24

9

Sonata in G Major, K. 425, L. 333 (Allegro molto)

03:16

10

Sonata in A Minor, K. 3, L. 378 (Presto)

02:52

11

Sonata in C Major, K. 132, L. 457 (Cantabile)

09:05

12

Sonata in B Minor, K. 27, L. 449 (Allegro)

04:12

13

Sonata in B Major, K. 262, L. 448 (Vivo)

06:00

14

Sonata in D Minor, K. 294, L. 67 (Andante)

04:58

15

Sonata in E Major, K. 380, L. 23 (Andante, commodo)

07:11

16

Sonata in B Minor, K. 377, L. 263 (Allegrissimo)

02:46

17

Sonata in A Major, K. 101, L. 494 (Allegro)

05:31

18

Sonata in G Major, K. 125, L. 487 (Vivo)

02:27

19

Sonata in E Minor, K. 98, L. 325 (Allegrissimo)

03:19

20

Sonata in D Major, K. 492, L. 14 (Presto)

03:45

Total Runtime

01:38:50
Info zu Domenico Scarlatti: 20 Sonatas
With fiery eloquence and sensitivity, Margherita Torretta traverses 20 of Domenico Scarletti's finest music pearls. This collection, in the great Italian tradition, is one the best ever recorded!
"Margherita Torretta is a unique pianist and musical personality, her playing abounds in fantasy and original musical inventions of fine intelligence; she cast a fresh light on Scarlatti's Sonatas making them seem as if we hear them for the first time" (Eugen Indjic)
Margherita Torretta, piano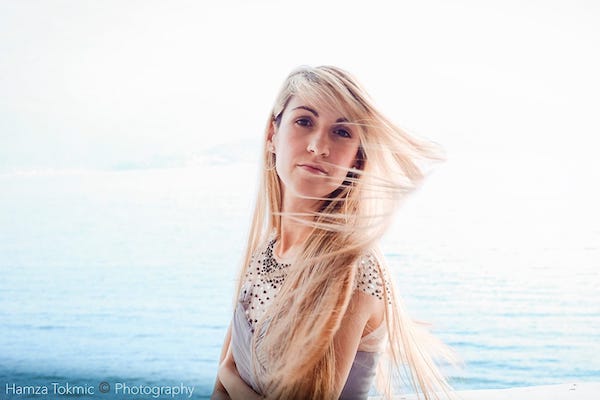 Margherita Torretta
affirms her artistic personality through her passion for music, fashion design, photography, poetry and dance, with the mission of expressing the value of beauty understood as a set of human qualities such as determination, courage and elegance.
Margherita is recognized as a great performer for her ability to perform Scarlatti's keyboard sonatas, with which she made her debut at Carnegie Hall in New York in 2015, thanks to the Debut International Piano Competition, that awarded her with the First Degree Diploma and the Carnegie Hall memorial medal.
Margherita has given concerts in Italy, France, Germany, Spain, Portugal, Belgium, England, Scotland, Switzerland, Austria, Latvia, Lithuania, Poland, Russia, United States, Japan, in concert halls such as auditorium Arturo Toscanini of Teatro Alla Scala, Sala Verdi and Palazzo Reale in Milan, the ALTI hall in Kyoto, representing the nation Italy in the 23th Kyoto World festival, the Steinway Hall in London, the Marcello Amphitheater and Sala Baldini in Rome, Ehrbar Saal in Wien, The Palm Beach Atlantic University in Florida, the college of Tchaikosvky Conservatory of Moscow, the Conservatory Maurice Ravel of Paris, the concert hall of Fryderyk Chopin Institute in Warsaw, the great hall of mirrors at Palacio Foz in Lisbon and many others.
Margherita regularly teaches in UK and abroad, organizing improvement courses and masterclasses for the promotion of the medical studies done by professors Laurent Boullet and Eckart Altenmuller in the right use of hands and body on the keyboard.
She is piano professor of IMF, the international summer music festival based in Munich and she is dedicated to chamber music with the German violinist Aloisia Dauer.


Booklet für Domenico Scarlatti: 20 Sonatas