---
Album Info
Album Veröffentlichung:
2023
HRA-Veröffentlichung:
06.01.2023
Das Album enthält Albumcover Booklet (PDF)
Sergei Rachmaninoff (1873 - 1943): All-Night Vigil, Op. 37 "Vespers":

1

Rachmaninoff: All-Night Vigil, Op. 37 "Vespers": I. Opening Exclamation - Come, Let Us Worship

03:03

2

Rachmaninoff: All-Night Vigil, Op. 37 "Vespers": II. Bless the Lord, O My Soul

05:26

3

Rachmaninoff: All-Night Vigil, Op. 37 "Vespers": III. Blessed Is the Man

05:21

4

Rachmaninoff: All-Night Vigil, Op. 37 "Vespers": IVa. O Gladsome Light

02:16

5

Rachmaninoff: All-Night Vigil, Op. 37 "Vespers": IVb. O Gladsome Light

03:16

6

Rachmaninoff: All-Night Vigil, Op. 37 "Vespers": Va. Now Lettest Thou

02:35

7

Rachmaninoff: All-Night Vigil, Op. 37 "Vespers": Vb. Now lettest Thou

04:00

8

Rachmaninoff: All-Night Vigil, Op. 37 "Vespers": VI. Rejoice, O Virgin

03:31

9

Rachmaninoff: All-Night Vigil, Op. 37 "Vespers": VII. The Six Psalms. Glory to God in the Highest

03:08

10

Rachmaninoff: All-Night Vigil, Op. 37 "Vespers": VIIIa. Praise the Name of the Lord

01:47

11

Rachmaninoff: All-Night Vigil, Op. 37 "Vespers": VIIIb. Praise the Name of the Lord

02:08

12

Rachmaninoff: All-Night Vigil, Op. 37 "Vespers": IX. Blessed Art Thou, O Lord

06:31

13

Rachmaninoff: All-Night Vigil, Op. 37 "Vespers": X. Having Beheld the Resurrection

03:06

14

Rachmaninoff: All-Night Vigil, Op. 37 "Vespers": XI. My Soul Doth Magnify the Lord

08:34

15

Rachmaninoff: All-Night Vigil, Op. 37 "Vespers": XII. The Great Doxology

08:13

16

Rachmaninoff: All-Night Vigil, Op. 37 "Vespers": XIIIa. Troparion. Today Salvation Is Come

01:30

17

Rachmaninoff: All-Night Vigil, Op. 37 "Vespers": XIIIb. Troparion. Today Salvation Is Come

02:06

18

Rachmaninoff: All-Night Vigil, Op. 37 "Vespers": XIVa. Troparion. Thou Didst Rise from the Tomb

02:36

19

Rachmaninoff: All-Night Vigil, Op. 37 "Vespers": XIVb. Troparion. Thou Didst Rise from the Tomb

03:30

20

Rachmaninoff: All-Night Vigil, Op. 37 "Vespers": XV. To Thee, O Victorious Leader

01:47

Total Runtime

01:14:24
Info zu Rachmaninoff: All-Night Vigil, Op. 37 "Vespers"
Der Clarion Choir und sein künstlerischer Leiter Steven Fox geben ihr Pentatone-Debüt mit einer Aufnahme von Sergei Rachmaninoffs Chormeisterwerk, der Allnächtlichen Vigil, und stellen damit ihre außergewöhnliche Beherrschung des russischen Repertoires unter Beweis. Die Allnächtliche Vigil ist ein Abendgottesdienst, der sich allmählich dem Tagesanbruch nähert und die Auferstehung Christi symbolisiert. Diese Botschaft des Lichts und der Hoffnung, die aus der Dunkelheit hervorgehen, ist sowohl universell als auch sehr aktuell in der unruhigen Welt, in der wir uns befinden. Auf dieser Aufnahme sind vielen Sätzen die originalen Kiewer und Znameny-Gesänge vorangestellt, auf denen Rachmaninoff seine Komposition aufbaute, was diesem faszinierenden Stück eine weitere Ebene verleiht.
Steven Fox ist seit 2006 der künstlerische Leiter des in New York ansässigen Clarion Choir. Er gilt als einer der außergewöhnlichsten Chöre der USA, dessen Aufnahmen des russischen Chorrepertoires mehrfach für den Grammy nominiert wurden.
"Der großartige 28-köpfige Clarion Choir war eine Offenbarung: Mit voller Stimme, rhythmischer Präzision und einer Artikulation, die so klar war wie die des Orchesters, wechselte das Ensemble mühelos vom sinnlichen Schmachten von "Endless pleasure, endless love" zur bewegenden, oratorischen Aussage der dunklen Lektion der Oper: "Nature to each allots his proper sphere / But that forsaken we like meteors err: / Durch die Leere geschleudert, zerbrechen wir durch einen rüden Stoß, / Und all unser gerühmtes Feuer verliert sich im Rauch." (Heidi Waleson, Das Wall Street Journal)

Mikki Sodergren, Mezzosopran
John Ramseyer, Tenor
The Clarion Choir
Steven Fox, Musikalische Leitung, Dirigent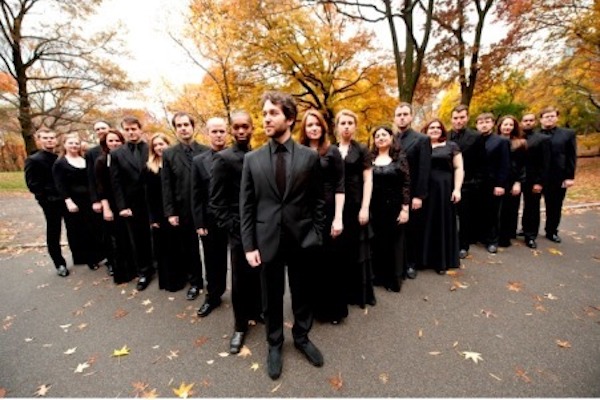 Steven Fox
is Artistic Director of The Clarion Orchestra and The Clarion Choir and Founder of Musica Antiqua St Petersburg, which he established as Russia's first period-instrument orchestra at the age of 21. Recognised as a leading conductor of his generation, he has recently appeared as a guest conductor with San Francisco's Philharmonia Baroque Orchestra, Boston's Handel and Haydn Society, Juilliard415 at Lincoln Center, the Charleston Symphony Orchestra, L'Orchestre Symphonique de Québec, L'Opéra de Québec and Chicago's Music of the Baroque. From 2008 to 2013 he was an Associate Conductor at New York City Opera, and he has served as an Assistant Conductor for the Metropolitan Opera Lindemann Young Artists Program and Juilliard Opera. Steven Fox is a graduate of Dartmouth College and the Royal Academy of Music, London, where he was named an Associate in 2010. He has led master- classes and clinics at Dartmouth, Juilliard and Yale, where he served as preparatory conductor of the Yale Schola Cantorum.
Clarion Choir
Established in 2006 to complement The Clarion Orchestra, The Clarion Choir has become one of the leading professional vocal ensembles in the United States. With members equally at home on the solo stage and in ensemble singing, The Clarion Choir has performed in many of the great halls and festivals of North America, including the Lincoln Center White Light Festival, The Tully Scope Festival, Weill Recital Hall at Carnegie Hall, The Metropolitan Museum of Art, The Frick Collection, Miller Theatre at Columbia University, the Quebec International Festival of Sacred Music, The Twelfth Night Festival, and Bargemusic with The Knights chamber orchestra. The Clarion Choir premièred Passion Week in a critically- acclaimed performance in October 2014, shortly before this recording was made.


Booklet für Rachmaninoff: All-Night Vigil, Op. 37 "Vespers"