---
Album Info
Album Veröffentlichung:
2021
HRA-Veröffentlichung:
26.11.2021
Das Album enthält Albumcover
1

Take My Hand

02:51

2

Something In My Eye

03:03

3

Medicine

03:02

4

The Badger's Wake

03:29

5

World In Action

02:42

6

One by One

03:09

7

Take A Bow

02:58

8

October Sun

04:54

9

So Low

02:48

10

Summer Sun

03:56

11

Gather Up

02:21

12

Theme from Snuff Box

02:50

13

Middle of the East

03:39

14

Like Stone

02:55

15

Phantom Birds

02:39

16

Music for Insomniacs Part IV

03:07

17

Say It Again

02:39

18

The Innkeeper's Song (Live)

03:09

19

Obsessed and So Obscure

03:12

20

Woman

03:32

21

Solstice

09:27

22

Bigger Than A Dog (Original Witchazel Intro)

01:50

23

Take My Hand (Live On Absolute Radio)

02:34

24

Autumn (Witchazel Outtake)

03:28

25

The Dawn (From Myspace EP 'Summer Sun' 2010)

02:11

26

Snuff Box Live Loop (Used Live Between 2005 - 2012)

00:40

27

Catch Me In Time

03:18

28

Dark Beach (From Myspace EP 'Summer Sun' 2010)

04:02

29

The Hangman (Acoustic Version 2007)

02:15

30

Wonder Theme (Became 'Something In My Eye')

03:48

31

Music for Insomniacs (Alternative Intro)

03:43

32

Theme From 'Sorry' (Live from Charlie Brooker's Screenwipe 2007)

01:22

33

Music For Insomnaics (Rejected Theme)

01:03

34

Walk With Samuel (Devil Inside Me')

03:15

35

Blankety Blank (Vocal Intro)

01:39

36

The Blue Elephant (Trip Two)

03:58

37

Sweet Velvet (Became 'Seasons On Fire')

01:18

38

The Blue Elephant (Alternative Intro)

02:35

39

Covered In Clowns

02:41

40

Get Her Out Of My Mind

03:02

41

I'm Going

02:22

42

Make It Go Away

03:00

43

Peter Cleopatra and The Windmill

03:04

44

Play On

00:57

45

Take A Bow (2019 Demo)

02:34

46

The Preacher's House

02:10

47

A Shot Rang Out In The Forest

02:13

48

The Wrong House

02:45

49

Where's My Love?

01:22

50

You Danced All Night

02:30

51

Medicine / So Low (Live)

05:47

52

Silver Sun (Live)

04:13

53

Theme From Snuffbox (Live)

08:18

54

Solstice (Live)

07:51

55

The Pheasant (Live)

07:30

Total Runtime

02:57:40
Info zu Gather Up (Ten Years On Acid Jazz)
In his tenth year with Acid Jazz, the ever-prolific Matt Berry has crafted a psych masterpiece. Once again proving his artistic progression and ambition knows no bounds. Following the acclaim of last year's Top 30 album Phantom Birds ( ★★★★ The Times), on 14 May Acid Jazz will release Blue Elephant, Matt Berry's sixth studio album with the groundbreaking label. Recorded during the summer of 2020, Blue Elephant is testament to Matt's exceptional musicianship, production skills and songwriting prowess with every instrument played by Matt including, guitars, bass, a variety of keyboards and synthesizers (piano, Wurlitzer, mellotron, Moog, Hammond, Vox and Farfisa organs), with the exception of drums – supplied by Craig Blundell, on arguably his best album to date. This music soundtracks an album that explores themes surrounding today's close scrutiny in all its bewildering, objectifying and unnerving experiences. Very much a conceptual and, therefore, continuous long-player, the album's infectious grooves come to the fore on standout tracks Summer Sun, heavy-psych instrumental Invisible, the three-part Blues Inside Me, which encompasses a psych journey through a late '60s and early glam filter mixed with the propulsive Like Stone.
Following the huge acclaim earlier this year for Matt Berry's eighth studio album The Blue Elephant, on 26th November Acid Jazz Records will release Gather Up, a compilation album encompassing the singular musical adventures this extraordinary musician has taken over the past decade, offering a revelatory and fascinating insight into the working process of a genuine musical maverick and sonic explorer. Over 10 years with Acid Jazz Records Berry has released nine incredibly diverse albums (including one live album). From the tangled-folk rock thickets of Witchazel and Kill The Wolf (which features the song from which this box gets its name), to the out-there explorations of Music For Insomniacs or TV Themes' retro-kitsch delights, through the soul power in Matt Berry & The Maypoles Live or the twilight grooves of The Small Hours to the classic pedal-steel songwriting of Phantom Birds and the smorgasbord of psychedelic sounds on The Blue Elephant, Berry's journey has produced a feast for the ears that twists and turns down more unexpected avenues than most artists could manage over several careers. Gather Up pulls together an excellent 55-track career spanning collection expertly compiled by Berry. No easy achievement considering the sheer breadth, diversity and volume of his exceptional musical output.
Matt Berry
Please Note: We offer this album in its native sampling rate of 48 kHz, 24-bit. The provided 96kHz version was up-sampled and offers no audible value!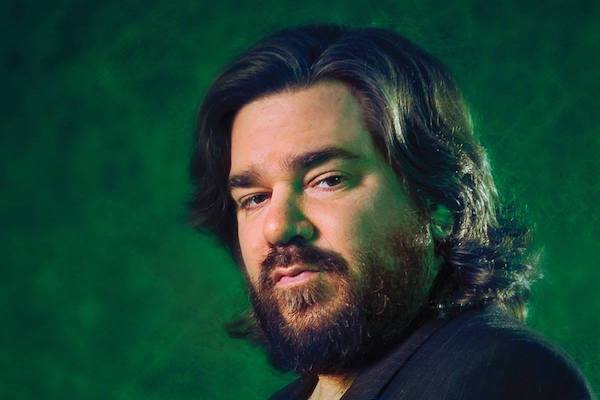 Matt Berry
Nature abhors a vacuum. The dust hadn't even settled on Matt Berry's acclaimed 2020 album Phantom Birds and yet he was already hatching plans for a follow up. More accurately, he'd recorded most of The Blue Elephant before Phantom Birds had even been released.
"When I was having to talk about Phantom Birds to people my mind was already on the next album which was half finished," recalls Berry. "I wanted this album to be a reaction to the last. With Phantom Birds I'd stripped everything back to basics and put my voice very much to the front. It was a song-driven endeavor with very little coming out of the speakers. With The Blue Elephant I was eager to go in the opposite direction."
On records such as 2018's tremendous Television Themes, Berry has shown his skill for drilling down into one idea over the course of an album but The Blue Elephant is perhaps the first time he's pulled all of the different strands from across his recording careers into one record. Perhaps not coincidentally, the release also marks ten years since he signed to Acid Jazz and began the diverse career that has continually run parallel with his acting and writing.
From rerecording 70s television themes to a pared-back Dylan-styled set of confessionals to this – arguably the culmination of all his recording work to date – trusting Matt Berry to follow whatever direction he fancies is a policy that has paid off in spades.


Dieses Album enthält kein Booklet