---
Album Info
Album Veröffentlichung:
2019
HRA-Veröffentlichung:
01.03.2019
Das Album enthält Albumcover
1

Vf

01:42

2

I

04:03

3

XI

01:24

4

II

03:24

5

III

06:28

6

Vb

02:20

7

X

02:23

8

VII

03:29

9

VIII

02:44

10

IX

04:15

11

XII

02:45

12

Ve

02:35

13

IV

05:19

Total Runtime

42:51
Info zu Synthesia
Synesthesia is the perceptual phenomenon in which stimulation of one sensory pathway (like hearing) leads to automatic, involuntary experiences in the second sensory pathway (like seeing). The compositions are short pieces that feature improvisation in different ways. When I reflect on the process that resulted in these compositions, my personal interpretation of the Visions Fugitives by Prokofiev comes to mind: Prokofiev's pieces are fleeting, experienced intensely in the moment and then remembered in the unconscious, like dreams in which detailed events take place, which are diluted into memories of strong atmospheres after awakening.
Nevertheless, the question whether sound or music is related or connected to anything else outside of sound is unanswerable; the question why people listen to music emerges from within that question. Possibly, the answer can be found in dreaming. We only realize after a dream that the events that took place were completely illogical and absurd, while making perfect sense in the dream itself, dreams being places of seemingly limitless imagination.
When experiencing art, we can immerse ourselves into a moment devoid of the limits of our capacity to think within the boundaries of time and logic, as if we are dreaming. In my experience, my favorite art conceives such a state. When optimally performing music, improvised or composed, a similar state of mind is achieved by the performer, inviting the audience to stop thinking and start dreaming.
Besides the piano trio being featured throughout the set I am delighted that two compositions will feature vocalists in different constellations. The nature and quality of the human voice resulted in my love for the synthesizer that will also be featured in a selection of compositions.
For me personally, the highlight of this project is the premiere of our collaboration with Jaromir Mulders, an audio-visual composer who will provide moving visual art during the release concert in the BIMHUIS. His work is conceived in a similar way to the way a jazz musician creates, leaving actual results to inspiration in the moment while having carefully prepared possible scenarios.
In the search for intense atmospheres in modern art I discovered Tarik Barri, an artist who I am thrilled to have worked with for the artwork of the CD and LP. His digital creation uses the sound of "II" as computer input, a literal synesthesia. I explored this concept further by trying to imagine sound when reading the poem Bis by Amsterdam based poet and scenarist Randa Peters, resulting in "IX".
Floris Kappeyne Trio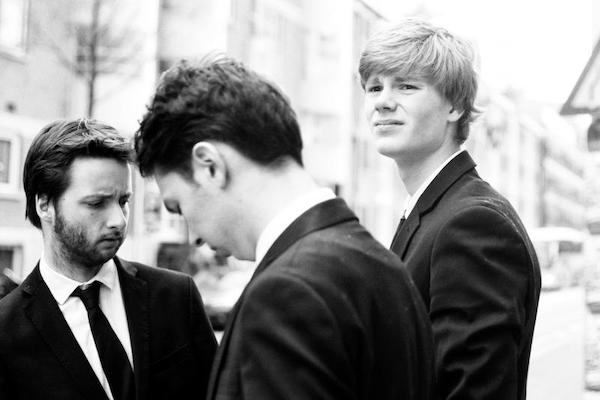 The Floris Kappeyne Trio
was set up in 2015 by the pianist. The trio consisting of separate Prinses Christina Concours winners (2012) met in their early teenage years when the pianist invited Tijs Klaassen and Wouter Kühne to play a gig after seeing them on Youtube. During the last year, the trio has worked on achieving an authentic concept by combining the classic sound of the McCoy Tyner trio from the sixties with Senegalese sabar rhythms and abstraction from modern classical music. The result can be heard on their debut-album "Interchange", which was released in June 2017 on Challenge Records International. In 2018, the trio will bring new repertoire to the concerts featuring modern classical compositions in the form of 12 preludes, featuring improvisational elements in an out-of-ordinary fashion, in an attempt to question the difference between classical and jazz music in the contemporary music world.
At age 14, Floris Kappeyne van de Coppello (1995) won a second prize in the Prinses Christina Jazz Concours 2010, followed by a first prize in 2012. In 2017, Floris was awarded the prize for "Best Soloist" in the yearly Jazzcontest in Mechelen. He performs with the Floris Kappeyne Trio at different venues in the Netherlands and abroad. He has performed at festivals in different formations including North Sea Jazz Festival, and internationally in France, Switzerland and Tanzania.


Dieses Album enthält kein Booklet