---
Album Info
Album Veröffentlichung:
2019
HRA-Veröffentlichung:
01.08.2019
Das Album enthält Albumcover
1

Lennie's Pennies

05:32

2

Spy Movie End Credits

07:12

3

Agenbite of Inwit

04:39

4

If I Loved You

06:20

5

La Mulata Rumbera

06:04

6

Tango Adagio

04:27

7

Time of My Life

04:04

8

Siboney

05:23

9

Neither Have I Wings

05:43

10

Danzon #1

07:02

11

Swing Theory

05:09

12

In the Rain

06:43

13

Hallucinations

03:50

Total Runtime

01:12:08
Info zu No Boundaries
The saying goes that everyone's got a story to tell. But chances are good that few, if any, have the kind of story Dave Bass has. Without resorting to detail, Bass's rebirth as a jazz musician after decades away from the art is nothing short of astonishing. Having retired from the Office of the Attorney General of California back in 2015, Bass is back at the piano, where he promises to keep the torch burning for classic songs, elegant bebop and beautiful performance. No Boundaries features two-time Grammy winner Ted Nash (flute, alto flute, clarinet, bass clarinet, soprano sax, alto sax, tenor sax), five-time Grammy nominee Karrin Allyson (vocals), and two-time Grammy winner Carlos Henriquez (bass). Jerome Jennings is on drums. On the Afro-Cuban tunes, two-time Latin Grammy winner Carlos Caro, Mauricio Herrera, and Miguel Valdes join on bata, conga, bongo and timbales. His third album since his comeback, his second for the acclaimed Whaling City Sound label, is a celebration of gorgeous playing and lovely Latin influence. It's also a dream come true, not only for Bass who is fulfilling his own lifelong dream, but also for his fans, who have waited a long time to hear this gifted musician-interrupted by injury and another incredibly successful but unrelated career-come into his own.
"Dave Bass is a visionary. His original compositions are rich and evocative. He loves swing and groove equally and brings passion to everything he plays." (Ted Nash)
Dave Bass, piano
Ted Nash, flute, alto flute, clarinet, bass clarinet, soprano sax, alto sax, tenor sax (all tracks except 13)
Karrin Allyson, vocals (tracks 4, 7)
Carlos Henriquez, bass
Jerome Jennings, drums (all tracks except 5, 8, 10)
Carlos Caro, guiro, bongos, bell (tracks 2, 4, 5, 8, 10)
Miguel Valdes, bata, conga (tracks 5, 8, 10)
Mauricio Hernandez, timbales, maracas (tracks 4, 5, 8, 10)
Engineered by Marc Urselli, Eastside Sound
Mastering by Alan Silverman, Arf! Mastering
Produced by Dave Bass and Ted Nash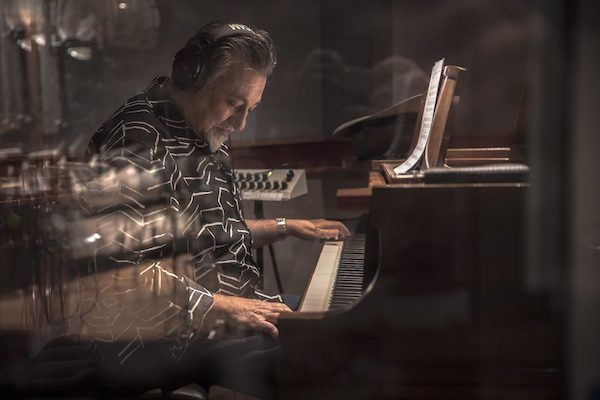 Dave Bass
Pianist, composer and lyricist, Dave Bass, is a great American success story that reads like a riveting bio-pic script. This Cincinnati native began piano lessons at age seven, and shortly after graduating high school, formed his own band who opened for Captain Beefheart. He was soon accepted into Boston's Berklee College of Music, leaving after just a few months to study piano with the legendary Madame Margaret Chaloff. Madame schooled him and other young, immensely talented jazz artists as Keith Jarrett, Steve Kuhn and Kenny Werner, who understood the importance of developing a signature sound and style. Chaloff taught in the "Russian Technique" - a unique tool for tone production and musical articulation. A typical lesson might not go beyond using a "weightless wrist" to correctly play a single note. While in Boston, he also studied composition with George Russell and Avram David, again formed his own band, worked a variety of commercial gigs, serendipitously landing a great stint as Brenda Lee's pianist, leaving Boston behind for multiple tours of Japan, Singapore and Malaysia.
During the '70s and early '80s, now living in the Bay Area, Dave supported his growing family as a full time musician. Immersed in the vibrant San Francisco jazz and Latin music scene, he lead his own group playing often with friends Bobby McFerrin, drummer Babatunde Lea, jazz vocalist Jackie Ryan and others at the legendary Keystone Korner and other well known venues on the scene. In 1981, Jackie Ryan invited Dave to play a jazz gig with her in Maui, which led to his becoming Entertainment Director at the Royal Lahaina Hotel.
In the mid-80s, after a random slip and fall on the way to a gig caused a seriously damaging wrist fracture, doctors did not offer a promising prognosis for him to ever play piano again. With his beloved music career no longer an option, and with a wife and young daughter to support, Dave enrolled at the University of California, Irvine, graduating Phi Beta Kappa and Summa Cum Laude. He moved on to UCLA School of Law becoming an Editor of the UCLA Law Review and began his legal career in 1992 with a prestigious commercial firm. Dave is now a California Deputy Attorney General in Civil Rights Enforcement, and was honored with the 2009 Attorney General's Award for Outstanding Achievement.
In 2005, after a twenty-year absence from the music scene, Dave's long-forgotten dreams of playing and composing jazz were re-kindled when his own self-discovery coincided with an invitation to play some impromptu solo piano during a private party while the band took a break. The guests clamored for more and the band invited him to sit in for the rest of the night. He soon became a local favorite at jam sessions, where he once again fell in love with the deep satisfaction of playing piano, composing, arranging and writing lyrics to tell his stories through music.
In June 2010, he released his first CD, GONE, with the Dave Bass Quartet featuring Ernie Watts, Babatunde Lea, Gary Brown and guest vocalist, Mary Stallings, showcasing ten Dave Bass original rock-solid compositions ranging from post-bop, sultry ballads, to gospel, straight-ahead, and to Bossa Nova and Tango. In addition to Dave's ten originals, GONE features an exciting duet with Ernie and him on Astor Piazzolla's famous Libertango. Produced by Babatunde Lea and Dave Bass, GONE hit #2 on the national JazzWeek Radio Charts after only 3 weeks. Bolstered by such great national interest and radio play, Dave was inspired to write new, exhilarating compositions and arrangements for his new CD, NYC Sessions, featuring jazz legends Phil Woods, Karrin Allyson, Harvie S, Ignacio Berroa, Conrad Herwig, and others. Dave also brought a new dimension to two of his instrumental compositions from GONE with his original lyrics and vocals by Karrin Allyson on Lost Valentine, and Paulette McWilliams on Since I Found You. National tours and a new label affiliation are currently in the works. Stay Tuned! Who said lawyers can't swing?


Dieses Album enthält kein Booklet