---
Album Info
Album Veröffentlichung:
2023
HRA-Veröffentlichung:
28.09.2023
Das Album enthält Albumcover Booklet (PDF)
Ludwig van Beethoven (1770 - 1827): Variations on Mozart's "Ein Mädchen oder Weibchen" (Die Zauberflöte) in F Major, Op. 66:

1

Beethoven: Variations on Mozart's "Ein Mädchen oder Weibchen" (Die Zauberflöte) in F Major, Op. 66

10:10

Sonata for Cello and Piano No. 1 in F Major, Op. 5:

2

Beethoven: Sonata for Cello and Piano No. 1 in F Major, Op. 5: I. Adagio sostenuto - Allegro

17:51

3

Beethoven: Sonata for Cello and Piano No. 1 in F Major, Op. 5: II. Rondo. Allegro vivace

07:12

Variations, WoO 45 on Handel's "See, the Conqu'ring Hero comes" (Judas Maccabeus) in G Major:

4

Beethoven: Variations, WoO 45 on Handel's "See, the Conqu'ring Hero comes" (Judas Maccabeus) in G Major

12:46

Sonata for Cello and Piano No. 2 in G Minor, Op. 5:

5

Beethoven: Sonata for Cello and Piano No. 2 in G Minor, Op. 5: I. Adagio sostenuto ed espressivo - Allegro molto più tosto presto

19:33

6

Beethoven: Sonata for Cello and Piano No. 2 in G Minor, Op. 5: II. Rondo. Allegro

09:23

Sonata for Cello and Piano No. 3 in A Major, Op. 69:

7

Beethoven: Sonata for Cello and Piano No. 3 in A Major, Op. 69: I. Allegro ma non tanto

12:51

8

Beethoven: Sonata for Cello and Piano No. 3 in A Major, Op. 69: II. Scherzo. Allegro molto

05:20

9

Beethoven: Sonata for Cello and Piano No. 3 in A Major, Op. 69: III. Adagio cantabile - Allegro vivace

08:44

Variations, WoO 46 on Mozart's "Bei Männern welche Liebe fühlen" (Die Zauberflöte) in E-Flat Major:

10

Beethoven: Variations, WoO 46 on Mozart's "Bei Männern welche Liebe fühlen" (Die Zauberflöte) in E-Flat Major

09:58

Sonata for Cello and Piano No. 4 in C Major, Op. 102/1:

11

Beethoven: Sonata for Cello and Piano No. 4 in C Major, Op. 102/1: I. Andante - Allegro vivace

07:18

12

Beethoven: Sonata for Cello and Piano No. 4 in C Major, Op. 102/1: II. Adagio - Tempo d'andante - Allegro vivace

06:56

Sonata for Cello and Piano No. 5 in D Major, Op. 102/2:

13

Beethoven: Sonata for Cello and Piano No. 5 in D Major, Op. 102/2: I. Allegro con brio

06:34

14

Beethoven: Sonata for Cello and Piano No. 5 in D Major, Op. 102/2: II. Adagio con molto sentimento d'affetto - Attacca

07:56

15

Beethoven: Sonata for Cello and Piano No. 5 in D Major, Op. 102/2: III. Allegro - Allegro fugato

04:27

Total Runtime

02:26:59
Info zu Beethoven: Complete Sonatas and Variations for Cello and Piano
Beethovens fünf Sonaten für Violoncello und Klavier legten einen Grundstein für das musikalische Denken des 20. Jahrhunderts, besonders die beiden letzten weisen, wie auch andere Spätwerke des Komponisten, weit in die Zukunft. Der Cellist Gary Hoffman und der Pianist David Selig legen bei ihrer Interpretation des monumentalen Werkkomplexes aus dem frühen 19. Jahrhundert besonderen Wert auf dessen vorausschauende Dimension. Seit mehr als 30 Jahren musizieren Hoffman und Selig zusammen, die Beethoven-Aufnahme ist ein besonderer Höhepunkt ihrer künstlerischen Partnerschaft.
Gary Hoffman, Cello
David Selig, Klavier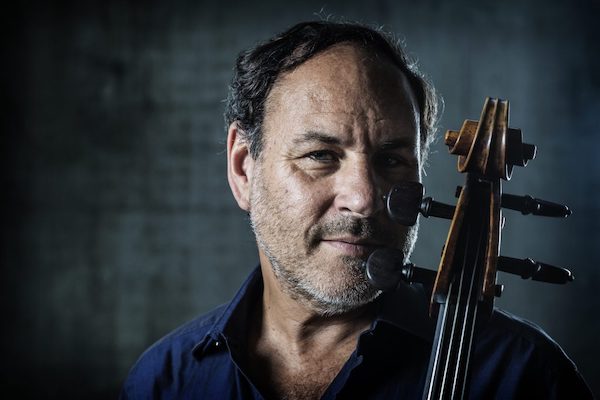 Gary Hoffman
He made his debut at the Wigmore Hall in London at the age of fifteen, quickly followed by New York. At the age of twenty-two he became the youngest faculty appointee in the history of the Indiana University School of Music. After winning the Premier Grand Prix of the Rostropovich International Competition in Paris in 1986, he embarked on an international career, appearing with the world's most noted orchestras, in major recital and chamber music series and at prestigious festivals.
Although he has great affection for the classical cello repertoire, Gary Hoffman does not neglect contemporary music, of which he is a committed champion. Numerous composers, among them Graciane Finzi, Renaud Gagneux, Joel Hoffman, Laurent Petitgirard and Dominique Lemaître, to name only a few, have dedicated their concertos to him.
He is a regular guest with the Chamber Music Society of Lincoln Center in New York, and is a remarkable and much sought-after chamber partner.
He has made recordings for BMG (RCA), Sony, EMI and Le Chant du Monde, and now records on the La Dolce Volta label.
Gary Hoffman has lived in Paris since 1990. He performs on a 1662 Nicolo Amati, the 'ex- Leonard Rose'.
In 2011, Mr. Hoffman was appointed Maître en Résidence for cello at the prestigious Chapelle Musicale Reine Elisabeth in Brussels.
David Selig
who was born in Melbourne, Australia, began piano lessons at the age of six, later also learning cello and percussion. In 1976 he moved to Paris where he studied at the Conservatoire with Aldo Ciccolini. He pursued further studies with Guido Agosti and Geoffrey Parsons and subsequently won prizes at the Sydney Piano Competition and the inaugural accompaniment competition in The Hague. As a soloist Mr Selig has performed in many of the great concert halls, including the Salle Pleyel, the Amsterdam Concertgebouw and New York's Carnegie Hall.
His love of chamber music has led him to collaborate with many renowned artists and singers such as Felicity Lott, Christianne Stotijn, Sandrine Piau, Jard van Nes, Véronique Gens, Ingrid Perruche, Nathalie Stutzmann, Elly Ameling, Teresa Berganza and François Le Roux, and his instrumental partners include Gary Hoffman, Philippe Graffin, Marc Coppey, Régis Pasquier, Jane Peters and Noël Lee. Following his debut CD of works by Villa-Lobos in 1989, further recordings have been released on EMI, Adda, REM (with François Le Roux), Forlane and Globe. A recording with Gary Hoffman of works by Mendelssohn was released in 2012 on the Dolce Volta label.
Mr Selig performs regularly in France, the Netherlands, Germany and Switzerland as well as in the USA and the Far East. He conducts masterclasses in chamber music and in song repertoire. In 2011 he was named professor at the Conservatoire National Supérieur in Lyon.


Booklet für Beethoven: Complete Sonatas and Variations for Cello and Piano