---
Album Info
Album Veröffentlichung:
2022
HRA-Veröffentlichung:
24.06.2022
Das Album enthält Albumcover Booklet (PDF)
1

Ahan

04:04

2

Eyin

03:58

3

Omije

07:30

4

Ogbo

04:19

5

Alikama

05:39

6

Ife

05:52

7

Obinrin

05:33

Total Runtime

36:55
Info zu Queen of Sheba
Mehr als 3.000 Jahre liegt die Begegnung zweier sehr besonderer Geister zwischen Mythos und Geschichte zurück, von der Angélique Kidjo in ihrem großformatigen Song-Projekt »Queen of Sheba« erzählt. Das Werk, im Sommer 2018 in Frankreich uraufgeführt, imaginiert den Besuch der Königin von Saba aus dem Süden Sudans bei König Salomo in Jerusalem– eine Zusammenkunft, die in vielen historischen Schriften Erwähnung findet, unter anderem im Alten Testament und im Koran, und die sich prompt zu einer veritablen Liebesgeschichte auswächst. Schließlich zeugen die beiden bei der Gelegenheit den ersten König Äthiopiens, Menelik.
Ausgangspunkt für Kidjo war der Wunsch, gemeinsam mit dem libanesisch-französischen Trompeter und Komponisten Ibrahim Maalouf ein tragfähiges musikalisches Projekt zu entwickeln, in dem ihre beiden Kulturen, die des Nahen Ostens und die Afrikas, auf sinnfällige Weise aufeinandertreffen.
Maalouf hat die Musik komponiert, die von einem groß besetzten Streichorchester gespielt wird – hier von der Hamburger Camerata und Gästen –, sowie von seiner Band. Angélique Kidjo, die große Stimme Afrikas aus Benin, singt dazu in wahrhaft königlichen Gewändern ihre eigenen Texte. Die inhaltliche Klammer bilden sieben der Rätsel, die die kluge Königin von Saba dem weisen König Salomo stellte.
Angélique Kidjo, Gesang
Ibrahim Maalouf, Trompete
Zur Info: wir bieten dieses Album in der nativen Abtastrate von 48 kHz, 24-Bit an. Die uns zur Verfügung gestellte 96 kHz-Version wurde hochgerechnet und bietet keinen hörbaren Mehrwert!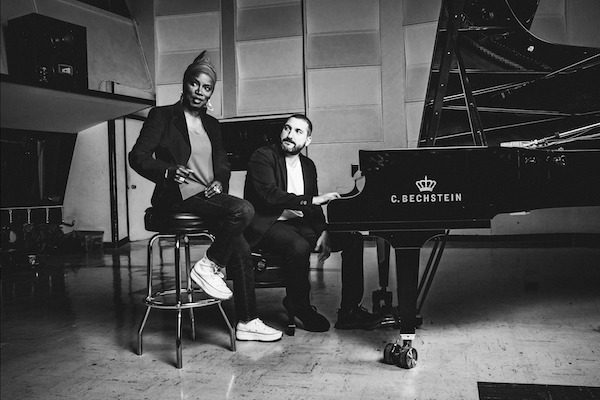 Angelique Kidjo
Five-time Grammy Award winner Angélique Kidjo is one of the greatest artists in international music today, a creative force with sixteen albums to her name. Time Magazine has called her "Africa's premier diva", and named her one of the 100 most influential people in the world for 2021. The BBC has included her in its list of the continent's 50 most iconic figures, and in 2011 The Guardian listed her as one of their Top 100 Most Inspiring Women in the World. Forbes Magazine has ranked Angelique as the first woman in their list of the Most Powerful Celebrities in Africa. She is the recent recipient of the prestigious 2015 Crystal Award given by the World Economic Forum in Davos, Switzerland, the 2016 Amnesty International Ambassador of Conscience Award, and the 2018 German Sustainability Award.
Ibrahim Maalouf
Hailed as a "virtuoso" by The New York Times, trumpet superstar Ibrahim Maalouf has spent his career crossing borders and blurring genres, mixing jazz, pop, classical, electronic, Middle Eastern, and African influences into an explosive, cross-cultural swirl. Born in the midst of a deadly civil war, Maalouf escaped Beirut with his family as a child and spent his formative years in France, where he first fell in love with music's power to transcend race and language. After winning a string of prestigious classical competitions, he began composing his own critically acclaimed work, which soon made him a household name in France, where he sold out the country's largest concert venue, the Accor Arena. Over the course of more than a dozen albums, Maalouf would go on to perform in more than 40 countries, be scouted by Quincy Jones, appear on The Late Show with Stephen Colbert, raise millions for charity, and collaborate with everyone from Wynton Marsalis and Jon Batiste to Josh Groban and Sting. In 2021, Maalouf performed in front of the Eiffel Tower on Bastille Day for an estimated six million viewers.


Booklet für Queen of Sheba