---
Album Info
Album Veröffentlichung:
2016
HRA-Veröffentlichung:
24.05.2019
Das Album enthält Albumcover
Johann Sebastian Bach (1685 - 1750): Toccata & Fugue in D Minor, BWV 565:

1

Toccata & Fugue in D Minor, BWV 565: I. Toccata (Arranged by Charl du Plessis)

02:29

2

Toccata & Fugue in D Minor, BWV 566: II. Fugue (Arranged by Charl du Plessis)

04:42

Christoph Willibald Gluck (1714 - 1787): Orphée & Eurydice:

3

Orphée & Eurydice: Mélodie (Arranged by Charl du Plessis)

03:43

Johann Sebastian Bach:

4

Invention No. 8 in F Major, BWV 779 (Arranged by Charl du Plessis)

01:00

5

Invention No. 4 in D Minor, BWV 775 (Arranged by Charl du Plessis)

09:56

6

Invention No. 13 in A Minor, BWV 784 (Arranged by Charl du Plessis)

03:35

Christoph Willibald Gluck: Orphée & Eurydice:

7

Orphée & Eurydice: Ballet des ombres heureuses (Arranged by Charl du Plessis)

03:58

Antonio Vivaldi (1678 - 1741): Le quattro stagioni, Concerto No. 1 in E Major, RV 269 "La Primavera":

8

Le quattro stagioni, Concerto No. 1 in E Major, RV 269 "La Primavera": I. Allegro (Arranged by Charl du Plessis)

02:52

9

Le quattro stagioni, Concerto No. 1 in E Major, RV 269 "La Primavera": II. Largo (Arranged by Charl du Plessis)

03:54

10

Le quattro stagioni, Concerto No. 1 in E Major, RV 269 "La Primavera": III. Allegro. Pastorale (Arranged by Charl du Plessis)

04:25

Georg Friedrich Händel (1685 - 1759): Suite in D Minor, HWV 437:

11

Suite in D Minor, HWV 437: III. Sarabande. Grave (Arranged by Charl du Plessis)

03:47

Johann Sebastian Bach: Prelude & Fugue No. 3 in C-Sharp Major, BWV 848:

12

Prelude & Fugue No. 3 in C-Sharp Major, BWV 848: I. Prelude (Arranged by Charl du Plessis)

01:38

13

Prelude & Fugue No. 3 in C-Sharp Minor, BWV 848: II. Fugue (Arranged by Charl du Plessis)

03:49

New Jazz-Suite:

14

New Jazz-Suite: I. Preludium - Cello Suite No. 1, BWV 1007 (Arranged by Charl du Plessis)

04:49

15

New Jazz-Suite: II. Allemande - French Suite No. 5, BWV 816 (Arranged by Charl du Plessis)

01:55

16

New Jazz-Suite: III. Aria - Golberg Variations, BWV 988 (Arranged by Charl du Plessis)

02:15

17

New Jazz-Suite: IV.Sarabande - Jesu, Joy of Man's Desiring from Cantata, BWV 147 (Arranged by Charl du Plessis)

06:04

18

New Jazz-Suite: V. Chorale - Ich Rufe zu Dir Herr Jesu Christ, BWV 639 (Arranged by Charl du Plessis)

02:26

19

New Jazz-Suite: VI. Gigue - Partita No. 1, BWV 825 (Arranged by Charl du Plessis)

03:15

George Gershwin (1898 - 1937):

20

I Got Rhythm

03:02

Total Runtime

01:13:34
Info zu Baroqueswing Vol. 2
Crossover music has (in my opinion) become the step-sister of jazz and world music alike and is met by some listeners with trepidation. After further listening and exposure of live and recorded performance of this unique style of music I have seen its power to convince even the most stern classic music lover to enjoy jazz and equally so convert the jazz buff to respect classical music.
I am grateful to have had a long relationship with the beautiful Ernen and the memories of the teaching I experienced there from prof György Sebök. Later the many concerts that followed introduced me to the friendly audiences that this most picturesque of Swiss villages attract. The vision of Francesco Walter to introduce a jazz concert in the Baroque week made it possible to be creative within this structured framework and experiment with form, rhythm and new arrangements of timeless music with my trio as vehicle.
For the Baroqueswing volume 2 album I wanted to adhere to the sophisticated method of musical treatment where the inherent rhythmic identity of the original score, as well as the stylistic performance practice principals receive the utmost respect from us as improvisers and from me as arranger. The result is a refreshing combination of ultimate structure and the unpredictable energy of live improvisation. This experience is defined by the energy of the audience and the moment of musical creation propels Hugo to be the sensitive and complimentary drummer with his unique dynamic timbres and inspire
Werner to utilize the acoustics and form the basis of our harmonic landscape. The Steinway becomes my voice as I try to extemporize on the original Baroque content in a new and personal way. As a trio we lock in thought and musical motion to try and contribute to the unique soundscape created in Ernen. It is my wish that the time spent listening to this music will entertain, enrich and extend the musical imagination of each listener, as if they were in the Church on that special day.
Charl du Plessis Trio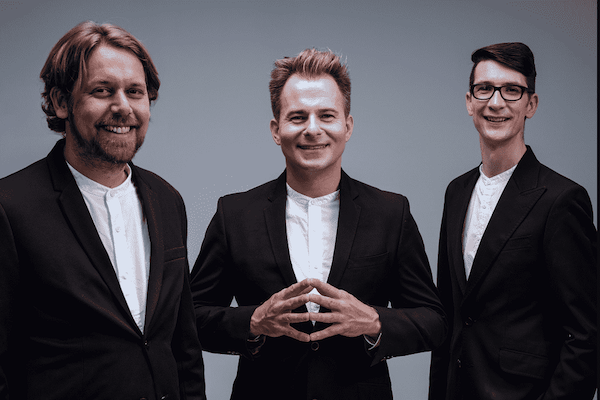 The Charl du Plessis Trio
is one of the most versatile and respected crossover ensembles in South Africa. The diverse style of music this trio performs ranges from Baroque, Latin, Swing, Classical to Funk and sets them apart from other instrumental groups. The trio consists of Steinway Artist Charl du Plessis (piano), Werner Spies (bass) and Hugo Radyn (drums).
The Charl du Plessis Trio was founded in 2006 to further the enjoyment of jazz music and prove that classic music lovers can enjoy jazz too. This unit recorded their first album TRIO in 2007 with jazz standards and compositions by Du Plessis. Since their first national tours this trio has become South Africa's most wanted cross-over performers on radio, television and stage with country-wide tours each season. In 2009 the first international tour followed with sold-out performances in China, Switzerland and the Netherlands. Since 2009 the trio has returned to China and Switzerland annually and is active as performers, teachers and clinicians in master classes and workshops.


Dieses Album enthält kein Booklet