---
Album Info
Album Veröffentlichung:
2018
HRA-Veröffentlichung:
20.09.2018
Das Album enthält Albumcover
1

Salvador

01:32

2

Living in America

05:52

3

Saba

01:41

4

Don't Fence Me In

04:43

5

Caliph

01:35

6

Immigrant Song

03:17

7

Daisy

01:07

8

Deportee (Plane Wreck at Los Gatos)

04:49

9

Denzel

01:25

10

Stars and Stripes Forever

04:29

11

Alicia

01:16

12

America (West Side Story)

01:29

13

Juan Carlos

01:21

14

America the Beautiful

04:39

15

Maria

00:54

16

All is One

08:40

17

Edson

01:33

18

Red, White, and Remixed

03:27

Total Runtime

53:49
Info zu American Dreamers: Voices of Hope, Music of Freedom
American Dreamers ist ein großes Jazz-Ensemble-Album des mehrfach Grammy-nominierten Künstlers John Daversa und seiner bekannten Big Band. Es enthält DACA-registrierte Personen (alias "Dreamers"), die ikonische Amerikasongs wie "Living in America", Don t Fence Me In und Deportee spielen. Das Album ist im Jazz basiert, aber hat Genre- und kulturübergreifende Einflüsse.
John Daversa Big Band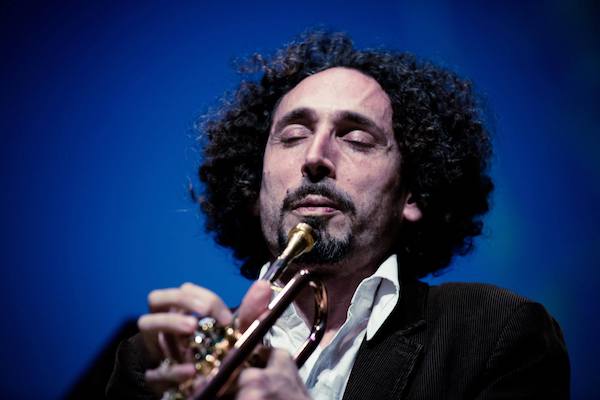 John Daversa
is a versatile and internationally respected performer (Trumpet/EVI), composer, arranger, producer, bandleader, educator, and BFM Jazz recording artist. He is a winner of the Herb Alpert Award, David Joel Miller Award, the National Trumpet Competition, the ITG Jazz Soloist Competition, and finalist in the Thelonious Monk International Jazz Competition, and a 3-time Grammy nominee.
Daversa's celebrated and distinctive musical perspective has been a passport to performances on world stages such as The Today Show, Late Nite with David Letterman, The Oprah Winfrey Show, Live 8 (Berlin), Hamburg Music Festival, Java Jazz Festival, Monterey Jazz Festival, Montreal Jazz Festival, Montreux Festival, and the Playboy Jazz Festival. He has also had the opportunity to perform or record with artists such as Fiona Apple, Michael Bublé, Dori Caymi, Andraé Crouch, Sheryl Crow, Herbie Hancock, Bob Mintzer Big Band, and The Yellowjackets.
In 1996, he founded the John Daversa Big Band, which is one of the leading forces of modern jazz today. Junk Wagon: The Big Band Album (2011), won Best in Show and Awards of Excellence in Creativity/Originality and Production in The Global Music Awards.
"Daversa's fearless exploration...takes him off the beaten path, as he creates bold and ballsy big band music for the modern epoch."-- AllAboutJazz.
Daversa's latest big band release, Kaleidoscope Eyes: Music of the Beatles (2016), reverently twists and melts the iconic Beatles songbook with a 40+ orchestra featuring vocal artists Renee Olstead and Katisse Buckingham. Terence Blanchard states, "This is art. This is what music should be. No re-creation. No mimicking. Just honesty. Fearless honesty."
In addition, Daversa leads the John Daversa Small Band consisting of tenor saxophonist Robby Marshall, alto saxophonist/flutist/vocalist Katisse Buckingham, keyboardist Tommy King, bassist Jerry Watts and drummer Gene Coye. This powerhouse ensemble transitions with ease from sections of incredible sensitivity to vignettes of intensity rivaling that of his own Big Band. The Small Group's latest album Artful Joy features Bob Mintzer and Gretchen Parlato. "This band sounds huge. And let's not forget modern. "New" is in rare supply these days, but you've found yourself some new right here." –Peter Erskine.
Daversa earned his Bachelor of Arts degree in Music from The University of California, Los Angeles, a Master of Fine Arts degree in Jazz Studies at California Institute of the Arts, and a Doctor of Musical Arts degree in Jazz Studies at the University of Southern California. After teaching at both USC and California State University Northridge, he is now the chair of Studio Music and Jazz at the Frost School of Music at University of Miami.


Dieses Album enthält kein Booklet