---
Rachmaninoff: Piano Sonatas Nos. 1, 2 & Preludes Xiayin Wang
Album Info
Album Veröffentlichung:
2014
HRA-Veröffentlichung:
15.09.2021
Das Album enthält Albumcover Booklet (PDF)
Sergei Rachmaninoff (1873 - 1943): Piano Sonata No. 1 in D Minor, Op. 28:

1

Rachmaninoff: Piano Sonata No. 1 in D Minor, Op. 28: I. Allegro moderato

13:20

2

Rachmaninoff: Piano Sonata No. 1 in D Minor, Op. 28: II. Lento

08:34

3

Rachmaninoff: Piano Sonata No. 1 in D Minor, Op. 28: III. Allegro molto

13:37

Preludes, Op. 23:

4

Rachmaninoff: Preludes, Op. 23: IV. Andante cantabile

04:15

5

Rachmaninoff: Preludes, Op. 23: V. Alla marcia

03:35

6

Rachmaninoff: Preludes, Op. 23: VI. Andante

02:48

Piano Sonata No. 2 in B-Flat Minor, Op. 36:

7

Rachmaninoff: Piano Sonata No. 2 in B-Flat Minor, Op. 36: I. Allegro agitato

07:42

8

Rachmaninoff: Piano Sonata No. 2 in B-Flat Minor, Op. 36: II. Non allegro

06:33

9

Rachmaninoff: Piano Sonata No. 2 in B-Flat Minor, Op. 36: III. Allegro molto

05:11

Total Runtime

01:05:35
Info zu Rachmaninoff: Piano Sonatas Nos. 1, 2 & Preludes
Xiayin Wang presents her second disc of piano works by Rachmaninoff, playing the two piano sonatas alongside three of the Op. 23 Preludes. She impressed with the first volume, Gramophone remarking that it featured 'playing of an awesome clarity and poise' (Gramophone Choice).
Piano Sonata No. 1 from 1908 was originally inspired by Goethe's Faust, and follows the model of Eine Faust- Symphonie by Liszt. Although Rachmaninoff abandoned any explicit references soon after starting the Sonata, the influence of Liszt's work can be heard in its grand three-movement structure and complex emotional trajectory. The symphonic proportions of the first sonata contrast with the compact 1931 revision of Piano Sonata No. 2, which Xiayin Wang performs here. Rachmaninoff cut some 120 bars from the original as well as toning down some virtuosic extravagances and creating clearer textures. Despite this apparent modesty, the rhapsodic expression and emotional breadth so characteristic of Rachmaninoff are abundant in the sonata.
Three miniature masterpieces from Rachmaninoff's first, Op. 23 set of preludes complete the disc. No. 4 in D major is a pure Andante cantabile while No. 5, one of Rachmaninoff's best-known works, is a striding march. No. 6 in E flat major offers another reverie which effectively returns us to the calm of the D major prelude.
"… Here is an excellent pianist on a top label continuing to work her way though Rachmaninoff's oeuvre. I eagerly await the next instalment." (James Harrington, American Record Guide)
"Several Chinese pianists have begun their careers with the Hong Kong-based Naxos label and gone on to contracts with major labels in Britain, the U.S., and continental Europe. One of the best is Xiayin Wang, who is the formidable virtuoso among the group. Her earlier releases have involved such unusual composers as Earl Wild and Richard Danielpour, but now, ensconced at Chandos, she has turned to more mainstream repertoire and has done well cutting through the thickets of notes in Rachmaninov. The present release is her second album of Rachmaninov's music, moving from the Moments musicaux, Etudes-Tableaux, and Corelli Variations to two large sonatas and a trio of preludes as an intermezzo. Although Wang is perfectly capable of thundering away at the keyboard, she mostly chooses not to do so here, and for those who prefer Rachmaninov of the string-breaking sort, they may find Wang a little delicate, especially in the Piano Sonata No. 1 in D minor, Op. 28. Her reading of the treacherous Piano Sonata No. 2 in B flat minor, Op. 36, however, is unusually strong, and not just in the knuckle-breaking passages. Delve into the first movement, with its ... counterpoint is not the right word, but simultaneity of utterance, and one will find that Wang has untangled the dense skeins of piano sound with uncommon facility and intelligence. Melodies weave their way in and out of the quieter passages under perfect control, and the slow movements of both sonatas take on a subtle reflective quality in Wang's hands. The Chandos engineering team, working at the American Academy of Arts and Letters in New York, gives extraordinary support to Wang's low-key but strikingly dense performance." (James Manheim, AMG)
Xiayin Wang, piano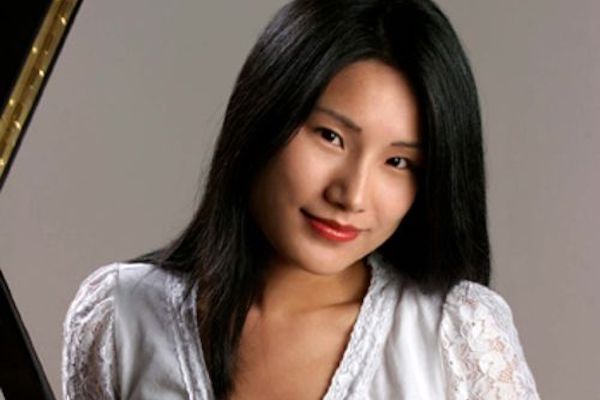 Xiayin Wang
is an artist of keen musicality and sweeping virtuosity. Praised by The New York Times for her "estimable grasp of pianistic color and her ability to maintain and illuminate a strand of melody within the thickest of textures," Ms. Wang has released numerous celebrated recordings and performed throughout the world, from New York's Carnegie Hall and Lincoln Center, to music centers in South America, Europe, and Asia. As Musical America put it: "She can be at one moment sensual and the next rhythmically driving…with such assuredness, such delicacy, that one forgets the difficulties inherent in the performance, and is left breathless in musical awe."
Ms. Wang's discography has received international acclaim, with her most recent Chandos recording of Tchaikovsky and Scriabin piano concerti being hailed as "terrific" (Gramophone) and "the model of refinement" (The Herald). Her recording of Alberto Ginastera's Piano Concertos Nos. 1 and 2 with the BBC Philharmonic and their Music Director Juanjo Mena were commended by Gramophone as "jaw-droppingly impressive" and singled out by The New Yorker's Alex Ross. Ms. Wang's 2018 release of a lesser-known collection of works by Granados on Chandos was praised by the BBC Music Magazine as catching "the spirit of youthful Spanish ardour."
Ms. Wang has performed with the Baltimore, Houston, and Pittsburgh Symphonies, the Vienna Chamber Orchestra, Israel Chamber Orchestra, Royal Scottish National Orchestra, and the Orchestra Sinfonica di Roma. She has appeared in recital in New York at Carnegie Hall and Alice Tully Hall, Vienna at Mozartsaal, as well as in France, Italy, Hungary, Russia, Mexico, Cuba, Chile, Costa Rica, and her native China.
She completed her studies at the Shanghai Conservatory and garnered an enviable record of first prize awards and special honors for her performances throughout China. Ms. Wang, who began piano studies at the age of five, came to New York in 1997. She holds Bachelor's, Master's, and Professional Studies degrees from the Manhattan School of Music.


Booklet für Rachmaninoff: Piano Sonatas Nos. 1, 2 & Preludes