---
Melt Away: A Tribute To Brian Wilson She & Him
Entschuldigen Sie bitte!
Sehr geehrter HIGHRESAUDIO Besucher,
leider kann das Album zurzeit aufgrund von Länder- und Lizenzbeschränkungen nicht gekauft werden oder uns liegt der offizielle Veröffentlichungstermin für Ihr Land noch nicht vor. Wir aktualisieren unsere Veröffentlichungstermine ein- bis zweimal die Woche. Bitte schauen Sie ab und zu mal wieder rein.
Wir empfehlen Ihnen das Album auf Ihre Merkliste zu setzen.
Wir bedanken uns für Ihr Verständnis und Ihre Geduld.
Ihr, HIGHRESAUDIO
1

Darlin'

02:57

2

Wouldn't It Be Nice

02:55

3

'Til I Die

03:21

4

Deirdre

03:19

5

Melt Away

03:49

6

Good To My Baby

01:50

7

Don't Talk (Put Your Head On My Shoulder)

03:30

8

Don't Worry Baby

03:22

9

This Whole World

03:06

10

Kiss Me Baby

02:49

11

Do It Again

02:36

12

Heads You Win–Tails I Lose

01:51

13

Please Let Me Wonder

03:02

14

Meant For You

01:30

Total Runtime

39:57
Info zu Melt Away: A Tribute To Brian Wilson
She & Him - das gefeierte Duo M. Ward und Zooey Deschanel - sind bekannt für ihre stilvollen Arrangements, raffinierten Interpretationen und scharf gezeichneten Originale, die sie in ihrer 14-jährigen, äußerst fruchtbaren Zusammenarbeit über sechs Alben hinweg perfektioniert haben. Jetzt, mit »Melt Away: A Tribute to Brian Wilson«, ihrem siebten Album (und dem ersten für Fantasy), hat das Duo einen Liebesbrief an den südkalifornischen Pop der 60er Jahre verfasst, der für sich allein steht und eine herausragende musikalische Leistung darstellt.
Produziert von M. Ward und abgemischt von Tom Schick (Wilco, Norah Jones, Iron and Wine), ist »Melt Away: A Tribute to Brian Wilson« ist das erste Album des Paares seit sechs Jahren und enthält eine Fülle von klug ausgewählten Wilson / Beach Boys-Kompositionen, von denen einige allgemein geliebt werden und andere etwas weniger bekannt sind. Alle, ob man sie nun schon kennt oder zum ersten Mal hört, haben ein Gespür für das Dramatische. Ward und Deschanel bringen ihr unheimliches gemeinsames musikalisches Gespür in diese Pop-Noir-Kostbarkeiten ein und interpretieren sie für die heutige Zeit neu.
Der einladende, twangige Opener des Albums, Brian Wilsons und Mike Loves »Darlin'« (vom Beach-Boys-Album Wild Honey aus dem Jahr 1967), setzt eine hohe Messlatte, die She & Him durchgehend einhalten. Besonders aufschlussreich ist die hingebungsvolle Interpretation von »Wouldn't It Be Nice« durch das Duo. Die meisten würden es nicht in Erwägung ziehen, den eiskalten Klassiker anzufassen, doch sie stürzen sich mit unverhohlener Freude darauf. An anderer Stelle ist die erhabene Version von Wilsons schwermütigem »Til I Die« ein drei Minuten und 22 Sekunden langes Wunderwerk. Deschanels spektakuläre Gesangseinlage auf dem sträflich übersehenen Wilson-Solo-Stück »Melt Away« verwandelt die üppige, streicherlastige Bearbeitung des Originals in ein postmodernes Folk-Pop-Juwel. Weitere Höhepunkte sind der Surf-Rock-Rückkehrer »Do It Again«, der von Brian Wilson selbst (!) gesungen wird, und das anmutige »Please Let Me Wonder«, ein lang geschätztes Wilson-Albumstück. Das zeitlose »Don't Worry Baby« von den Beach Boys schließlich könnte das Herzstück und der ergreifendste Titel des Albums sein. M. Wards erdiger, lakonischer Gesang, überlagert von einem exquisiten Arrangement, fühlt sich organisch und völlig neu an - genau wie dieses Album, das in jeder Hinsicht beeindruckend ist.
".​.​.​sie singt betörend, er raunt sehr sanft, die Arrangements sind überaus elegant, jedes Stück ist ohnehin ein Ohrwurm und ›Till I Die‹ gewiss ein Meisterwerk.​" (Good Times)
She & Him:
Zooey Deschanel, vocals, piano
M. Ward, guitar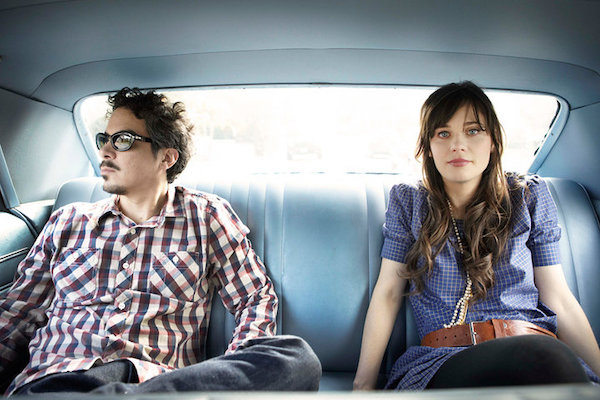 She & Him
Zooey Deschanel and Matt Ward, aka She & Him, are as comfortable and complementary a musical pair as Les Paul and Mary Ford. Matt and Zooey make music for an eternal springtime, when the temperature is warm enough to go riding with the top (or at least the windows) rolled down and the radio turned up.
In 2008, Zooey Deschanel and Matt Ward were both accomplished artists in their own right—Deschanel as an actor, Ward as a songwriter and guitarist. But when they joined forces as She & Him, something magical happened. Deschanel's lush, smoky lead vocals found their perfect counterpart in Ward's rasp, while their shared interest in the classic pop production of George Martin and Phil Spector gave the depths of Deschanel's songwriting an inner glow. Following a break after the release of 2016's Christmas Party, She & Him return with a set of songs that capture the feeling of an eternal springtime, rain coming down through rays of golden sunlight.


Dieses Album enthält kein Booklet