---
Album info
Album including Album cover
1

NMC 30th Anniversary Mixtape (Beatrice Dillon Remix)

52:48

Total Runtime

52:48
Info for NMC 30th Anniversary Mixtape (Beatrice Dillon Remix)
Some highlights: Young composers Freya Waley-Cohen, Austin Leung and Eugene Birman appear in our Philharmonia Orchestra's Composers' Academy release, and our acclaimed Debut Discs series will introduce the work of Edmund Finnis, Joanna Bailie and David Fennessy. Leading British groups will feature on albums by the Nash Ensemble (Julian Anderson), Birmingham Contemporary Music Group (David Sawer), BBC Symphony Orchestra (Sam Hayden) and the last recording made by The Hilliard Ensemble (John Casken), plus two significant releases celebrating the work of established composers Bernard Rands, and Erika Fox who has her first commercial release at the age of 82. NMC continues to develop new learning projects and resources for children, including Many Voices: a music book and CD of ten violin pieces (Grades 2-6) commissioned by London Music Masters, and creative music-making workshops in partnership with Music Hubs in London, to mark our landmark album release by Chineke! Orchestra of works by Daniel Kidane, Hannah Kendall, Errollyn Wallen, James Wilson, Philip Herbert and Julian Joseph.
To mark our 30th Anniversary we have created an alternative sampler to celebrate our releases over the last three decades. We invited experimental producer/DJ Beatrice Dillon to delve into our back catalogue and the result is this 50-minute blended mix, including works by composers ranging from Judith Weir to Kate Whitley, Benjamin Britten to Huw Watkins.
'I've been wanting an opportunity to dive a bit deeper into contemporary British classical music for a while so this invitation from NMC was a nice entry point. I chose exact parts of the recordings that I wanted to work with, grouping isolated sections, layering different instrumentation and atmospheric combinations trying to leave enough room for each melodic, rhythmic and arrangement idea to sit comfortably. As much as the music itself, I was interested in the range of frequencies available in these acoustic recordings and drawn to pieces in which certain instruments stood in isolation – pianos, strings, percussion, bells, woodwind, voices, handclaps – each element bringing its own acoustic qualities. Whilst there are plenty of cuts and edits, I also wanted certain pieces to run in full without interruption. The mix is a brief snapshot of NMC's rich archive of contemporary classical music from the British Isles.' Beatrice Dillon (Mixtape Curator and Producer)
'That our name, NMC, originally stood for 'New Music Cassettes', is difficult to explain to a generation that hardly knows what a cassette is, and is unlikely to have any means of playing one. Thirty years ago it was the medium by which most music was played, and was our tentative way of starting what was then an ambitious venture of recording as much new British music as we could. So it seems appropriate to celebrate our anniversary by releasing a cassette. For anyone who can play it*, it's a very special souvenir – Beatrice Dillon has dived into the catalogue and come up with a unique mixtape, her own choice of recent and not so recent NMC releases.' Colin Matthews (NMC Founder & Executive Producer)
Beatrice Dillon, producer, remixer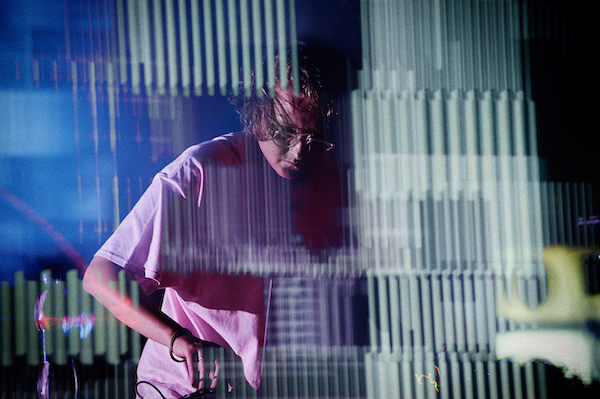 Beatrice Dillon
London's Beatrice Dillon is an artist, producer, and NTS DJ with acclaimed solo releases, remixes and collaborations across Boomkat Editions, Hessle Audio, The Trilogy Tapes, PAN, Timedance and Where To Now? etc. Recent solo performances include Tokyo's Wwwx, Barbican Centre, MUTEK Montreal, Documenta Athens, Masåfåt Cairo, Moscow Save, Atonal Berlin and Insomnia Norway. Dillon has produced sound and music commissions for Lisson Gallery, AND Festival, Somerset House and has collaborated with international visual artists across ICA, TATE, Southbank Centre, Centre d'Art Contemporain Geneva, Nasher Dallas and Mona Tasmania etc. She was the recipient of the Wysing Arts Centre's artist residency in 2016 and is a resident artist at Somerset House Studios. Her score commission for Alexander Whitley Dance Company was premiered at York Mediale in 2018.
A rather discreet figure in the industry, Beatrice Dillon has been shaping an impressive body of work over the years. Since gracing the grooves of Will Bankhead's TTT with the mesmeric 'Folkways II', a partially mixed journey in the archives of the Smithsonian Folkways collection, the London-born and based artist keeps pushing boundaries – be it by herself, through collaborative efforts along the likes of Rupert Clervaux and Karen Gwyer, or as a remixer for Helm's benchmark 'Olympic Mess' on Bill Kouligas' PAN.

This album contains no booklet.