---
Album info
Album including Album cover
Michael G. Cunningham (b. 1937): Clarinet Concerto, Op. 186:

1

Clarinet Concerto, Op. 186: I. Dithyramb

05:35

2

Clarinet Concerto, Op. 186: II. Lithe

04:01

3

Clarinet Concerto, Op. 186: III. Charivari

05:25

Rain Worthington:

4

In Passages

10:12

Ssu-Yu Huang:

5

Guitar Concerto No. 1

15:13

Bruce Reiprich:

6

Lullaby

05:51

Beth Mehocic: Concerto for Piano & Orchestra:

7

Concerto for Piano & Orchestra: I. Moderato

06:03

8

Concerto for Piano & Orchestra: II. Lento

04:41

9

Concerto for Piano & Orchestra: III. Allegretto

07:05

Total Runtime

01:04:06
Info for Beneath the Tide

PARMA Recordings, together with the esteemed Croatian Chamber Orchestra, is proud to release Beneath the Tide, a reflection on human emotion and experience through a collection of five concertos. As the title suggests, Beneath the Tide looks under the surface, examining underlying human realities that rise to the surface with the arrival of life's changes. Beneath the Tide starts off with Clarinet Concertos by Michael G. Cunningham. A weighty, dissonant performance, the solo clarinet is carried by the sometimes urgent, sometimes quietly brooding harmonies of the orchestra. Clarinet Concertos is followed by Rain Worthington's In Passages for string orchestra, where the solo violin and orchestra pass the lead voice back and forth. Ssu-Yu Huang's Guitar Concerto No. 1 is a reflection on nostalgia after moving to a foreign country. The guitar's voice, which sings a motif inspired by a Hengchun folksong "Nostalgia," is balanced by the accompanying orchestra, conveying the sudden outbursts of suppressed emotions that one in the midst of melancholy may experience. Bruce Reiprich's Lullaby, written upon the birth of a friend's child, is a harmonically lush composition for violin solo and orchestra. Tender and sentimental, the piece reflects on the wonder of new life and the love that comes as people gather to help a child grow. Beneath the Tide concludes with the triumphant Concerto for Piano and Orchestra by Beth Mehocic—triumphant not only in character, but also for the fact that the piece has finally been brought to life after its creation 40 years ago. The piece, which had been considered "too conventional" by Mehocic's instructors, is a grand, thematic performance with bright brass, lively percussion, and swooping piano gestures, and its entry into the listening sphere is not to be missed. Beneath the Tide provides a stunning look into the minds of five composers, as well as a reflection on the human experience itself. Demonstrating the multifacetedness of the recording orchestra, and the limitlessness of the denotation "concerto," Beneath the Tide is a first-rate classical experience.
Bruno Philipp, clarinet
Mojca Ramušćak, violin
Goran Končar, violin
Charlene Farrugia, piano
Croatian Chamber Orchestra
Miran Vaupotić, conductor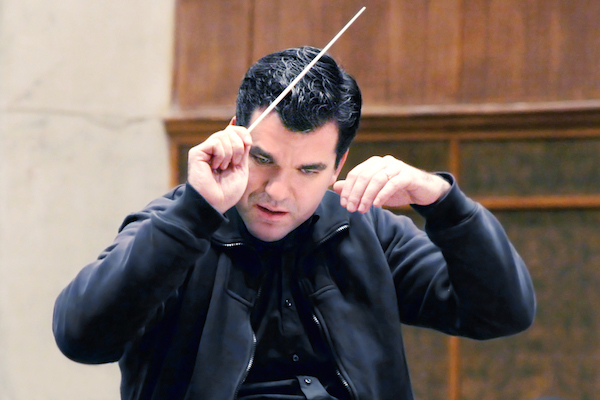 Croatian Chamber Orchestra
was founded in 1988. Its founding was encouraged by the Croatian Association of Orchestral and Chamber Musicians.. The idea was put forward by Anđelko Ramušćak who wanted to instigate performing orchestral literature for chamber orchestras, as well as to give a chance to young musicians to present themselves and gain experience. In the year of 1989 the leadership of the orchestra was taken on by a young Japanese conductor Kazushi Ono, who came to Zagreb at that time as a conductor of Zagreb Philharmonic Orchestra. Under his leadership the orchestra performed baroque and classical works, but started playing 20th century authors, especially Croatian composers.
In 1991, when the world celebrated the 200th anniversary from Mozart's death, the orchestra had its acclaimed concerts, conducted by the internationally renowned bassoonist Rudolf Klepač. Pavle Dešpalj, a notable Croatian conductor and composer became the chief-conductor in the season 1995/96. Today Pavle Dešpalj is a lifelong honorary chief-conductor of the Croatian Chamber Orchestra.
The Orchestra celebrate their 25th anniversary in the season 2015/16 by giving a series of six concerts in the Croatian Music Institute.
Miran Vaupotić
Acclaimed as "dynamic and knowledgeable" by the Buenos Aires Herald, Croatian conductor Miran Vaupotić performed extensively in Europe, Middle East, the United States, Latin America and Asia conducting many symphony orchestras and ensembles including London Symphony Orchestra with whom he recorded "Tchaikovsky" album for Parma Recordings, St. Petersburg State Symphony Orchestra, State Hermitage Orchestra, St. Petersburg State Capella Symphony, Slovak Radio Symphony Orchestra, Budapest Symphony Orchestra MÁV, Cairo Symphony Orchestra, Belarusian National Philharmonic, Pannon Philharmonic Orchestra, Orquesta Sinfónica Nacional Argentina, Orquesta Sinfónica UNCuyo, Orchestra Sinfonica di Sanremo, Orchestra Filarmonica della Calabria, Malta Philharmonic Orchestra, Prague Philharmonic Orchestra, Moravian Philharmonic Orchestra, North Czech Philharmonic Orchestra, Kaunas City Symphony Orchestra, State Youth Orchestra of Armenia, Schloss Schönbrunn Orchester, Zagreb Philharmonic Orchestra, Zagreb Soloists and many others. In 2016 he won First Prize and special award at the 12th International Aram Khachaturian Conducting Competition in Yerevan, Armenia.
Miran Vaupotić performed at numerous major halls including the famous Carnegie Hall in New York City, Musikverein in Vienna, Rudolfinum and Smetana Hall in Prague, Cairo Opera House in Cairo, Forbidden City Concert Hall in Beijing, Oriental Art Center in Shanghai, Tchaikovsky Hall and International House of Music in Moscow, CBC Glenn Gould Studio in Toronto.
In the summer of 2011 he made his opera debut in the United States, conducting Mozart's Le nozze di Figaro at the Atlantic Coast Opera Festival in Philadelphia. Same year he conducted Astor Piazzolla's rarely performed tango opera Maria de Buenos Aires in a new fully staged production by Vatroslav Lisinski Concert Hall in Zagreb, Croatia, directed by Mario Kovač and performed with the Zagreb Soloists, Ivan Filipović Chamber Choir featuring renowned singers Sandra Rumolino, Jorge Rodriguez and Jose Luis Baretto. In 2012 he conducted the Empire Opera premier productions of Waundel Saavedra's Sweet Dreams and John Alan Rose's Rumpelstiltskin directed by Tyler Bunch (The Muppets) in New York City at The National Opera America Center, while in 2013 he debuted at the Croatian National Opera in Zagreb with Rossini's Il barbiere di Siviglia.
Miran Vaupotić led three large China National New Year Tours, with the St. Petersburg State Hermitage Orchestra in 2013, the Malta Philharmonic Orchestra in 2014 and the Zagreb Philharmonic Orchestra in 2016, performing at most eminent Chinese venues.
A strong advocate for new music he premiered Carlos Franzetti's Clarinet Concerto, Peter Machajdík's Farewell Fanfare, Youngkwang Yang's Korean Folksongs, Roberto Di Marino's Guitar Concerto, Primous Fountain's Symphony No. 2 commissioned by famous American producer Quincy Jones, and many other works. Miran Vaupotić also premiered opera Jelka written in 1901 by Blagoje Bersa, a Croatian composer of substantial influence.
He recorded his debut album "Elegia" for Classic Concert Records with the Russian Symphony Orchestra Prokofiev featuring works by Di Marino. Recently released on Naxos label album "Sensations" featuring Di Marino and Piazzolla Bandoneon Concertos recorded with the Croatian Philharmonic Orchestra and Italian virtuoso Cesare Chiacchiaretta was quickly followed by recording of album "Mediterranean" with the Malta Philharmonic Orchestra for the same label featuring music of Charles Camilleri.
Miran Vaupotić is the Chief Conductor of the Croatian Chamber Orchestra and is one of international ambassadors for the EMMA for Peace (Euro Mediterranean Music Academy) under the patronage of UNESCO and honorary presidency of Riccardo Muti.

This album contains no booklet.