---
BYU Singers & Andrew Crane
---
Biographie BYU Singers & Andrew Crane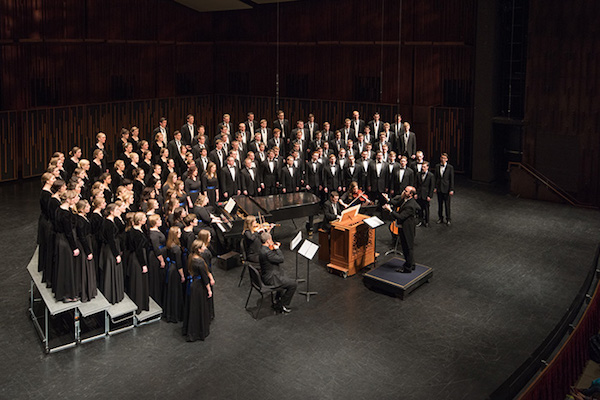 Andrew Crane
was named Associate Professor of Choral Conducting and conductor of the Brigham Young University Singers in 2015. Previous to this appointment, he served for four years as Director of Choral Activities at East Carolina University, and six years in the same position at California State University, San Bernardino. He is also the former choral director at Provo High School.
Choirs under his direction have appeared by invitation at multiple conferences of the American Choral Directors Association and National Association for Music Education, and have won top prizes in international competitions. In 2015, he led the East Carolina University Chamber Singers to a first place finish in the 13th Maribor (Slovenia) International Choral Competition Gallus, the only American choir to win in the history of the contest. During the 2017-2018 season, Crane will prepare the BYU Singers for a performance with British ensemble The Tallis Scholars; and will also conduct the choir in an invited concert at the biennial conference of the National Collegiate Choral Organization.
Additionally, Dr. Crane enjoys a career as a professional solo and ensemble tenor, having appeared with such groups as Seraphic Fire, Los Angeles Bach Festival, Santa Fe Desert Chorale, Yale Choral Artists, Vox Humana, Spire Chamber Ensemble, Tennessee Chamber Chorus, North Carolina Master Chorale, Carnegie Hall Festival Chorus, and others.
Dr. Crane is active as a conductor of honor choirs, clinician, guest lecturer, and accompanist. In addition, he serves as editor of the Andrew Crane Choral Series through Walton Music. His degrees include a Bachelor of Music in music education and a Master of Music in choral conducting from Brigham Young University as well as a Doctor of Musical Arts in choral conducting from Michigan State University. Dr. Crane resides in Utah County with his wife Casandria, also a BYU alumna, and their four children.
BYU Singers
The Brigham Young University Singers is an exciting choir with impressive voices and a wide range of styles. Conducted by Dr. Andrew Crane, the group performs pieces from nearly every musical genre as well as many original works written or arranged for the choir.
During the 2017-2018 season, BYU Singers will perform with British ensemble The Tallis Scholars; the choir will also perform in an invited concert at the biennial conference of the National Collegiate Choral Organization. BYU Singers will be touring Vietnam and Indonesia in the spring of 2018.
BYU Singers celebrated their 30th anniversary with a gala reunion concert in March 2015, and had a very successful tour to China in May 2015. The choir has performed in some of the most prestigious concert halls in the world, including Carnegie Hall in New York City, the Kennedy Center in Washington, D.C., the Sydney Opera House and Town Hall, the Kapella in St. Petersburg, the Musikverein in Vienna, and the Walt Disney Concert Hall in Los Angeles. They have traveled throughout the United States and to 27 countries including Russia, Germany, Switzerland, Italy, England, Egypt, Australia, Ghana, Ireland and China. The choir was the United States representative at the Fourth World Choral Symposium in 1996, performed at the inaugural conference of the National Collegiate Choral Organization in 2006, and participated in the 2009 Cork International Choral Festival. BYU Singers has performed numerous times at both National and Regional Conferences of the American Choral Directors Association since 1985.
The choir consists of 40 students pursuing a variety of graduate and undergraduate degrees in such areas as physical science, law, accounting, social science, visual arts, and music. The group originates in the School of Music of the College of Fine Arts & Communications at Brigham Young University in Provo, Utah. BYU is one of the nation's largest private universities with an enrollment of more than 30,000 students from all parts of the United States and 120 foreign countries.