---
Biographie Patrizio Mazzola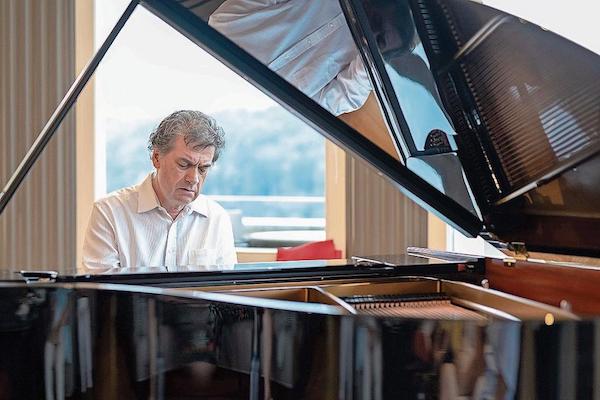 Patrizio Mazzola
wurde bei Genua (Italien) geboren. Er erhielt seine musikalische Ausbildung am Konservatorium Luzern und schloss dort sein Studium beim englischen Pianisten Hubert Harry mit dem Lehr- und Solistendiplom ab, das er "mit Auszeichnung" bestand. Er erhielt den Edwin-Fischer-Gedenkpreis und den Kunst-Anerkennungspreis der Stadt Luzern. Im Laufe seiner Karriere erarbeitete sich Patrizio Mazzola ein umfangreiches Repertoire und ist neben seiner Lehrtätigkeit an den Musikhochschulen Bern und Luzern, sowie an der Musikplattform der ETH/Uni Zürich, laufend solistisch tätig. So trat er mehrmals an verschiedenen Festivals auf und arbeitet regelmässig mit diversen Orchestern und Dirigenten zusammen (u.a. R. Baumgartner, Silvia Caduff, J.-L. Darbellay, A. Fiedler, H. Griffiths, E. Muri, P. Sacher, K. Zehnder). Kammermusikalisch spielt er u.a. im New Kubelik Trio. Mit Patrizio Mazzola erschienen mehrere CD-Einspielungen, darunter die 24 Préludes von Rachmaninoff, die 27 Etüden von Chopin und eine Live-CD seines Rezitals in der Wigmore Hall London.
Patrizio Mazzola was born close to Genua, Italy. He received his musical education under the english pianist Hubert Harry at the Lucerne conservatory, where he earned the Teacher's and Artist's Diplomas with honours. In addition, he was awarded the Edwin Fischer Memorial prize as well as the Art-Recognition prize of the City of Lucerne. During his career Patrizio Mazzola has developed a wide repertoire , and next to his teaching activities at the Music Academies of Berne and Lucerne he constantly performes as a soloist. He has appeared often at music festivals and has collaborated regularly with diverse orchestras and conductors such as R. Baumgartner, Silvia Caduff, J.-L-. Darbellay, A. Fiedler, H. Griffiths, E. Muri, P. Sacher and K. Zehnder. As chamber musician he plays specially in the New Kubelik Trio. He has made many CD-recordings, including the 24 Preludes of Rachmaninoff, the 27 Etudes of Chopin and a Live-CD of his recital in the Wigmore Hall London.
Patrizio Mazzola est né près de Genes en Italie. Il reçut sa formation musicale au conservatoire de Lucerne chez Hubert Harry où il obtint ses diplomes d'enseignement et de soliste avec distinction. Il reçut le prix Edwin Fischer ainsi que celui de la ville de Lucerne. Au cours de sa carrière, Patrizio Mazzola a assimilé un grand répertoire et, à coté de son enseignement aux Hautes Ecoles de Musique de Berne et de Lucerne, il se produit régulièrement en soliste. On a pu souvent l'entendre aux divers festivals et régulièrement avec divers orchestres et chefs d'orchestre (parmi eux R. Baumgartner, Silvia Caduff, J.-L. Darbellay, A. Fiedler, H. Griffiths, E. Muri, P. Sacher K. Zehnder). Comme musicien de chambre il se fait entendre surtout dans le New Kubelik Trio. Plusieurs CD ont paru avec Patrizio Mazzola, entre autres 24 Préludes de Rachmaninoff, les 27 Etudes de Chopin et un CD live de son récital à la Wigmore Hall de Londres.