---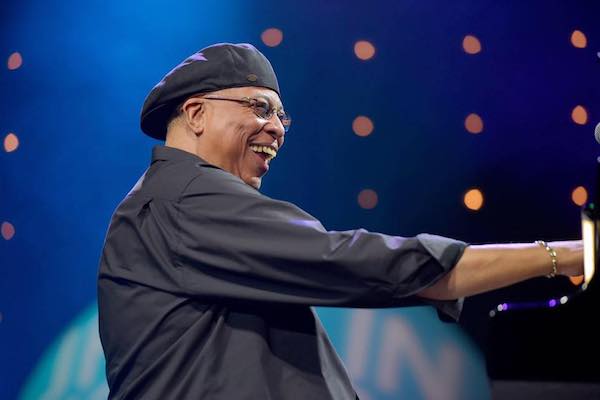 Chucho Valdés
Winner of five GRAMMY® and three Latin GRAMMY® Awards, the Cuban pianist, composer and arranger Chucho Valdés is the most influential figure in modern Afro-Cuban jazz.
His most recent work, Border-Free, features eight pieces -- all but one new originals -- and it's another example of Valdés' musical pursuit, one in which the conventional limits of styles and traditions blur and disappear. On this recording, Valdes is again featured with his Afro-Cuban Messengers, and the compositions include nods to flamenco, the Gnawa music of Morocco and the ritual rhythms of the Orishas, the deities of the Afro-Cuban Santería religion. There are mentions of hard-bop and danzón but also echoes of Bach, Rachmaninoff and Miles Davis -- and yet the sum total is a deeply personal and open-ended sound. And it's all Chucho Valdés.
"Since I was a student I had this idea of taking disparate elements, mixing them and seeing what happened. And little by little, over time, I've found my ways," says Chucho. "And I love it because it's a search that forces you to investigate and study. It's not all about Afro-Cuban music. I'm always looking for new things."
The concept in Border-Free "was to do many different things but all in my own style. Now, that is something very difficult to achieve."
Dionisio Jesús "Chucho" Valdés Rodríguez, was born in a family of musicians in Quivicán, Havana province, Cuba, October 9, 1941. His first teachers were his father, the pianist, composer and bandleader Ramón "Bebo" Valdés, and his mother Pilar Rodríguez, who sang and played the piano.
At the age of three, Chucho already played at the piano, using both hands, in any key, melodies he heard on the radio. In fact, there is a famous anecdote that tells the story of Bebo tricking his friend, the late Israel "Cachao" Lopez, about checking out, with his back to the player, "a young North American pianist." Chucho was then four years old.
v At the age of five, Chucho began to take lessons on piano, theory and solfege with maestro Oscar Muñoz Boufartique. He continued his studies at the Conservatorio Municipal de Música de la Habana, from which he graduated at 14. Chucho also took private lessons from Zenaida Romeu, Rosario Franco, Federico Smith and Leo Brouwer.
"At home he played jazz: the music of Ellington, Count Basie, and Glenn Miller's band. I've been privileged. Because Bebo was the piano player at the Tropicana I could see true legend of jazz in person. He took me to see Nat King Cole, Errol Garner and Sarah Vaughan when I was child studying music. You can't imagine the effect that had on my life! It was enormous! Magical! At 15 Chucho formed his first jazz trio end in December 1958 he worked as a pianist at the Deauville and St. John hotels in Havana. In 1959, he debuted with the orchestra Sabor de Cuba, directed by his father, Bebo. That band accompanied the top singers of that era such as Rolando Laserie, Fernando Álvarez and Pío Leyva.
"My father taught me everything about Cuban music, South American music, jazz, and how to work with an orchestra," reminisces Chucho. " He gave me the piano chair, and stayed on as director, so I could learn how to work under a conductor. We did our shows and a million other things with that orchestra, including accompanying shows at the Havana Hilton. I learned a lot there. He is my idol, "he pauses, then continues. "I don´t say was, my idol. He is my idol. He was my teacher. He still is."
Chucho's family and professional life took a dramatic turn in 1960 when his father left to work in Mexico and from there he moved to Europe, where he eventually settled. Bebo Valdés never returned to Cuba. (Father and son saw each other again 18 years later at Carnegie Hall, where Chucho was debuting in the United States with his group Irakere. The relationship was fully restored in 2000, when they met again to play a duet on Calle 54, a film about Latin jazz by Oscar winning Spanish director Fernando Trueba. The father and son reunion culminated, musically, in Juntos Para Siempre, a 2007 duet recording that won both a Grammy and a Latin Grammy. Bebo Valdés died on March 22, 2013. He was 94.)
In the early '60s, Chucho worked as a pianist at the Teatro Martí (1961), the Salón Internacional del Hotel Habana Riviera (1963) and the orchestra of the Teatro Musical de la Habana (1964-67). In 1967, and after a suggestion of his old teacher, the great guitarist, composer and director Leo Brouwer, Chucho organized his own combo.
Still, that same year he joins the important Orquesta Cubana de Música Moderna, then directed by maestros Armando Romeu and Rafael Somavilla. While a member of the orchestra, Chucho revisited the idea of a small group and, in 1970, he appeared at the Jazz Jamboree in Poland leading his own quintet.
In 1972, after recording Jazz Batá, an album featuring an unusual jazz trio comprising bassist Carlos del Puerto and singer and percussionist Oscar Valdés on batá (the traditional hourglass shaped drums used in the ritual music of the Orishas), Chucho decided to enlarge the group adding brass and trap drums. That´s the genesis, in 1973, of Irakere, a small, Cuban-style big band that played an explosive mix of jazz, rock, classical music and traditional Cuban music, including Afro-Cuban religious music and instruments.
"The ideas for the brass have to do with the work we did with the Orquesta Cubana de Música Moderna, which was a great big band," says Chucho. "I tried to imitate that with four horns -- two trumpets, a alto and a tenor sax -- and with just that try to have the sound of a big band. Of course when you have monster players like Paquito D'Rivera, Arturo Sandoval, [trumpeter] Jorge Varona and [saxophonist] Carlos Averhoff you can write anything you want and it will work."
Irakere first made its mark internationally in Finland in 1976. But the following year, the band was discovered by Dizzy Gillespie in a visit to Havana on a jazz cruise that also included pianist Earl "Fatha" Hines and saxophonist Stan Getz. In 1978 the producer Bruce Lundvall, then president of CBS, signed the band for the label. Irakere debuted, unannounced, as "surprise guests," at Carnegie Hall as part of the Newport Jazz Festival. As fate would have it, the program that night also featured pianists Bill Evans and McCoy Tyner, two of Chucho's main influences.
Selections from Irakere's performances at Carnegie Hall and at the Montreux Jazz Festival comprised the repertory of Irakere (CBS) their debut recording in the United States. The album won a Grammy as Best Latin Recording in 1979.
The group went on to create an extraordinary body of work that includes great dance recordings such as Homenaje a Beny Moré (Pimienta, 1989) and Indestructible (Sony, 1997); explorations of Afro-Cuban religious music such as Babalú Ayé (Bembé, 1999) featuring the great Orisha music singer Lázaro Ros; as well as ambitious projects such as Tierra En Trance (Areíto, 1983) and Misa Negra (Messidor, 1987)
Irakere's lineup went through many changes over the years. Throughout, Chucho remained as the one, great constant. But success had its costs. Except for the remarkable solo outing Lucama (Mission, 1986), his talent as a pianist was largely out of sight, obscured by his other obligations with the band.
Meanwhile, in 1997, Chucho won his second Grammy for his work on Habana (Verve) as a member of trumpeter Roy Hargrove's Crisol. The following year, while not completely leaving Irakere behind, Chucho started a parallel career as a solo player and quartet leader, looking for greater opportunities to explore and showcase his playing.
"Twenty five years with the same band is a long time," said Chucho at the time. "I've been wanting to play solo and with a quartet for some time now. My work as a pianist and soloist gets diluted in Irakere. My job in the group is to be the composer, arranger and musical director and that's a completely different role."
Chucho stayed with Irakere until 2005.
The fruitful period that followed is highlighted by albums such as Solo Piano (Blue Note, 1991), Solo: Live in New York (Blue Note, 2001) and New Conceptions (Blue Note, 2003), as well as quartet recordings such as Bele Bele en La Habana (Blue Note, 1998), Briyumba Palo Congo (Blue Note, 1999) and Live at the Village Vanguard (Blue Note, 2000), capturing a performance that features Chucho's sister, singer Mayra Caridad Valdés . The recording won a Grammy for Best Latin Jazz Album.
There were also Grammy awards for the already mentioned Juntos Para Siempre (Calle 54, 2007), the duet recording with Bebo; and for Chucho's Steps (Comanche, 2010), featuring his new group, the Afro-Cuban Messengers .
In total, Chucho has won five Grammys and three Latin Grammys.
In 2012, Chucho reorganized his Afro-Cuban Messengers which currently feature Yaroldy Abreu, percussion, Dreiser Durruthy Bombalé , batá drums and voice; Reinaldo Melián, trumpet, Gastón Joya, bass and Rodney Barreto, drums.
His most recent production, Border-Free, is yet another expression of the continuing musical search and evolution of Chucho Valdés as a pianist, composer, arranger and director.