---
Voce Chamber Choir & Suzi Digby
---
Biographie Voce Chamber Choir & Suzi Digby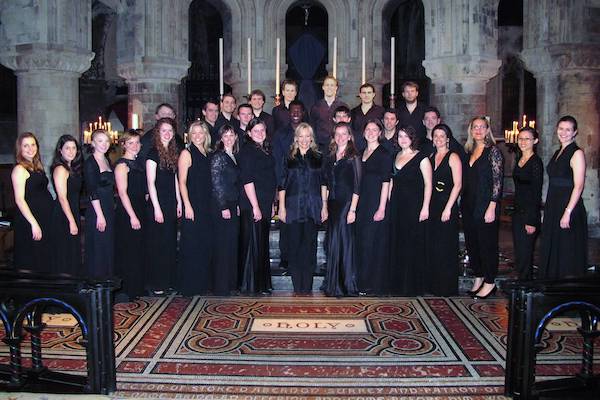 Voce Chamber Choir
is a dynamic London chamber choir founded by Suzi Digby and Harry Briggs in the summer of 2003. A diverse group of around 30 talented singers, we're well-known for our polished performances of challenging repertoire from across the musical spectrum; from major canonical works to traditional and popular music from around the world. We also regularly commission and perform new works from the brightest rising stars on the choral music scene.
Suzi Digby
Born in Japan, Suzi graduated with honours in musicology from King's College, London and studied piano, singing, conducting, arts administration and music education pedagogy. In 1990 she was awarded a Winston Churchill Fellowship and travelled worldwide, studying methods of choral training and music education pedagogy as practised by their leading exponents. Suzi has lived in Mexico, The Philippines and Hong Kong, where she was a prolific broadcaster, teacher and performer. She now divides her time between London and Cambridge.
Suzi has conducted choirs and orchestras in some of the best music venues in the world. She has been a frequent judge on the Choir of the Year competition, and was one of the judges on the BBC's hit series Last Choir Standing. In 2012, Suzi launched the London Youth Choirs, a unique pyramid of five choirs serving all 33 London boroughs.
Suzi is also President of the Incorporated Society of Musicians, a Trustee of Music in Country Churches, a Member of the Council of the Winston Churchilll Memorial Trust, and a choral advisor for Novello music publishers. And as if all that didn't keep her busy enough, she's also a Visiting Professor at the University of Southern California, where she is creating a Masters in Arts Leadership.
Suzi Digby (Lady Eatwell) OBE is a world-renowned choral conductor and music educator and co-founded Voce with Harry Briggs in 2003. Other, lesser achievements include receiving the OBE from the Queen for Outstanding Services to Music Education, and founding/running several influential arts/education organisations including The Voices Foundation (the UK's leading music education charity), Vocal Futures (nurturing young audiences for classical music), and Artsworks (leadership and accelerated learning for corporates).