---
Album Info
Album Veröffentlichung:
2019
HRA-Veröffentlichung:
08.03.2019
Das Album enthält Albumcover Booklet (PDF)
Pablo Ortiz (b. 1956): Maizal del Gregoriano:

1

Maizal del Gregoriano: No. 1, —

04:48

2

Maizal del Gregoriano: Interlude I

01:13

3

Maizal del Gregoriano: No. 2, —

12:09

4

Maizal del Gregoriano: Interlude II

01:12

5

Maizal del Gregoriano: No. 3, —

02:31

The Darkling Thrush:

6

The Darkling Thrush

03:53

Teatro Martín Fierro Suite for 3 Sopranos:

7

Teatro Martín Fierro Suite for 3 Sopranos: I. Fantasmas y Héroes Literarios...

00:48

8

Teatro Martín Fierro Suite for 3 Sopranos: II. A Pedido Suyo...

00:54

9

Teatro Martín Fierro Suite for 3 Sopranos: III. El Desenlace de la Noche...

00:39

10

Teatro Martín Fierro Suite for 3 Sopranos: IV. Hay Relación...

01:04

11

Teatro Martín Fierro Suite for 3 Sopranos: V. Prefiere Decir...

00:36

12

Teatro Martín Fierro Suite for 3 Sopranos: VI. A Veces lo Débil...

00:34

13

Teatro Martín Fierro Suite for 3 Sopranos: VII. ¿Alguien es Capaz de Creer?...

00:51

14

Teatro Martín Fierro Suite for 3 Sopranos: VIII. Este Hombre...

00:54

15

Teatro Martín Fierro Suite for 3 Sopranos: IX. La Inquietud...

00:45

16

Teatro Martín Fierro Suite for 3 Sopranos: X. A Esta Altura...

00:39

17

Teatro Martín Fierro Suite for 3 Sopranos: XI. Ahora Se Comprende...

00:38

18

Teatro Martín Fierro Suite for 3 Sopranos: XII. Debe Haberse Sentido Culpable...

00:51

19

Teatro Martín Fierro Suite for 3 Sopranos: XIII. Entonces...

01:11

E ne la face de' begli occhi accende:

20

E ne la face de' begli occhi accende

03:04

Leaving Limerick:

21

Leaving Limerick

06:00

Ancor che col partire:

22

Ancor che col partire

02:49

Metamorphoses:

23

Metamorphoses

04:31

Total Runtime

52:34
Info zu Ortiz: Choral Works
This programme represents most of Pablo Ortiz's recent choral writing, the multifaceted variety of which reflects the composer's intense emotional connection with the past. Maizal del gregoriano uses a musical language that is reminiscent of Benedictine chant, while The Darkling Thrush absorbs Thomas Hardy's melancholy depiction of the end of an era. Mozart is referenced in the operatic Teatro Martín Fierro Suite, as are the beauties of 16th-century madrigals in E ne la face de' begli occhi accende. The final Metamorphoses is a remarkable superimposition of Medieval motets, expressing the essence of Ortiz's belief in music as the ultimate time machine.
"Phenomenon... There's no denying he's something special." (The New York Times)
Taka Kigawa, celesta
Meridionalis
Sebastian Zubieta, conductor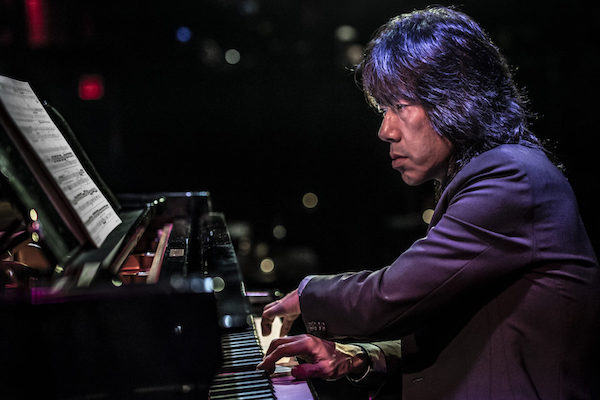 Meridionalis
Founded in 2010 by Sebastian Zubieta, Americas Society's critically acclaimed vocal ensemble Meridionalis includes leading choral soloists in New York City. The ensemble performed the U.S. premiere of Ortiz's Gallos y huesos in 2014, as well as programs featuring music from Bolivia, Brazil, Guatemala, Mexico, and Peru in the United States, Colombia, and Cuba. They have performed at a diverse range of venues and festivals, including Symphony Space's Wall to Wall festival, Trinity Wall Street, St. Paul's Chapel at Columbia University, The Hispanic Society of America, and Americas Society in New York City, at the Raritan River Music Festival in New Jersey, as well as at the Sala Juan Ángel Arango in Bogotá and the Havana Cathedral with Ars Longa de La Habana. Upcoming engagements include tours of Cuba and Ecuador in April 2017.
Taka Kigawa
Critically acclaimed pianist Taka Kigawa has earned outstanding international recognition as a recitalist, soloist, and chamber music artist since winning First Prize in the prestigious 1990 Japan Music Foundation Piano Competition in Tokyo, and the Diploma Prize at the 1998 Concurs Internacional Maria Canals De Barcelona in Spain, with such accolades from The New York Times as "Phenomenon. There's no denying that he is something special," "The extraordinary pianist." and from The New Yorker "Unbelievably challenging program. Kigawa is an artist of stature." and from La Nación (Buenos Aires) "Taka Kigawa is a stupendous virtuoso." His New York City recital in 2010 was chosen as one of the best concerts of the year by The New York Times. His New York City recital in August 2011 was picked as one of the most notable concerts in the 2011-2012 season by Musical America. Also his Buenos Aires recital in April 2014 was chosen as one of the best concerts of the year by Argentina's leading paper, La Nación.
He has performed extensively as a recitalist and soloist in New York, Washington DC, Boston, Cleveland, Paris, Milan and Barcelona, with appearances in Weill Recital Hall at Carnegie Hall, Alice Tully Hall, Kosciuszko Foundation, Severance Hall in Cleveland, Cité de la Musique, and Salle Gaveau in Paris, Plau de la Música Catalana in Barcelona, and Teatro Colón in Buenos Aires. He frequently tours in his native Japan, appearing in Tokyo, Osaka, Nagano and Kyoto, both as a recitalist and a soloist with orchestra and in chamber music groups. He has performed with such distinguished institution as The Cleveland Orchestra. He has been a featured artist on many television and radio networks throughout the U.S., Europe and Asia.
His repertoire is extremely large and varied, ranging from the baroque to avant-garde compositions of today. He has collaborated closely with such renowned musicians as Pierre Boulez, Myung-Whun Chung and Jonathan Nott. Also he premiered the last solo piano piece of Yusef Lateef, the jazz legend, in New York City in 2013.
Mr. Kigawa grew up in Nagano, Japan, where he began piano studies at the age of three, winning his first competition at the age of seven. He received his Bachelor of Arts degree from Shinsyu University, and his Master of Arts degree from Tokyo Gakugei (Liberal Arts) University, graduating with honors in Piano Performance. During both his undergraduate and graduate years, he also studied composition and conducting, receiving high honors in both disciplines. He furthered his studies in the United States at The Juilliard School in New York, where he earned his Master of Music degree. Mr. Kigawa currently lives in New York City, U.S.A.

He has presented papers on baroque and contemporary music in the United States, Belgium (17th Congress of the International Musicological Society), and Argentina. His music has been performed in concerts and festivals in Argentina, Europe and the US, including Latein Amerika-Ruhrgebiet in Essen, as well as at the World Music Days in Seoul. He was one of five composers commissioned to write a piece premiered in November 2007 in Buenos Aires during the new music series organized by the Complejo Teatral de Buenos Aires. Recent commissions include pieces for Ars Antiquanova Choele Choel and the Bugallo-Williams Piano Duo. 2014 projects include a new work for the Damocles Trio to be premiered at the Look & Listen Festival in May and a monographic concert to be presented at the Centro de Experimentación del Teatro Colón in Buenos Aires in September.
He has been conducting choirs and vocal ensembles for 20 years, and has presented a variety of music from the Renaissance to the twentieth century, specializing in Latin American early music. He is the conductor of the critically acclaimed ensemble Meridionalis, and was the conductor of the Yale International Singers from 1999 to 2005. He also premiered a number of new works for chamber ensembles and orchestra with Yale Philharmonia, New Music New Haven, and NeitherMusic. In addition to performances at venues in the New York area, he has conducted at the Festival de Música Sacra Quito 2013 and the Biblioteca Luis Ángel Arango in Bogota. His teaching experience includes positions as a teaching fellow for music appreciation and American popular music at Yale Department of Music and for hearing and analysis at Yale School of Music. He also taught music history at the Universidad de Buenos Aires and composition at the Universidad Nacional de La Plata, as well as given workshops at Folkwang Universität der Künste, the Chamber Music Center at Wellesley College, and the Clarion Society Collegium.
Sebastián holds a doctorate in composition from Yale University and a licentiate in musicology from the Universidad Católica Argentina in Buenos Aires.


Booklet für Ortiz: Choral Works