---
Album Info
Album Veröffentlichung:
2018
HRA-Veröffentlichung:
20.11.2018
Das Album enthält Albumcover Booklet (PDF)
1

Teach Me Tonight

06:47

2

African Skies

05:46

3

Holocene

05:03

4

Ima

04:20

5

Nakamarra

04:36

6

Bright Lights and Cityscapes

06:22

7

Get Happy

04:54

8

You Don't Love Me Like You Used To

06:02

9

Back Pocket

03:32

10

Moose the Mooche

03:32

11

Not Like This

03:23

Total Runtime

54:17
Info zu Bright Lights
After 30 years, BYU Syncopation's debut album has finally arrived! This vocal jazz group from Brigham Young University is rooted in the artistic collaboration between vocalists and instrumentalists, each bringing unique backgrounds and musical vocabularies to work side by side. This album captures the stylistic breadth of more than 100 years of jazz repertoire, representing styles from the trunk of the jazz tree, such as swing, bebop, and samba, as well as from the ever-reaching branches of jazz funk, hip-hop, and world music fusion.
After 30 years of performing as a group of jazz vocalists and instrumentalists on campus, Syncopation is releasing their debut album, "Bright Lights." The fall concert will celebrate this milestone for the ensemble as Syncopation shares the stage with world-renowned jazz artists, Rosana Eckert and Corey Christiansen.
"Bright Lights" is the culmination of years of work by current and former students in Syncopation, directed by Emily Merrell, and the commercial music program, headed by Ron Saltmarsh.
"This album represents the efforts of the students over the last three or so years," said Saltmarsh. "At the end of each semester, the students went into the studio to record several songs for that particular group, so this is a collection of several different incarnations of the group over the last few years."
"Being a first-year member of Syncopation, it's exciting to see how it has all come together," said Brody Rasmussen, a computer science major who sings baritone and bass in the ensemble. "I think it's going to be something of a tour de force of our group's versatility, of our ability to master more than one genre and evoke more than one vibe."
Though many ensembles record the voices in the group one at a time, Syncopation opted to record together. "We wanted to capture the real sound of the ensemble, so we recorded it live in the studio all together," said Saltmarsh. "It's an accurate representation of what the group truly sounds like, and there is an energy and vibe that exists that you just don't get when you record one voice at a time and then edit it to perfection and take out the humanness of the performance."
"There's a healthy amount of stress," said Rasmussen of the recording process. "If you don't know your notes for a recording session, it becomes painfully obvious, so I've felt the pressure to learn my parts and make sure that I'm blending with all the members of the group. We can't afford to be passive, and that pushes us to be better than we would have been."
"I am proud of all the members of Syncopation for the efforts to pull off a high-quality recording like this, because it's tough," added Saltmarsh. "One person makes a big mistake and the whole group has to record the take again. It requires a high degree of performance and patience and represents a lot of dedication, discipline and many hours of practice."
The album marks an important step in the development of Syncopation as a respected group in the jazz world. "We are very excited to release BYU Syncopation's debut album on our record label and for the opportunity to market and distribute this great jazz music throughout the world," said Ben Fales, general manager of BYU Records. "We hope that in the near future, when people talk about great collegiate vocal jazz groups, Syncopation is in the conversation."
"This year feels like Syncopation's graduation," said Rasmussen. "We're not just another group on campus."
The fall concert will serve as an introduction to and release party for "Bright Lights." Syncopation will perform some of the songs from the album, including an original piece written by Merrell and a number featuring two alumni.
"It's a pretty varied show," said Adam Roberts, an international relations major and bass in the group. "We don't just do one style of jazz—there's improvisation, solos, group numbers. It's a lot of fun."
"Syncopation has been a cool experience, because a lot of the types of music that I like find their root in jazz," added Rasmussen. "People might not realize the connection with R&B, lo-fi, hip-hop, those kinds of songs. If you come to the concert, you're going to find a lot of flavors that you already like, and you might find a lot of flavors that you didn't know you liked."
"Bright Lights" will also feature a variety of styles, with jazz offshoots such as hip-hop and funk sharing the tracklist with more traditional representations like swing, bebop and samba. One track, "Nakamarra," has already been released as a music video in preparation for the album.
"We have a little something for everyone, even if jazz isn't really your thing," said Roberts. "Every member of the choir has their own style and their own take on things, and you can see that in the solos and the interactions between sections."
In addition to the excitement of a new album, Syncopation will share their concert with two guest artists who have made their mark on the jazz world in a big way. "It is an absolute honor to have Rosana Eckert here all the way from Texas," said Merrell. "She is one of my favorite vocalists in the entire world, and I have no doubt she will treat us to a truly gorgeous and moving program."
Eckert is an internationally recognized jazz vocalist, songwriter and educator. She is the principal lecturer of jazz voice at the University of North Texas and is currently on tour for her new album. The BYU concert is one of Eckert's tour stops, an honor felt by Merrell and the Syncopation musicians.
"To make the evening extra special, Syncopation will be performing several of Rosana's fabulous original compositions and arrangements," said Merrell. "And in an embarrassment of riches, we also have Corey Christiansen, a world-class guitar player, joining Rosana for their duo performance."
Christiansen has performed and taught in guitar clinics, concerts and festivals around the world and is currently the director of jazz studies at Utah State University.
"It's a big deal," said Roberts on performing alongside Eckert and Christiansen. "I think it will be a great opportunity for us to show people who we are and to let audiences into the jazz world."
BYU Syncopation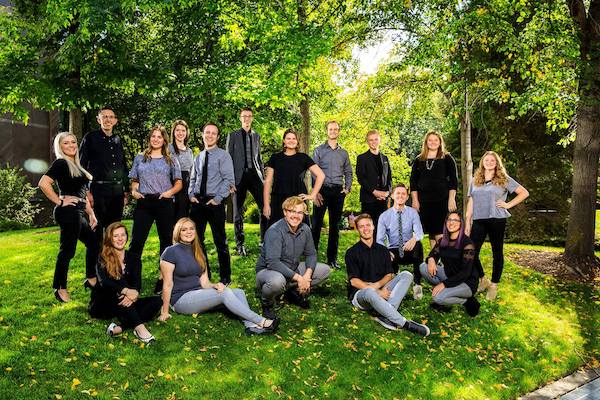 BYU Singers
The Brigham Young University Singers is an exciting choir with impressive voices and a wide range of styles. Conducted by Dr. Andrew Crane, the group performs pieces from nearly every musical genre as well as many original works written or arranged for the choir.
During the 2017-2018 season, BYU Singers will perform with British ensemble The Tallis Scholars; the choir will also perform in an invited concert at the biennial conference of the National Collegiate Choral Organization. BYU Singers will be touring Vietnam and Indonesia in the spring of 2018.
BYU Singers celebrated their 30th anniversary with a gala reunion concert in March 2015, and had a very successful tour to China in May 2015. The choir has performed in some of the most prestigious concert halls in the world, including Carnegie Hall in New York City, the Kennedy Center in Washington, D.C., the Sydney Opera House and Town Hall, the Kapella in St. Petersburg, the Musikverein in Vienna, and the Walt Disney Concert Hall in Los Angeles. They have traveled throughout the United States and to 27 countries including Russia, Germany, Switzerland, Italy, England, Egypt, Australia, Ghana, Ireland and China. The choir was the United States representative at the Fourth World Choral Symposium in 1996, performed at the inaugural conference of the National Collegiate Choral Organization in 2006, and participated in the 2009 Cork International Choral Festival. BYU Singers has performed numerous times at both National and Regional Conferences of the American Choral Directors Association since 1985.
The choir consists of 40 students pursuing a variety of graduate and undergraduate degrees in such areas as physical science, law, accounting, social science, visual arts, and music. The group originates in the School of Music of the College of Fine Arts & Communications at Brigham Young University in Provo, Utah. BYU is one of the nation's largest private universities with an enrollment of more than 30,000 students from all parts of the United States and 120 foreign countries.


Booklet für Bright Lights